At Prestigious, we want to do more than just design amazing patterns and fabrics, our aim is to inspire you and share our passion for design with a greater audience. Over the coming months, we're planning to produce a series of mood boards that share our excitement for the season ahead, new key trends and the things we expect that you will be seeing all around.
With spring just around the corner – OK, it might not feel like it, but we're sure that spring's coming – we thought that we would have a look at some, fresh new spring inspired designs that are sure to bring a bit of zest and life in to your rooms and treatments. The colour palette here isn't too bold and in your face, but it's bright and fresh. We've tried to capture the feeling we get when we see the first daffodils pushing through and leaves coming back on the trees.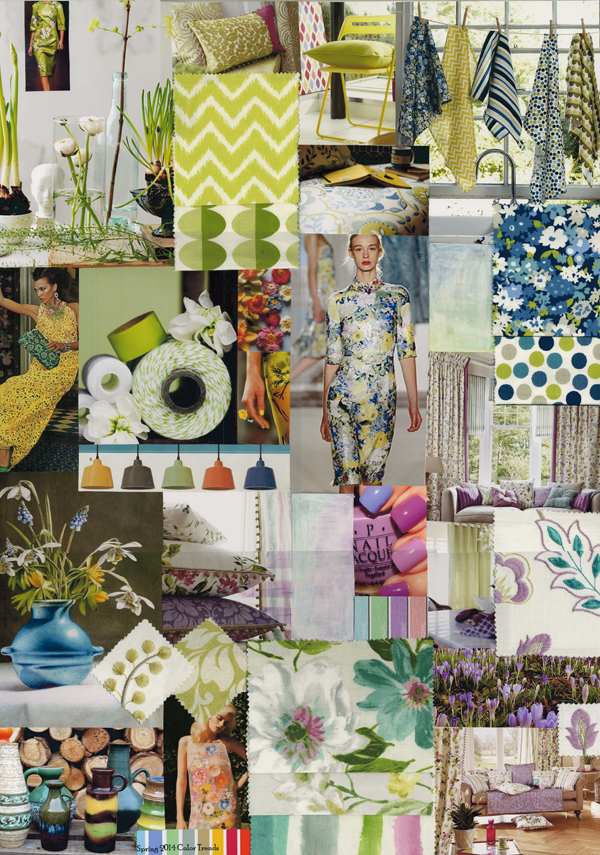 The freshness of seeing the world come back to life after the cold winter is the inspiration for our mood board this month. We've combined pretty florals and simple shapes with zesty but natural colours to create something to inspire you for spring 2014.
Our designer says…
When creating this look it's important to keep the freshness of spring firmly in mind. The pallet shown in this month's mood board is a plethora of zesty greens right through to crocus like lavender / purples. Such versatile hues are east to use when considering interior applications whether it be via the inclusion of cushions, curtains or accessories.
Our Fiorella and Italian gardens collections offer a soft, subtle spring like feel. While the Potting Shed range embraces overtly distinct patterns – a real hit to the senses! Not unlike those cold yet sunny mornings we are enjoying currently. Lastly, don't be afraid to be bold with your paint choices this season - injecting accent colours to compliment your textiles will work beautifully in spring / summer light.
Good luck,
The pt design studio