We are excited to share a brilliant upcycling project from one of our customers with you.
There has been a greater increase in popularity for upcycling furniture in the last few years. It seems there is more appeal to upcycling an old piece of unloved furniture, into something unique and special to you, as opposed to buying something new off the shelf. Upcycling allows you to put your own stamp and personality onto a piece of furniture.
We love how our customer Neil has achieved this here with his table and chairs. He has taken inspiration from the shot below and has created his own version. The original table (before) looked old, worn and dated, but the newly renovated table and chairs look contemporary with a retro twist! He opted for our Chianti plain fabric to cover the chairs.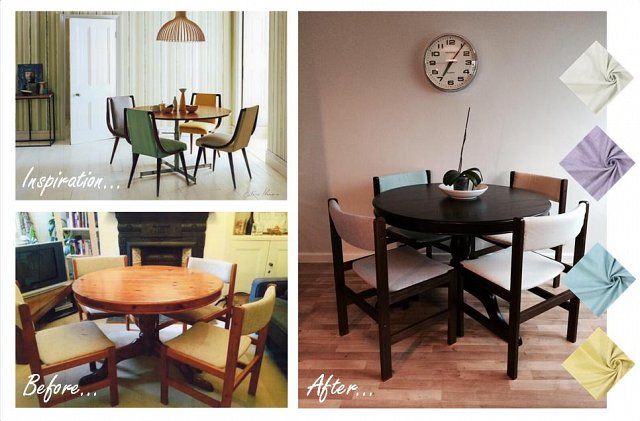 "I spotted the inspirational image a while ago and just loved the concept, 6 months later I saw an old table and chairs on sale in a charity shop for only £40! As soon as I saw them I recalled the image I had spotted, so I bought them to upcycle. I removed the old covers, sanded and stained the table and chairs. Then I ordered my material, trying to emulate the colour story (from my inspiration image), bought an upholsterers stapler and set about recovering the chairs. And da dah new dining set!"
Why not try your own upcycling project, give an old piece of furniture a bit of care and attention to turn it into a key piece for your interior space.