This month we take a look at some of the hottest interior trends coming through this Autumn/Winter. This season's trends explore a variety of design directions, from soft neutral colour palettes to bold prints and bright colour palettes.
Here we are exploring four very different looks for your interiors to grab your creative attention!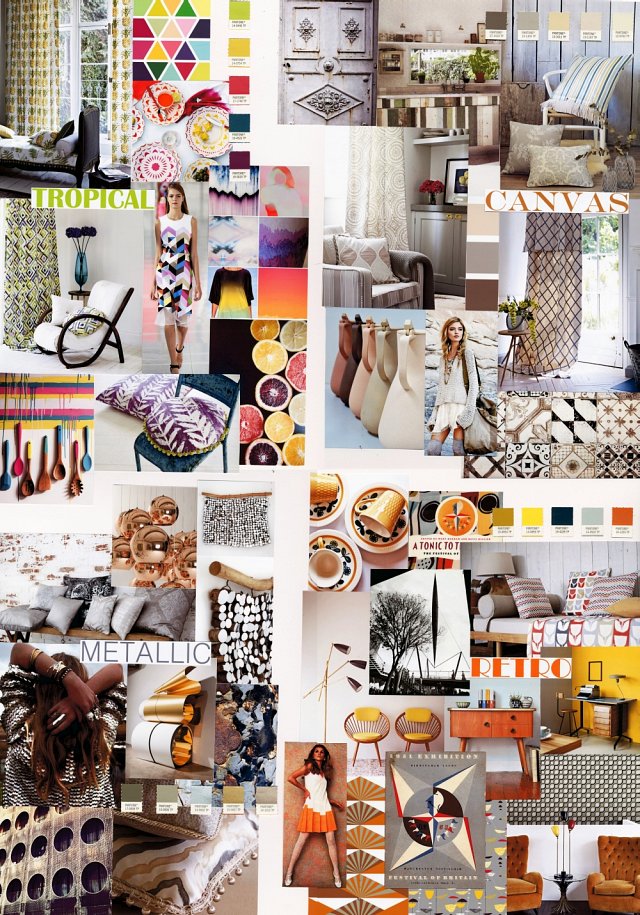 We are excited by bright tropical themes this season to liven up your home. We have seen flashes of vibrant colour in recent fashion designs, which have filtered down into interior trends to create an exciting new look. Be daring and choose bold prints with tropical inspired colour palettes!
Our 'canvas' colour story has a rustic charm with shades of cream, taupe, soft blues, pastel greens and linen tones. Create a textural and organic look by teaming intricate embroideries and embellishments with classic stripes in linen colourways.
Retro trends are making an impact on interior design, with a 1950's design feel. Also inspiration from influential designers such as Lucienne and Robin Day, and the iconic Skylon structure from the Festival of Britain are apparent in modern fabric, wallpaper and furniture design. A colour palette of mustard yellow, warm grey, burnt orange and petrol blue come together with contemporary styled retro designs to take a modern twist on the era.
Finally metallic trends bring a touch of glamour and shine into home furnishings. Advances in design techniques and materials allow for more metallic looks to be achieved for fabrics and wallpapers, from beautiful metallic yarns to foil printing. Try choosing fabrics with a subtle shimmer for a softer metallic look. Alternatively the trend can be enhanced by using bold metallic and reflective accessories alongside statement metallic look fabrics.