Have a Handmade Valentines
We have two wonderful craft ideas to make your Valentine's Day truly special, with a handmade touch. Personalise a scrap book or photo album filled with pictures and memories of your loved one, by adorning the cover with beautiful fabrics.
See our guide below to re-covering your photo album or scrap book with pretty fabrics, and embellishing with extra details.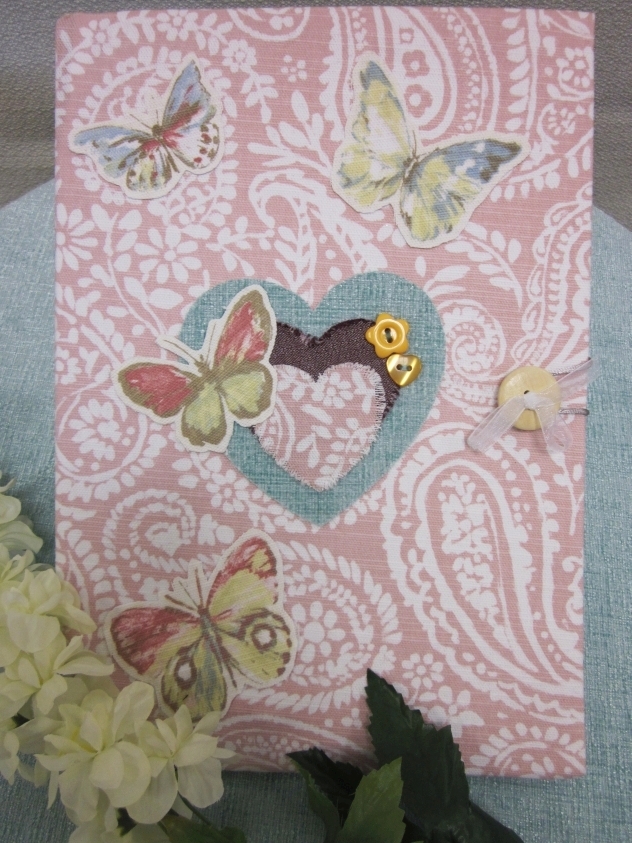 All you need…
Book to cover
Scissors
Pencil
Ruler
Spray Glue
Ribbon
Decorations of your choice
Interfacing
Fabric

We've chosen…

Method…
Choose the book you want to cover, such as a photo album, scrap book or wedding planner.
Measure the length and width of the open book
Using your base fabric for covering your book (we chose Langden Blossom from our Langdale fabric collection) measure out your fabric, adding 5cm to each side and cut out
Then lay your fabric face side down, and place your book open in the centre of your fabric and make a small mark at each corner
Next using your spray glue, spray the back cover only of the book and place on the fabric within your markings, now spray the front cover and wrap the fabric over the front smoothing any creases or bubbles. Leave to dry
Once dry, cut and inverted triangle in the excess fabric at every corner, and at the both ends of the spine
You can now fold the fabric and glue onto the inside of the book, and leave to dry
For any fabric you are adding as decorations it's a good idea to use some iron on interfacing to help with fraying edges
We used Briarfield Blossom from our Langdale fabric collection to add some pretty butterflies, and heart shapes from our Zephyr and Chianti plains collections

Top tip…
For an extra detail you can add a button and ribbon fastening. Sew the button onto the front of your book, and attached a ribbon to the back of the book. Finally tie the ribbon around the button to fasten.


Sweet treats!
A quick and simple Valentines craft that will brighten up any sweet treats! Fill a jar with your loved ones favourite sweets, and add a personal touch by covering the lid with fabric, bows and ribbons.
These fabric topped mason jars are perfect for even newbie crafters, with no sewing involved. See our simple tutorial below.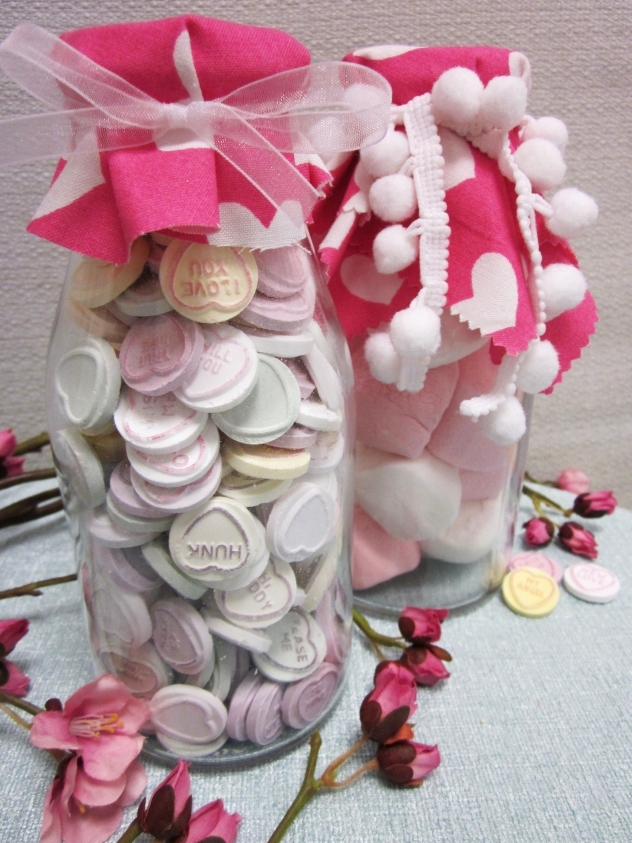 All you need…
Jar
Scissors
Pinking shears
Pencil
Elastic band
Ribbon/Trimming
0.20 metres of Heart Fuchsia (from our Ideal World fabric collection)

Method…
Using the lid of the jar trace the circumference onto the reverse of your fabric
Then measure approx. 10cm out from the circumference and mark another larger circle around at this point with a pencil
Cut out your fabric using scissors, or with pinking shears to reduce fraying (if you do not have these fray the edges a little for a shabby chic look)
Fill your jar with sweets and treats and fasten the lid back on
Lay the fabric over the top of the lid and secure using an elastic band
Finally tie ribbon or trimmings of your choice around to hide the elastic band and decorate

Happy crafting!