Refresh, Revamp, Renew!
We have 10 fresh ideas to update your interiors this April. A new season, a new look, be inspired by the change in season, embracing new and seasonal trends.

1. Light and bright décor

Create mood boosting interiors, light and natural soft furnishings will keep your interiors looking bright and fresh. Our Provence and Lakeside collections offer beautiful weaves and embroideries in tasteful subtle tones for creating tranquil interior schemes.

Allow the light to flood in with the curtains pulled back and the shutters open. For darker rooms use tricks of light with a cleverly placed mirror, to reflect light around the room.
Clockwise from top left: Provence, Windermere, Focus and Lakeside.

2. Colour Boost!
Be daring with pattern and colour! Incorporate exciting digitally printed fabrics in vibrant colours, to bring your home to life! Our Mardi Gras range is an exotic medley of tropical prints for thrilling interiors.

Alternatively play with colour blocking, combine multiple bold colours with plain cushions and accessories. Plus these can be swapped and changed easily, and arranged in different colour combinations for a different look every time!
Clockwise from left: Mardi Gras, Annika and Velour

3. Colours of spring
Bring the joy of spring inside and enjoy more greenery in the home. Turn a new leaf this April and accessorise with fresh flowers and house plants.

Be on trend with cactus plants, their array of different quirky shapes offer a fun addition to any home!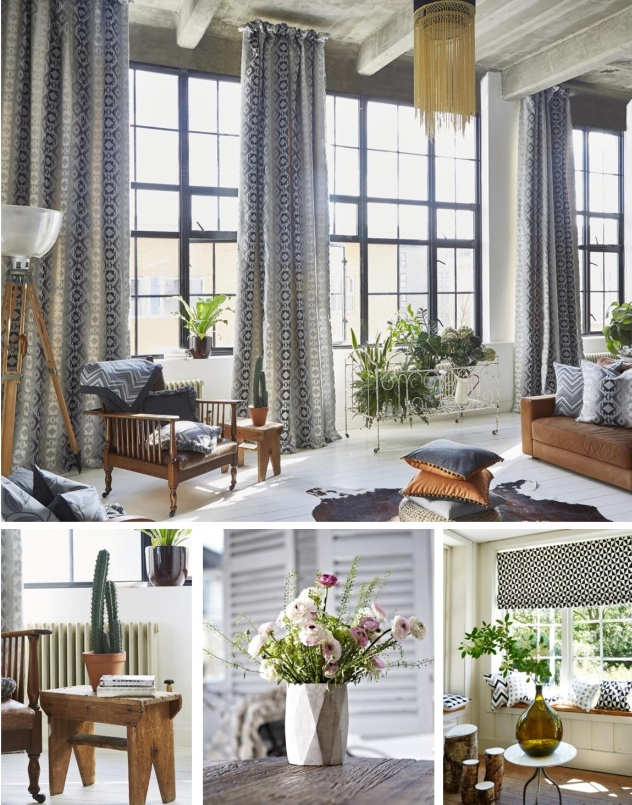 Clockwise from top: Arizona and Cube

4. Block out the early morning sunshine in style
Decorative roman and roller blinds in colourful prints, ornate embroideries, weaves and jacquards will make eye-catching window statements. Blinds are a practical yet beautiful window treatment which can easily block out early morning rays, but can be easily adjusted to suit throughout the day.
Clockwise from left: Samba, Java and Metro

5. Scandi Style
Simple patterns and crisp shapes of the Scandi style will create fresh inviting interiors for spring. A paired back and simple style for contemporary interiors.

Are you are looking for something a little brighter? Our Annika fabric collection of simple Scandi inspired motifs comes in a range of zesty colour palettes, for lively soft furnishings!
Clockwise from top left: Cube, Finlay, Annika and Nomad.

6. Embrace a floral motif
As the spring flowers come into bloom, why not emulate this in your soft furnishing fabrics? Whether it's something ethereal like our Verese floral print on linen, or a bold embroidered floral motif, there is something to suit all tastes.
From left to right: Samba and Nomad.

7. Dare to go bare
Take it back to basics with a muted colour scheme. Natural fibres such as 100% linen and cotton, combined with a subtle colour scheme give fabrics a natural earthy feel.

Strip back the walls; exposed brick and bare distressed walls will give your interiors a contemporary feel. Combine with industrial styled accessories to complete the look!
Above: Nomad

8. Add a little lustre
Metallics are a hot trend this year and we have the ideal fabrics for you to embrace the trend within your home furnishings! Metallic yarns, foil printed velvets, and shimmering jacquards are captured in lustrous silver, pewter and bronze colourways for radiant fabrics.

Let your interiors shimmer, shine, glitter and glow!
Clockwise from top: Focus, Safari, Asteria and Cube

9. Quirky accessories
A quick way to update your interiors for spring is with accessories. Experiment with an old wooden ladder which can create useful hanging, a wicker swing chair to relax in or even a vintage bike as a feature piece.

Have fun with quirky finds and add a touch of personality to your home!
Clockwise from top left: Asteria, Provence and Nomad.

10. Revamp your walls with wallpaper
Gone are the days of 'feature' walls, it's all about a whole room concept. Opt for textured surfaces, distressed and weather worn wallpaper effects. Break this up with panelling, oversized mirrors, or ornamental wall pieces.

Create walls with a wow factor!
Above: Elements Wallpaper