As we celebrate the Queens 90ths birthday with street parties and parades we look back at nine decades of interior design. From the decadent era of Art Deco to the swinging sixties, the Queen has witnessed an abundance of design styles and art movements which have influenced interior décor.

1920's
Queen Elizabeth II was born in 1926 into a decade of glamour and grandeur, and interior design certainly reflected this.

The roaring 1920's saw the Art Deco style influence everything from fashion, architecture, photography and film, to product design and most importantly interior décor. The famous 1925 Paris Exposition, dedicated to modern decorative arts, brought together designers and products from around the world, including the influential designer Jean Dunan, who is considered to be one of the greatest lacquer artists.

Geometrics, fan shapes and angular fretwork were seen across highly decorative furniture. These shapes were also reflected in the architecture of the 1920's, notably the iconic Chrysler Building designed by William Van Alen. Rich colour schemes of gold, deep blue and chrome were captured in luxurious materials and lavish velvet fabrics, which can be seen in contemporary interiors today.
Clockwise from top left: Helio Opal wallpaper & Istana Sapphire, Chrysler building New York, Jive Sandstone, Atrium Cobalt, Vento Quartz wallpaper and Quartz Moonstone wallpaper.



---
1930's
During the 1930's the Art Deco style became more accessible to the middle classes due to the introduction of cheaper materials and mass production. However despite the Wall Street crash in 1929 and the start of the great depression, interiors remained refined and elegant and the Art Deco style was still prominent, but with a less extravagant finish. Colours became more subtle with schemes of brown, grey, black, burgundy, beige, amber and soft eau de nil and dusky pinks.
Clockwise from top right: Cubix Luxe wallpaper, Luxe Pearl wallpaper, Link Onyx wallpaper and Velour Bordeaux, Azure and Camel.



---
1940's
One of the most notable styles during the 1940's was the desire for less ostentatious interiors of the 1920's and 1930's, opting for more cosy and comfortable styles. With money going in to the war effort a 'make do and mend' approach to living, coupled with a feeling that we're all in it together did much to define interior style. Ditsy florals, small scale patterns and gingham fabrics became popular as they were cheap and cheerful, bringing pattern and colour into the home.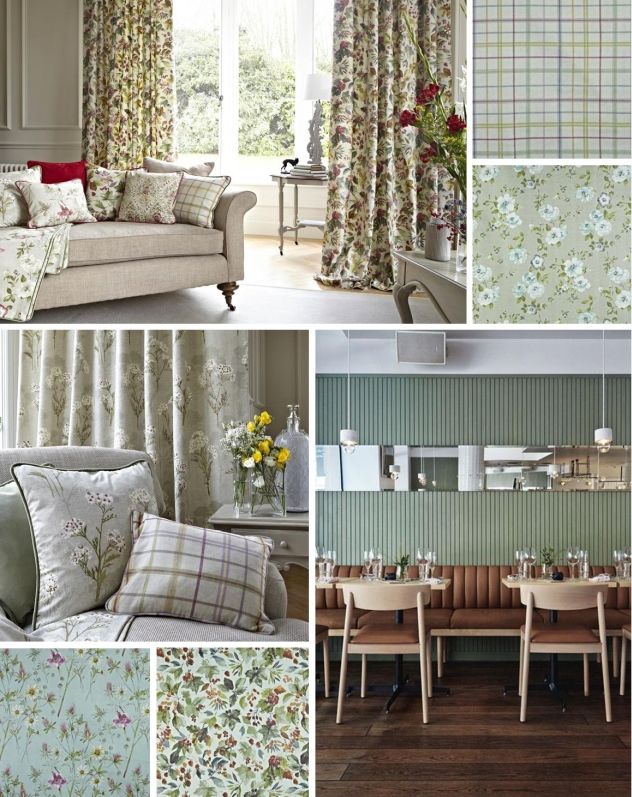 Clockwise from top left: Ambleside collection, Derwent Hollyhock, Bowness Samphire, Appleby Autumn, Wordsworth Robins Egg and Ambleside collection.


---
1950's
The 1950's was an optimistic post-war decade, which was kick-started with a celebration of British industry, arts and science, at the Festival of Britain in 1951. Famous designers still recognised today, Robin and Lucienne Day, transformed design in the 1950's, by pioneering modern furniture design and revitalising textile design. Abstract and graphic patterns in bright colours brought a sense of energy and vitality in the home.

We also saw the creation of the renowned Egg Chair, designed by Arne Jacobsen in 1958 for the Royal Hotel in Copenhagen. And not forgetting we saw our Queen crowned at her coronation in 1953.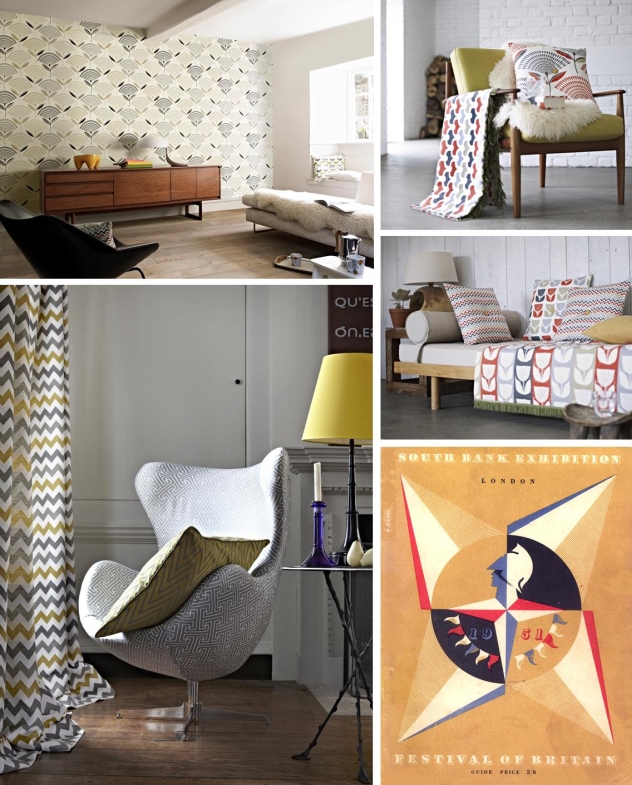 Clockwise from top left: Calia Luxe wallpaper, Accent collection, Accent collection and Metro collection.



---
1960's
The swinging sixties was an exciting and imaginative decade of design, where the pop-art movement inspired more playful and bright interiors. Stylised florals, bold patterns and graphic designs in monochrome, red, orange and yellow colourways dominated fashion and interiors. Modernism was out and the past was a big part of 1960's design.

The acclaimed Panton chair, a single unit cantilever chair made of moulded plastic, was formed by innovative designer Verner Panton. He created sculptural furniture pieces and lighting from plastic in bright and bold pop-art inspired colours.
Clockwise from top left: Cube collection, South Bank collection and Rocco collection.



---
1970's
The 1970's interior style was a complete contrast to the bright and rebellious 1960's. Colour schemes went back to nature with earthy hues of brown, harvest gold, rust, avocado green and pops of bright orange. The craft revival of the 70's contributed to the popularity of woven wall hangings, hand thrown pottery and rattan furniture.

The 70's saw an abundance of house plants from a desire to bring nature indoors, including macramé plant hangers which have made a revival today. 'World traveller' trends of today are reminiscent of the eclectic and bohemian 70's style.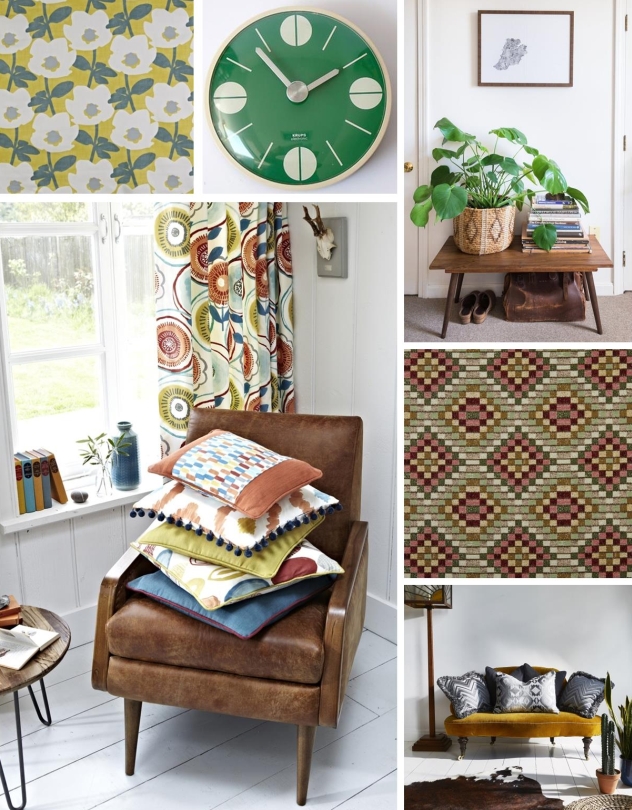 Clockwise from top left: Bermondsey Saffron, Krups clock, Piccola Antique, Arizona collection and Java collection.


---
1980's
The Milan based Memphis design group had a big influence on the post-modernist design styles that led the 1980's. The group of prominent designers, including founder Ettore Sottsass, met to discuss and create design, and they were inspired by Pop Art, 50's kitsch and futuristic themes.

Memphis Milano embraced graphic patterns, bold shapes and geometric motifs across furniture, fabric and accessories. Bold colour blocking and bold black accents were key to the Memphis style. Clashing colour combinations were not for the faint-hearted, neon Brights and florescent yellow, sat alongside contrasting sugary pinks, mint, and pastel blue. The Memphis trend made an exciting come back in A/W 15 interior trends, and we embraced this with our Cube collection.
Top left swatches (clockwise from top left): Cube Aqua, Bahia Tropical, Jazz Jet, Velour Petal. Top right: Cube collection. Bottom right swatches (clockwise from top left): Spitalfields Denim, Zodiac Tangerine, Memphis furniture, Crackle Jet. Bottom left: House Beautiful magazine from the 1980's.
---
1990's
A new restrained outlook infused many homes of the 1990's with a pared down and simpler aesthetic. A less is more approach became apparent across fashion and interiors, striving for a minimalist look. Colour was out and white was in, neutral schemes of beige, taupe, grey and white were used to create minimal, serene and calming interiors.

Eastern styles influenced interior design in the 90's and as result lanterns, lattice screens, storage baskets and Japanese art became popular. The furniture was either rustic wooden pieces or white painted furniture, and fabrics were kept neutral with simple motifs and natural textures.
Clockwise from top left: Perception collection, Baroque collection and Finlay collection. Swatches centre from top: Click Stone, Royalty Pearl and Basket Weave Natural.
---
2000's
Interior design has come a long way in the last 9 decades, with the revival of styles and trends becoming apparent in current trends, such as the rich deep blues of the 1920's to the bold lines and graphic patterns of the 1980's seen in prints today.

Technology has had a huge impact on the way we design and produce fabric and wallpaper today, in particular the digital printing process. This creates an amazing depth of colour and with no limit to the number of colours; this allows us to explore new colour combinations, renewing our colour confidence!

It is fair to say our Queen Elizabeth II has seen a huge shift in design over the years, the rise of iconic designers, influential design movements and even the return of old styles coming full circle.

We would like to wish our Queen a Happy 90th Birthday and we hope you enjoy the celebrations and street parties!
Clockwise from top left: Mardi Gras collection, Printworks collection, Grand Palais collection, Samba collection and Cha Cha Colonial.
---