There are some things that you just can't bear to part with. We collect and accumulate items over time and they hold a special meaning. These items come to represent people and places, and the things that we have done in our lives. But, they don't always find a place in our homes. Garages and sheds fill with the pieces we cannot bring ourselves to part with, but lack the time to restore.
Sometimes though, those objects are given a new life and a new meaning.
Perkins and Gibbs Upholsterers in Bungay, Norfolk, were given an old dilapidated arm chair to restore. The chair belonged to their client's grandfather. It was 'his' chair. The place where he would complete a crossword, offer his wisdom and counsel and, latterly, bounced his great-grandchildren on his knee. His armchair was something that the family couldn't bring themselves to part with. For years it sat, gathering dust in a garage. No-one ever quite got around to restoring the chair, despite their best intentions.
In November 2016, after 10 years of being moved around but never touched, the family decided it was time to restore this old armchair. Perkins and Gibbs were given the job of re-upholstering the armchair using fabrics from our Velour range.
Before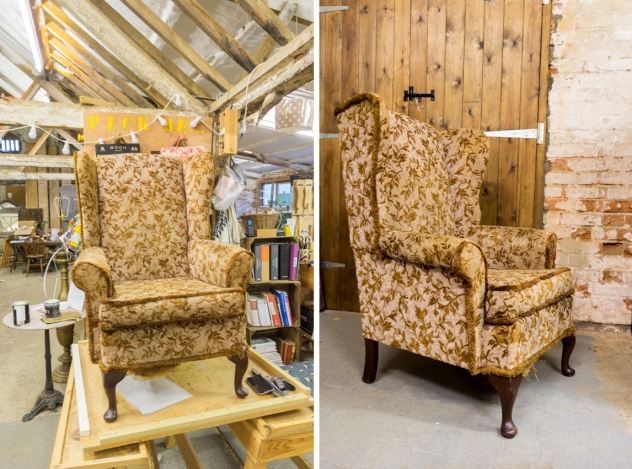 The chair had been well loved during its lifetime and was showing the signs of time at the back of the garage. While the frame remained sound and in good condition, the original fabric was dirty and frayed and the base was coming away.
The Restoration

Once the chair was stripped back to the frame, it received new webbing, burlap and foam. The chairs' owner, Emma, had chosen our Velour Indigo for the main body of the chair with the Velour Fuchsia as a contrast piping.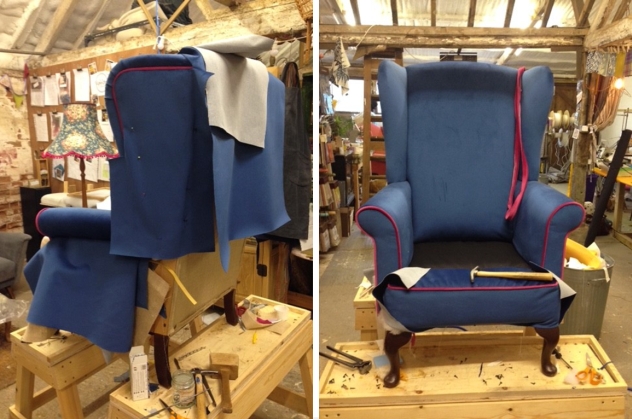 The piping was cut and put in place as each section of the chair was restored. Starting with the wings and arms, before covering the wing back's body.
The Result
The finished chair was given a whole new lease of life. The vibrant blue and contrasting fuchsia gave the classic shape a modern, vibrant look and the tactile nature of the fabric made it a chair that the family fight to sit in.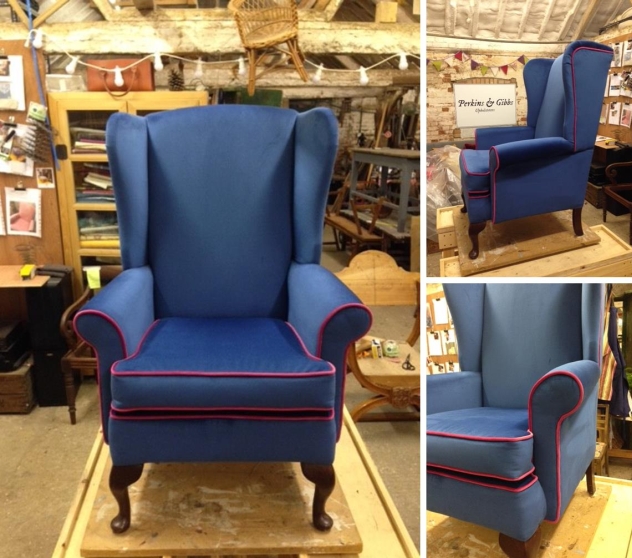 "It was so important to me that this much-loved piece of our family's history was restored but brought up-to-date at the same time. The velour is soft, warm and wonderful to work with" said Libby from Perkins and Gibbs, while Emma told us just how happy she was with the final piece. "It's wonderful. None of us can stop stroking the chair and creating patterns in the velour. It's a beautiful finished chair and we love it".