This month we welcomed intern Emily Rowland to Team Prestigious. It's a wonderful way of sharing our experience and knowledge with someone new and passionate about textiles and we get to learn lots from them at the same time. During her time with us, we had a sit down and a chat with Emily over a hot cup of Yorkshire tea, to get a sense of what it's like to be an intern with us.
Emily came to us having won the Prestigious Textiles Award at the Bradford Textiles Society Design Competition. This year's entrants were asked to create a textile design suitable for domestic curtains, upholstery, cushions and blinds, drawn in repeat. Their design could be either a printed design using digital or conventional printing, a woven jacquard or woven plain, or embroidery for drapery only. Emily's prize also included an internship with our design team.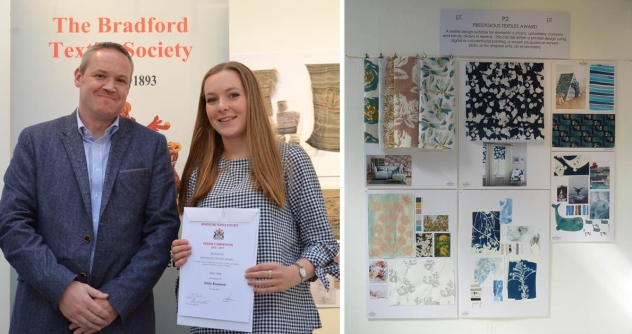 Team PT: Hi Emily. So, it's Monday, the first day at Prestigious – what have you been doing today?

ER: Monday has been about getting to know Prestigious and what goes on. I've met Chairman Trevor Helliwell and agents from one of the mills to review the new collections. It was a chance to share my portfolio too.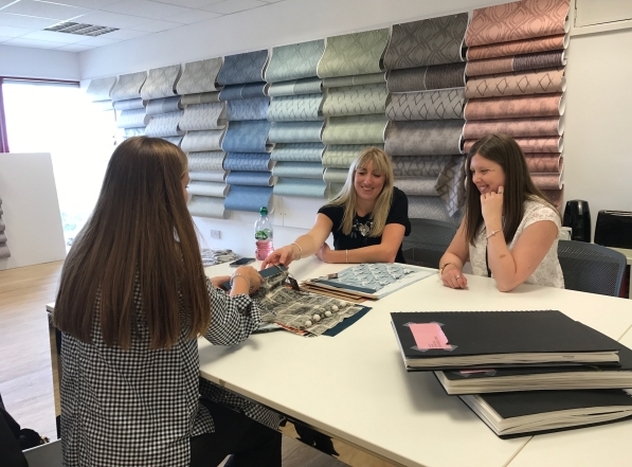 Team PT: Is there anything you're excited about?

ER: To see all the different fabrics, how collections are put together and see what happens in the studio during a busy week.

Team PT: Was there anything that has surprised you?

ER: How many collections are created by the designers for each launch.

Team PT: What has been the best bit about today?

ER: Being in the studio and seeing how a professional working studio runs day to day. Plus seeing the initial fabric samples for a new collection.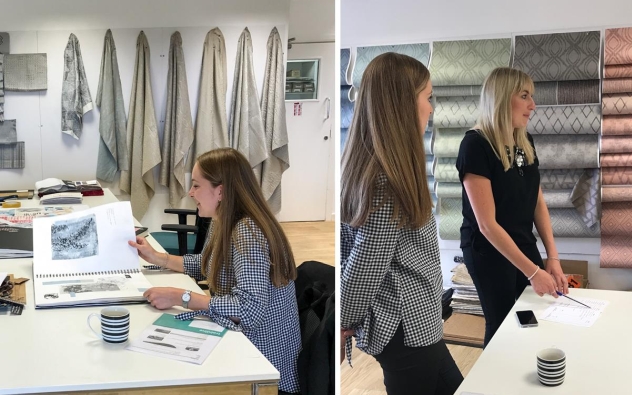 Team PT: What did day 2 have in store for you?

ER: The day started with a tour of all the Prestigious Textiles buildings, followed by helping in the meeting to choose colourways for a metallic collection. After lunch I helped create colour mood boards for new concepts, and learned how to put a design into a repeat. Finally I spent some time with the marketing team to learn about this aspect of the brand.

Team PT: A very busy day, what have you learnt?

ER: I've learnt a lot about how the brand promotes itself for their whole market so it suits various customers; this included how different fabrics are suitable for different customers around the world. I have also learnt how to create a new concept, which would then develop into a fabric collection.

Team PT: Tell us what you've enjoyed most so far this week?

ER: I've enjoyed working with the both the Design and Marketing teams, but my favourite aspect was learning how a design is developed into a collection.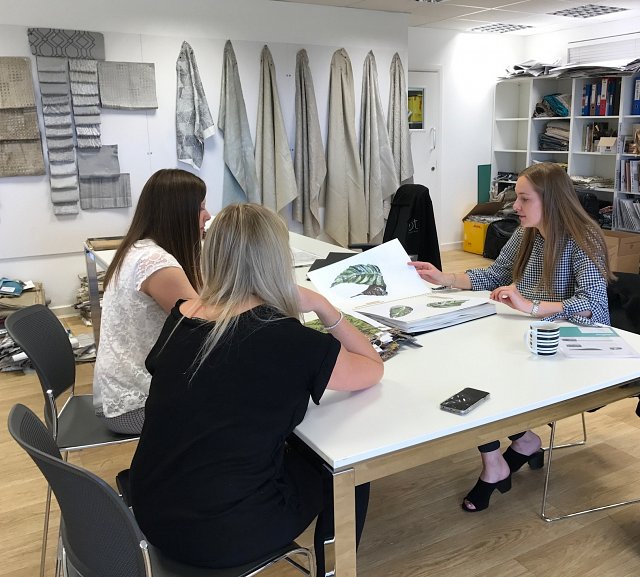 Team PT: Tomorrow, you're heading over to the Print Studio in Blackpool. What are you looking forward to?

ER: To work with the other Blackpool designers and to understand how print designs are developed in contrast to Jacquard designs.

Team PT: Welcome to Blackpool and the Print Studio. What did you find most insightful about being in the print studio?

ER: Working in the print studio really helped me to understand how a print design is developed. The designers took me through the process of how a piece of artwork transforms into a repeat print, they then showed me how to colour these designs for both rotary and digital printing. This has been really insightful and has helped me understand the process of design and printing.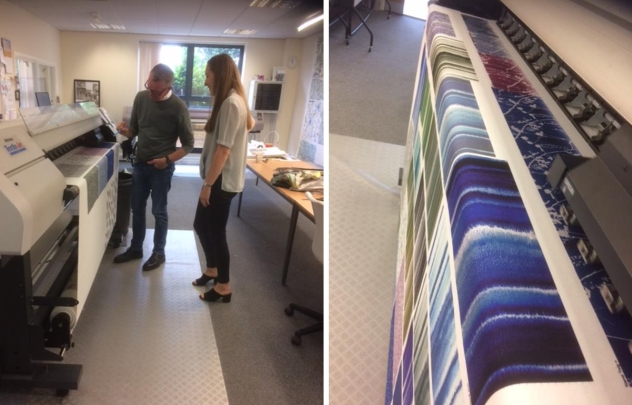 Team PT: How does the jacquard studio compare to the print studio in the development of collections?

ER: I had a great experience learning from both studios. In the jacquard studio, I felt I learnt a lot about the commercial side to the designs, as I was surrounded by a larger team and I was also able to help engage in meetings with mills and suppliers. In comparison, my time spent in the print studio was more practical based, I got to experience how the designers would develop and recolour their print designs working in Photoshop and using the digital fabric printer.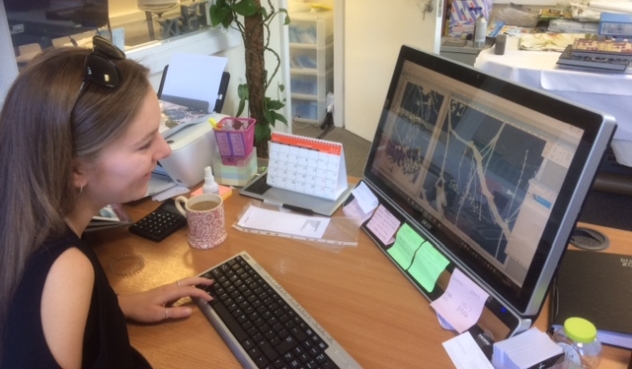 Team PT: Its Friday and the end of the week Emily. Tell us, what is your favourite Prestigious Textiles collection and why?

ER: I really like the variety of collections that Prestigious Textiles has to offer, my favourite being the Nomad collection. I think the natural linens combined with the neutral colour palate are a really beautiful combination and creates a rustic aesthetic to the line. Using a mix of painterly florals, textural geometrics and batik styled prints creates a really interesting combination of designs, and complement each other well in a room.

Team PT: Did you find it a good insight into the industry?

ER: This experience has really helped me to understand the commercial aspects to the industry and helped me to develop my knowledge of textiles further. This experience is definitely going to help me prepare for my final year at university and for the future.

Team PT: What has been the best bit about the week?

ER: I have really enjoyed my entire week working at PT. I have particularly enjoyed working with a variety of people from members of marketing, design, and having meetings with mills and suppliers. Collaborating with everyone has been really fun, and I have enjoyed working in a group environment. I have also enjoyed contributing some of my own design ideas and developing designs using the digital fabric printer.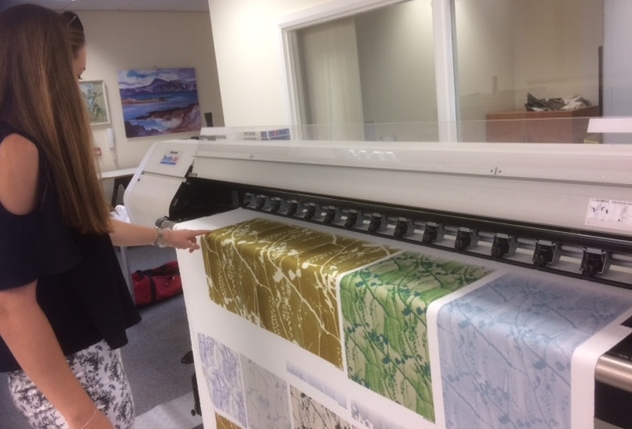 Team PT: What was the reality of the placement in comparison with what you thought?

ER: Everyone I've worked with at PT was very friendly, welcoming and made me feel involved with the work happening in the studios. I found it really interesting to learn about how designs are developed, as it is very different to how I develop my own work at university. I was surprised at how a small team created so many designs, and it was interesting to learn about the processes they use and development stages they go through to do this.

Team PT: Any advice for future interns?

ER: For any intern working at Prestigious I think it is important to ask as many questions as you can while you are there, to gain the most out of your experience. I personally learnt so much from doing this and it has helped me think about how my career might develop in the industry in the future. Also, don't feel nervous to talk to the team with your opinions and design interests, as the team are just as excited to have you there as you are to be there.

Team PT: Thank you for your time and enthusiasm Emily, we had a really great week and glad to hear you enjoyed it too.

Once again, congratulations to Emily on her award and to all the other entries of the Bradford Textiles Society Design Competition. We look forward to next year's competition!