Blue is proven to make our space feel cool, calm, and collected. This diverse shade draws upon global influences, ranging from white-washed Aegean shores to tropical scenes.
Our favourite colourway of this season, the calming, restful connotations of blue make it the perfect shade for promoting feelings of peace and tranquillity within the home.
Keep your cool this Summer and indulge your space in this season's variations of punchy ultramarine hues, which have remained staple shades in the world of interiors. Get ready to sing the blues and discover below how you can decorate with the kaleidoscope of enlivening shades this hue has to offer, which pair effortlessly with a spectrum of tones.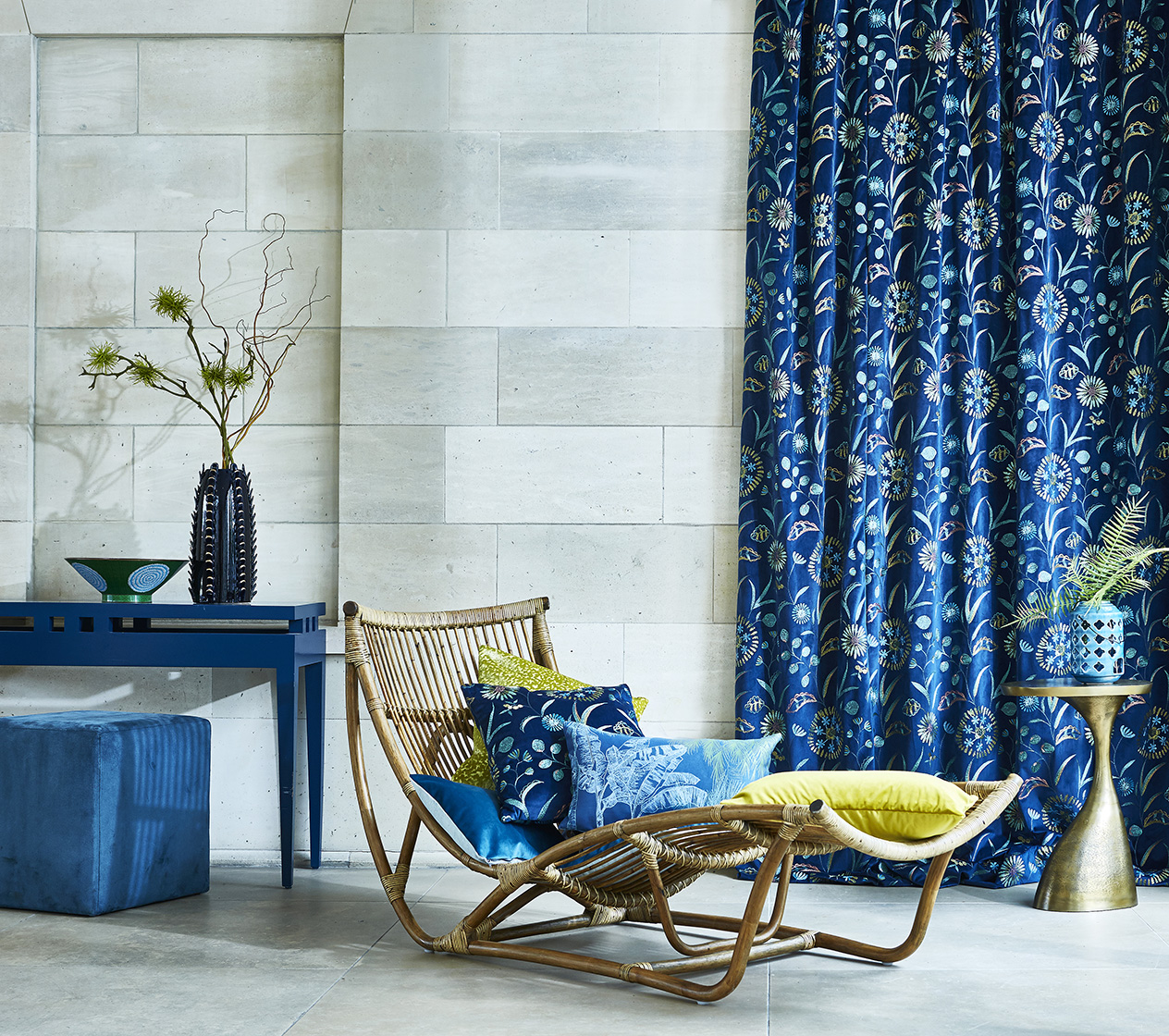 Combine Textures and Patterns for Added Interest
Stick to a solely blue palette and instead create depth with a varied portfolio of fabrics.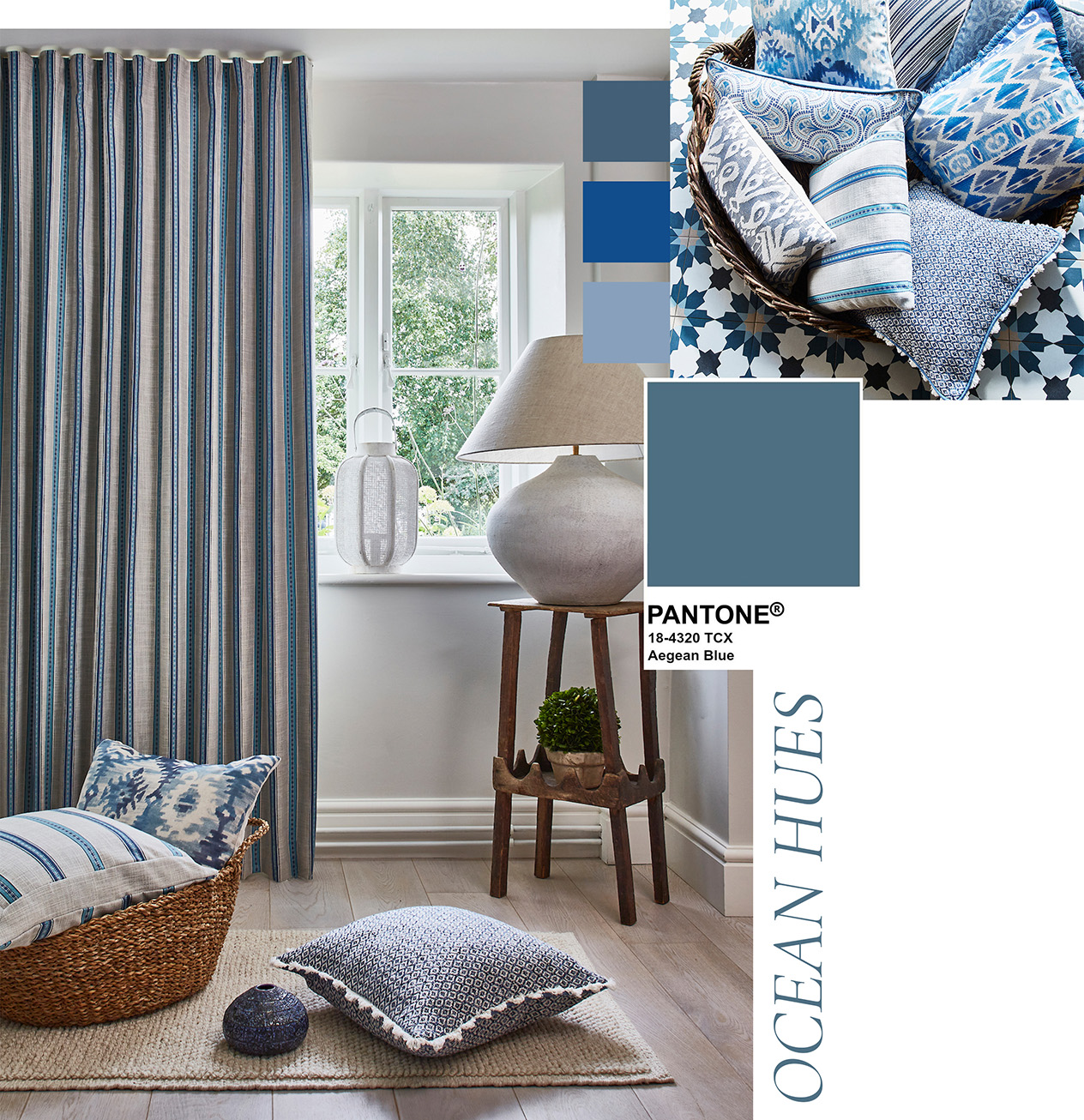 Use a variety of texture and pattern to add depth to your scheme, sticking to a palette of three or four similar blue hues for cohesion. Embrace the enduring trend for stripes and present through floor-length curtains in contemporary blue weaves. The vertical stripes of our Naxos design elevate a room and present the illusion of a taller space. Layer with scatter cushions in complementary jacquards and prints presented on linen-look fabrics for a laid-back, rustic feel. Use a variety of lighter cerulean tones and contemporary navy hues through to punchy cobalt finishes for a balanced look.
Get the Mediterranean Look by Pairing with Whites and Greys
Elegant and enduring with a touch of nautical, blue and white never fails to look contemporary, and can present a refreshing take on the coastal look.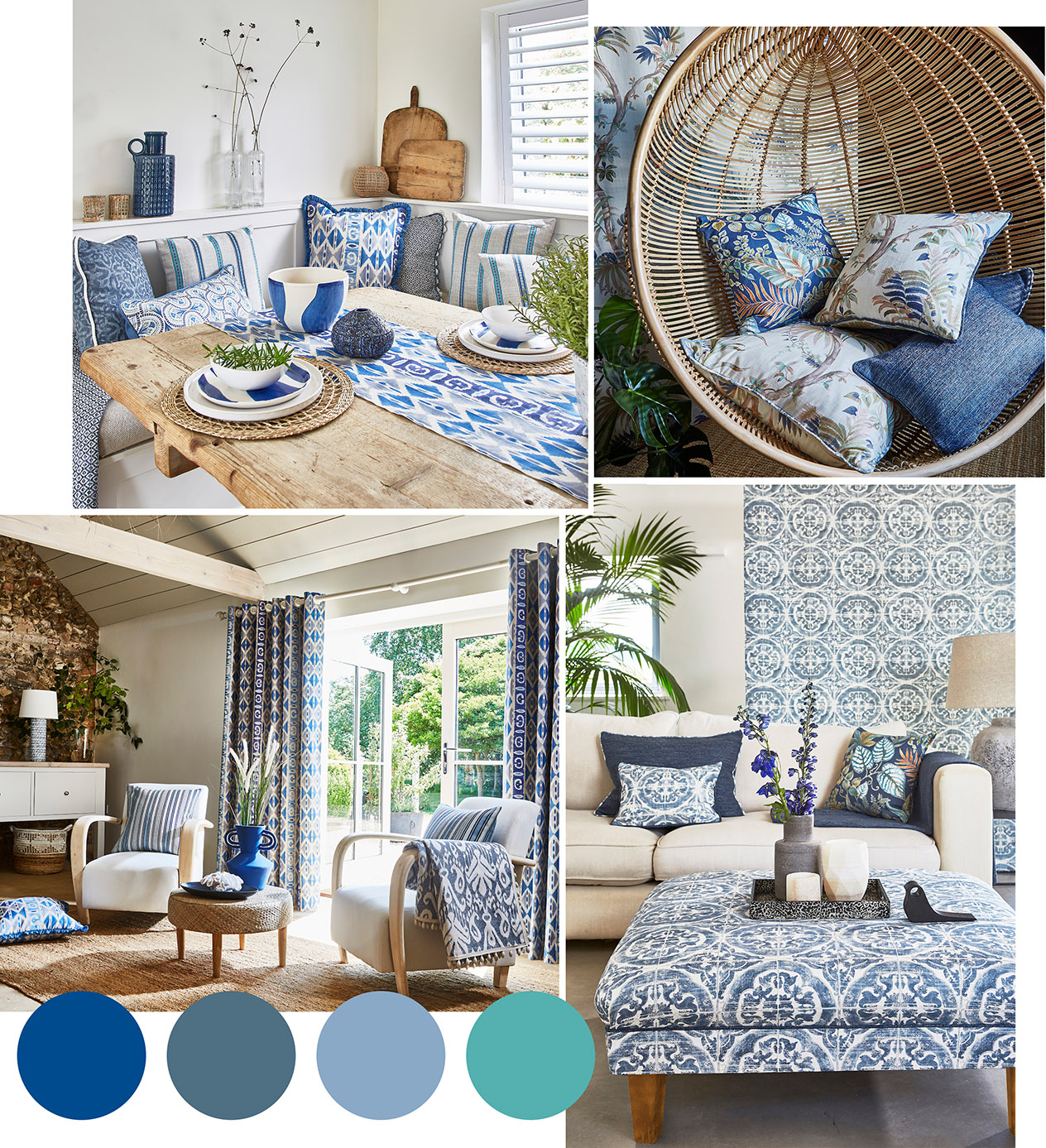 Santorini Collection, Summer House Collection
White and blue are inherently associated with light and airy, sun-soaked destinations, so create a clean and bright scheme with a refreshing combination of colourways. Enjoy an elegant spin on nautical influences with quintessentially Mediterranean prints, presented on linen-look fabrics in a palette of soft teals. Capturing rugged Aegean shores, complement with texture-rich weaves and tactile jacquards in washed cobalts and shale grey hues. Alternatively, take a subtler approach to the trend for tropical décor and opt for decorative tile designs and linen-look palm prints in tranquil blues and entrancing navy colourways. Invite the outdoors in and tie off your scheme with touches of greenery or pampas grass.
Utilise Natural Finishes for a Warming, Homely Feel
Natural materials, from exposed brickwork to wooden furnishings, are perfect for adding extra warmth and rustic charm.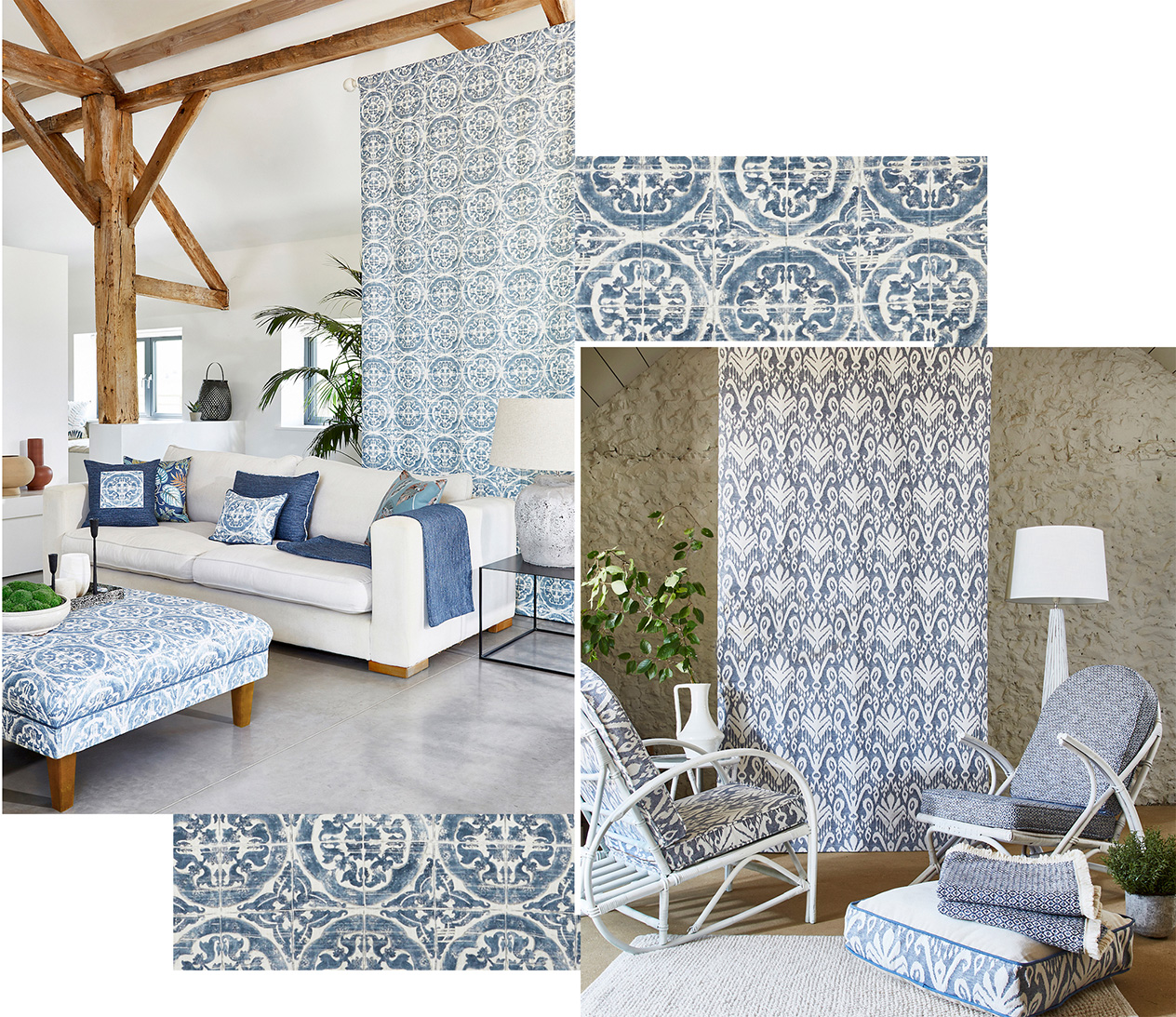 Summer House Collection, Santorini Collection
With blue tones cooling the appearance your space, warm it up with the natural grain of wood. Emphasise Mediterranean influences within your scheme and opt for white finishes, or go with brighter beech tones where natural light is sparse. Natural finishes can also be good to counteract darker grey hues, which can amplify the cooling effect of blues in your space. Make use of exposed wooden beams, brickwork, or stone finishes in your home for an inherently Mediterranean feel, whilst balancing out the presence of darker, cooling tones.
Pair with Green for a Tropical Scheme
Contrary to popular belief, blue and green should in fact be seen! Both rooted in the outdoors, these two shades take cues from nature to form a tropical paradise.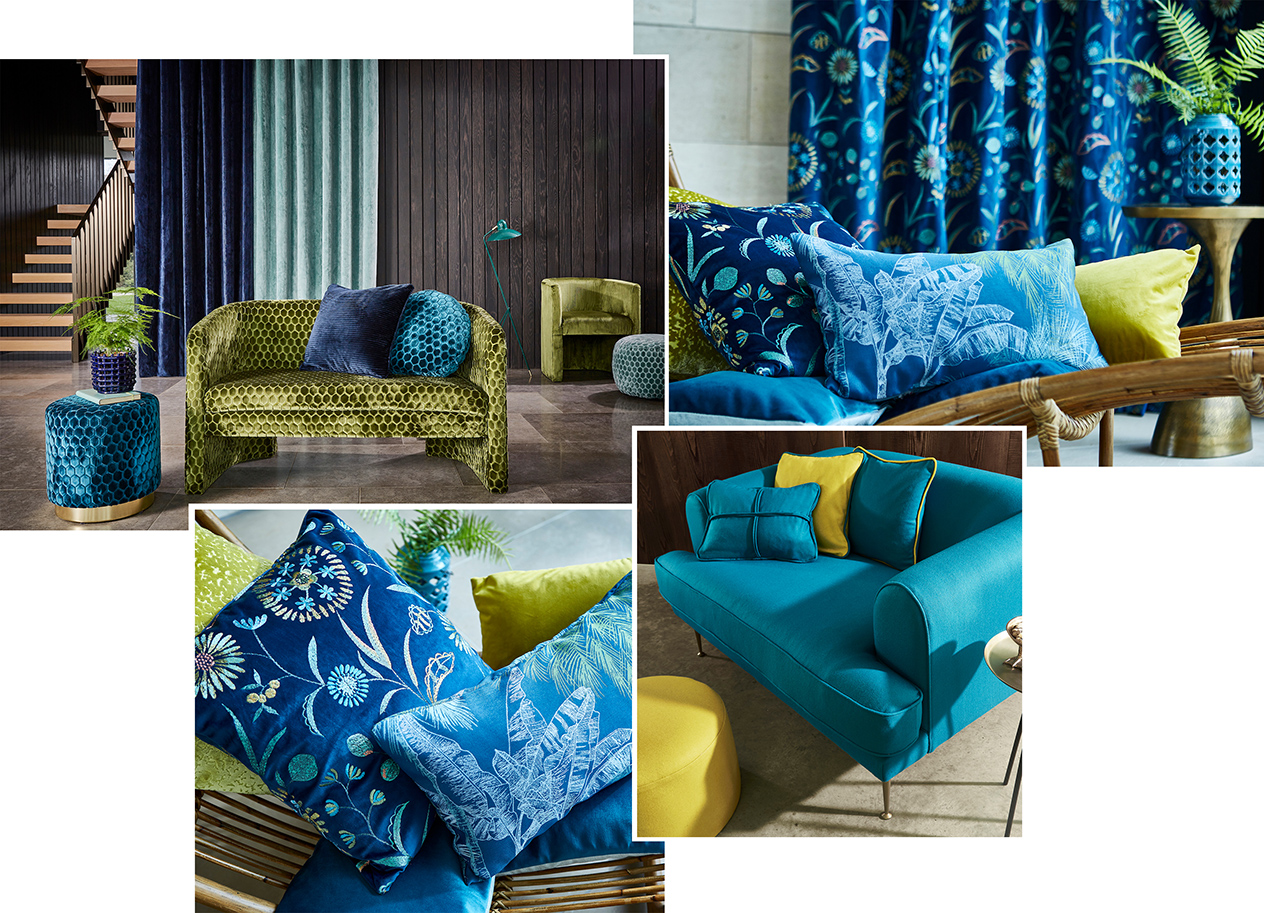 Volume Collection, Caribbean Collection, Ingleton Collection
Blue and green both sit closely to one another on the colour wheel, allowing them to collaborate effortlessly to encapsulate the serenity of nature. Instil cohesion and order into your scheme by presenting the two in coordinating fabrics, such as a dynamic duo of cut velvets for a truly opulent look. The palette of sky blues, ceruleans, and deep navy hues in our Volume Collection sits effortlessly with the collection's Emerald tones. Alternatively, colour block with punchy plains in vibrant ceruleans and zesty lime hues, or go tropical with jewel-toned embroideries and accompanying lime-toned velvets.
Add Gold Finishes for Inherent Opulence
Introduce snippets of luxury into your blue scheme with gold-toned finishes.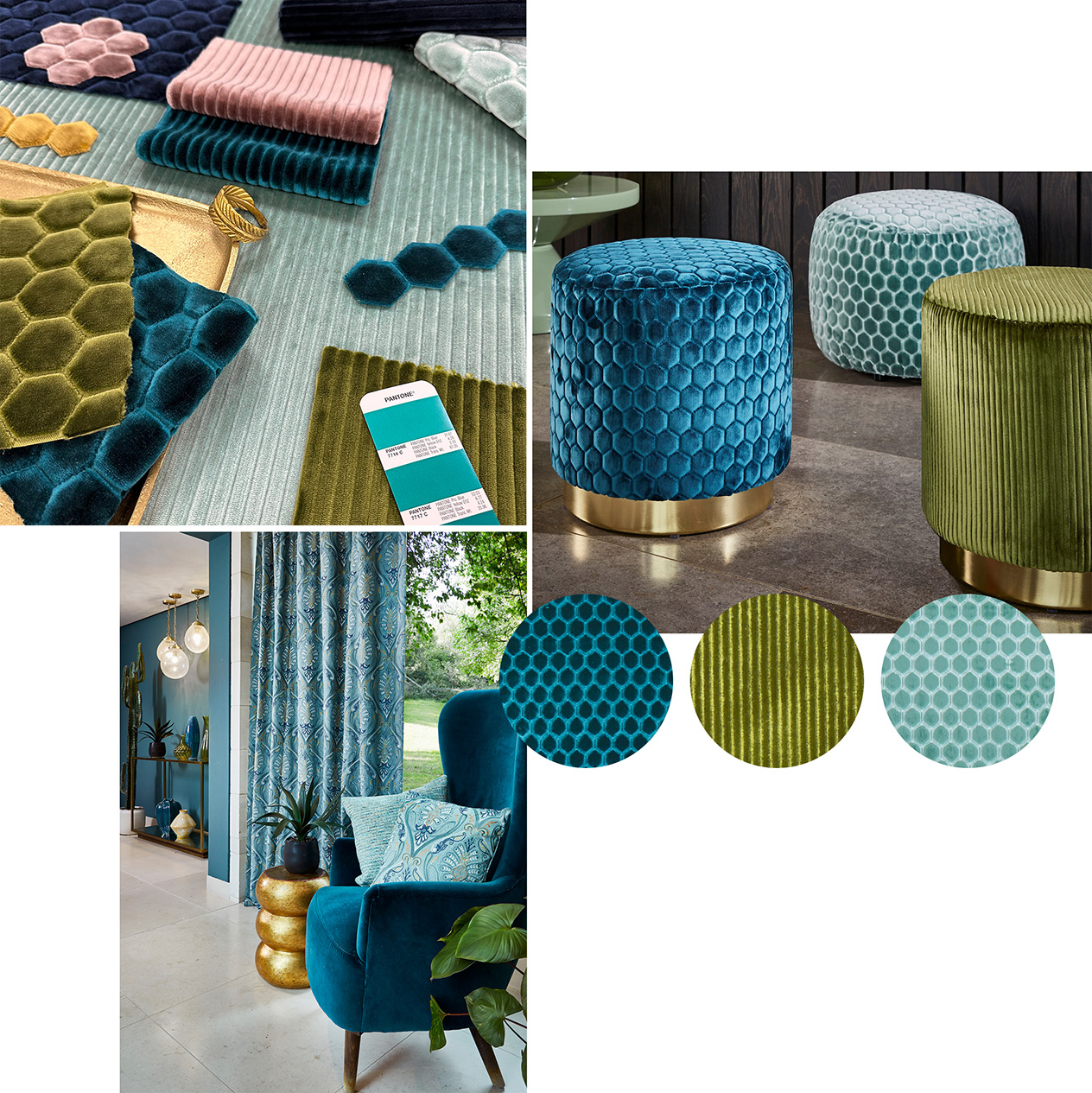 Volume Collection, Caribbean Collection
Opulent blues and gold accents coordinate to create a decadent feel within your space, pairing especially well with cut velvet finishes. Allow gold tones to truly captivate by pairing with richer, saturated blues such as indulgent turquoise, sapphire, and jewel-toned hues. Incorporate gold accents through furniture legs, side tables, door handles, and lighting fixtures for added snippets of drama and luxury.
Head to our product search for a touch of Ultramarine Blue inspiration, or locate your nearest Stockist here
Discover our latest Pinterest board for more inspiration