As much as we love the look of colourful interiors, pinning our favourite bold living spaces to Pinterest, it can sometimes be daunting incorporating colour into your own home.
Whether you start with subtle hints of colour in cushions, curtains and accessories, or go bold with statement upholstered furniture and feature walls; there's sure to be a colour scheme that will work for your living space.
There's no better time for bright, bold colour than summer. So, say goodbye to neutral interiors and discover the three colour trends of the season.
Ocean hues
Dive right in and bring ocean hues into your living space. Capturing relaxing poolsides and beach getaways, aqua and inky blues offer a calm, contemporary look.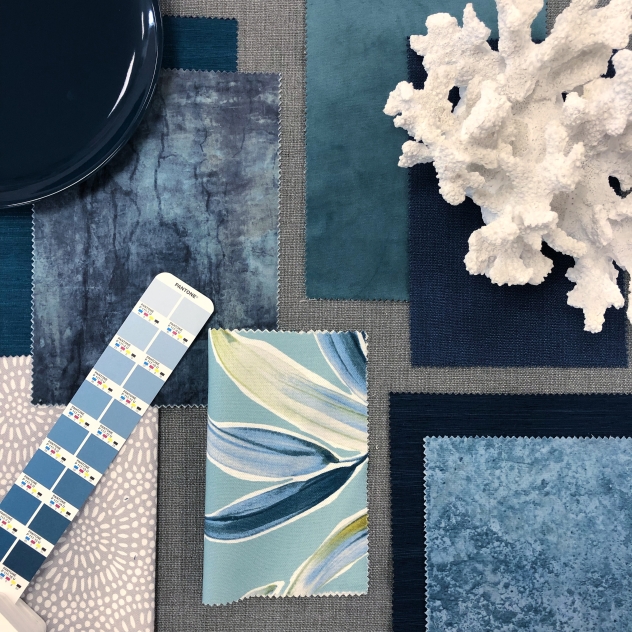 The Fracture and Terrain designs from our Surface collection give an underwater feel with their mineralised finish, adding texture to any living space.
Don't stand on the water's edge with this colour trend, make a statement with bold cobalt upholstery in our Velour velvets.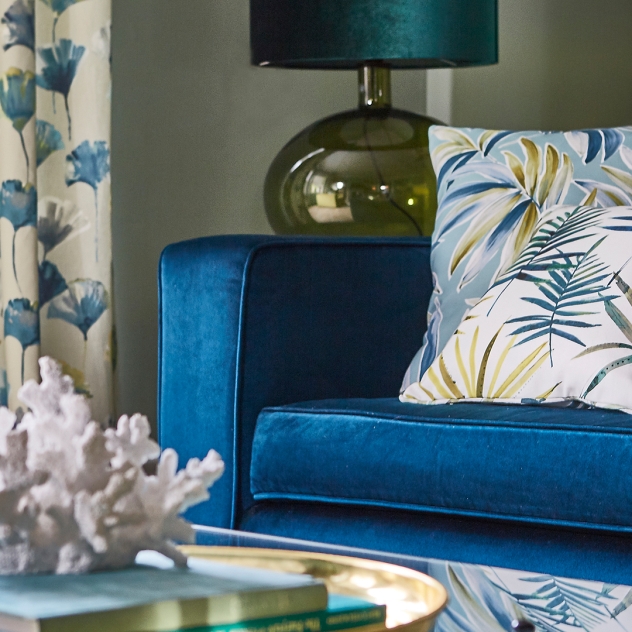 The washy, watercolour effect seen in the foliage designs from Malibu also offer this calming oceanic feel, in both curtains and cushions.
Neon Pastels
Neo-mint has been predicted to be the colour of 2020. Unlike the dusky pastel shades that have been seen recently, 2020 will offer an almost neon take on these pinks, greens and purples.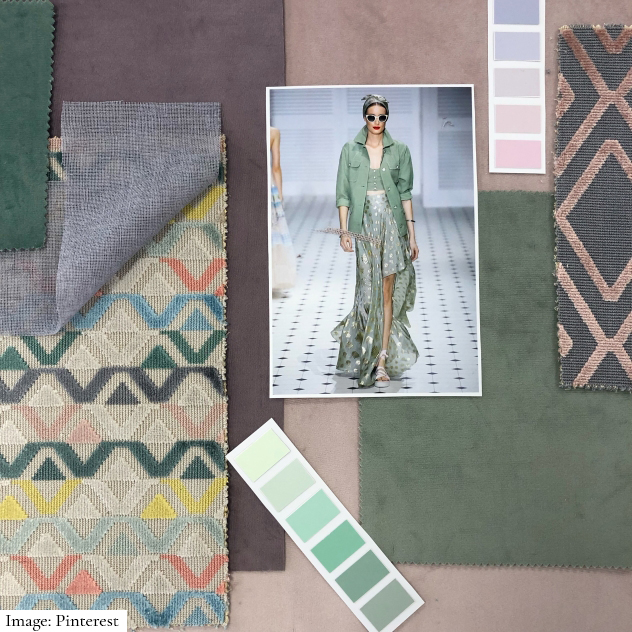 Trend forecasters WGSN believe that the neo-mint shade 'aligns futuristic development with nature' and is already making its way from the catwalk to interiors.
Pastel fabrics from our Rio collection capture this colour scheme perfectly. The Bon Bon colourway offers a mix of neon-pastel shades that pair perfectly with plain Velour in these on-trend colours.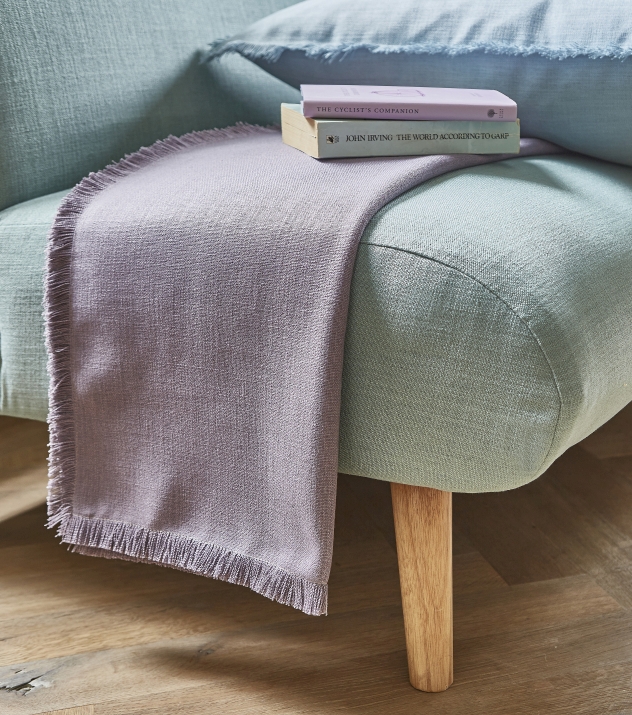 It's easy to add elements of this neo-mint shade into any living space. Here we've incorporated it with subtle pastel upholstery in our Saxon Celedon fabric, alongside Saxon Violet to add a contrasting tone of lilac.
Bauhaus
2019 has seen the 100th Anniversary of Bauhaus, so it's no surprise that graphic patterns, geometric designs and primary colours have been given a contemporary update.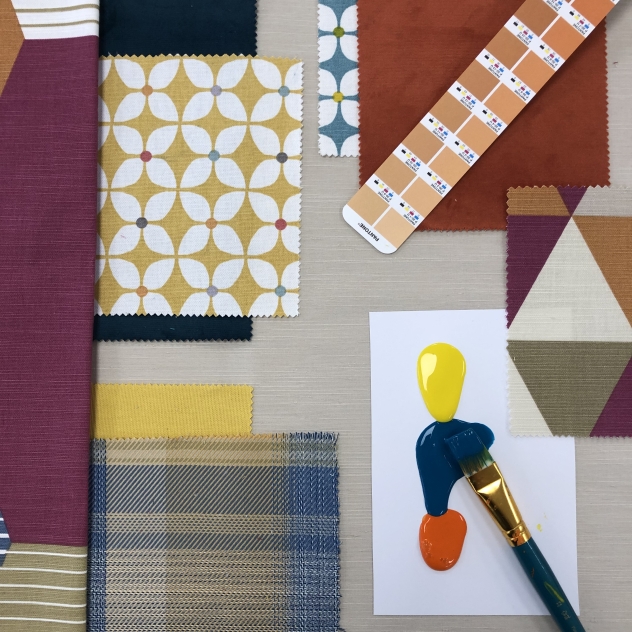 Colour is important to the Bauhaus movement, with Germany's Bauhaus art school, founded in 1919, teaching lessons in colour theory.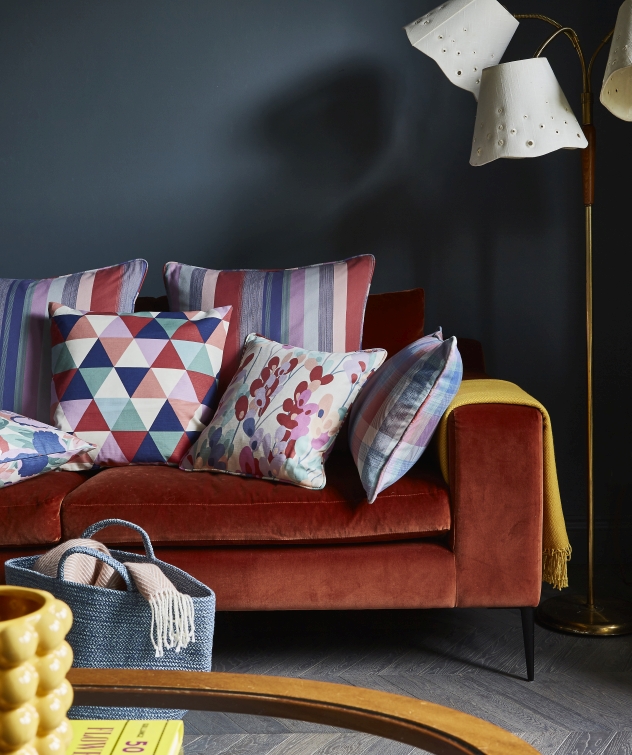 This Bauhaus revival has seen bold primary colours, alongside 70s inspired rust oranges and raspberry shades, making a come-back.
Our Mambo collection combines this colour scheme with Bauhaus's recognisable geometrics, perfect for including these on-trend colours and patterns in statement cushions.