While children are spending more time at home, there has never been a better time to transform your little one's room. Treat them to some fun new updates to their bedroom, playroom, or nursery to keep them entertained and out of mischief after a day of home-schooling.
Spending more time indoors and keeping children busy are two things that don't go hand-in-hand. So, get creative and be inspired by our 7 Fun Ideas for Children's Rooms…
1. Colourful Teepees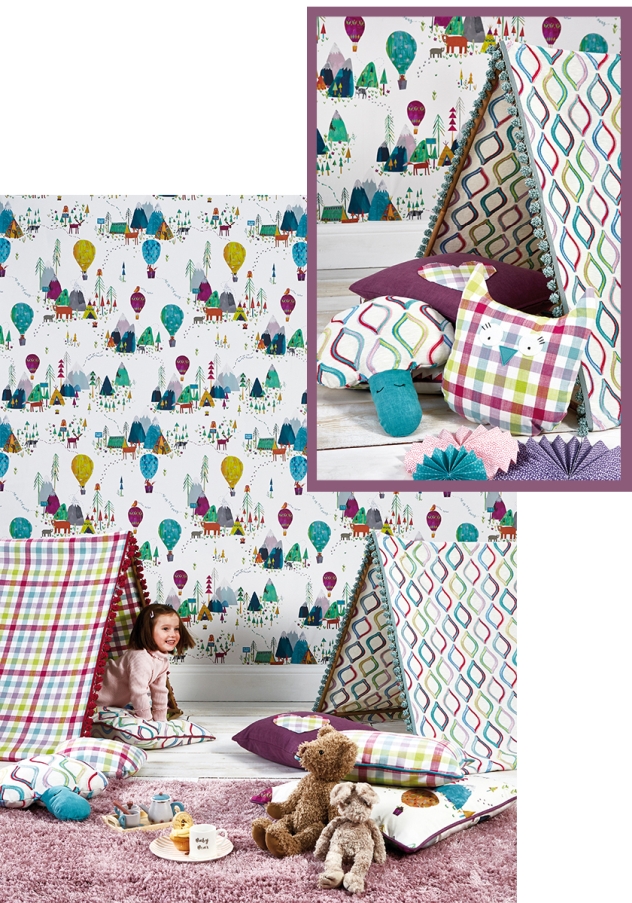 Teepees are a great addition to any children's room. Not only do they add fun and character into a playful interior scheme, they also provide a place that is separate from the outside world for children to explore and escape.
Let their imagination run wild with a teepee in one of the fun fabrics from our Big Adventure collection. Or even better, build your own teepee den in one of our colourful fabrics to create a great play area.
Fill your little one's new den with coordinating soft furnishings to instantly transform their teepee into a comforting sanctuary, the perfect place for bedtime reading.
GET THE LOOK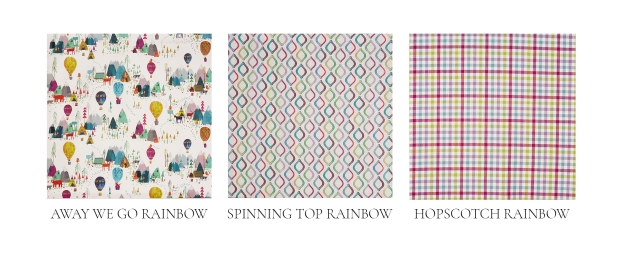 2. Jungle-inspired Wallpaper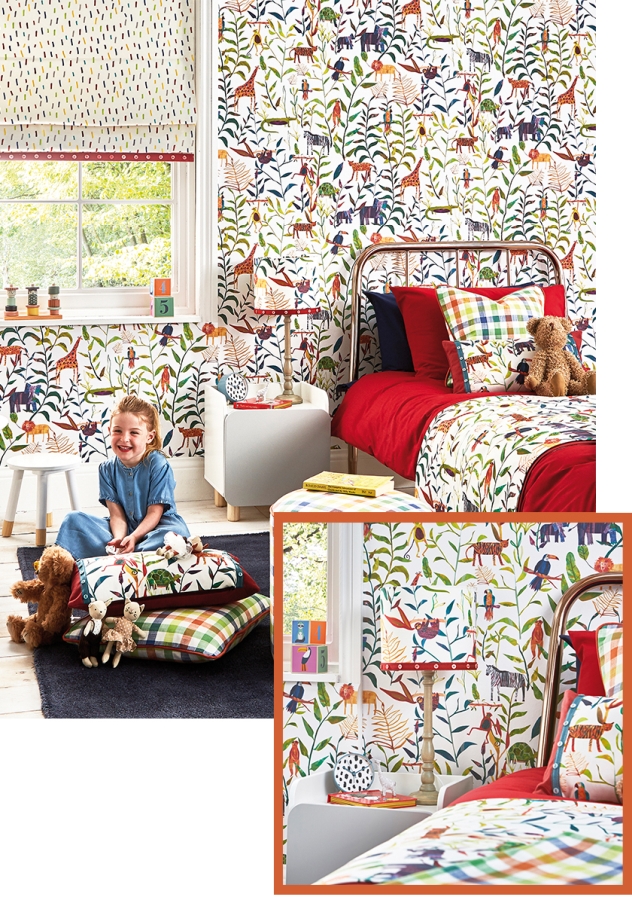 Let your little ones embrace their inner explorer with jungle-inspired wallpaper. Introducing a wild, patterned wallpaper into any bedroom is a great way to embrace the jungle trend.
So, why not incorporate trailing leaves and swinging treetop monkeys in your child's room? Our Peek A Book Jungle wallpaper features friendly sloths, smiling lions and graceful giraffes and is the perfect addition to both boys' and girls' rooms. The coordinating fabrics from our Big Adventure collection complete the jungle look perfectly, in matching lampshades, fun cushions, and accessories.
GET THE LOOK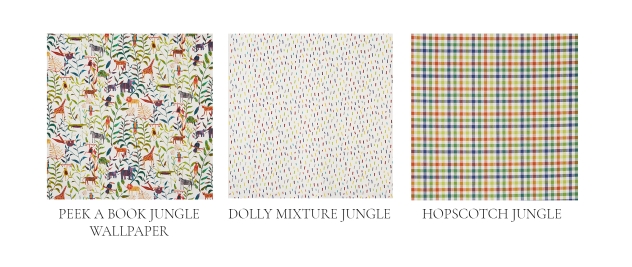 3. Fabric Kites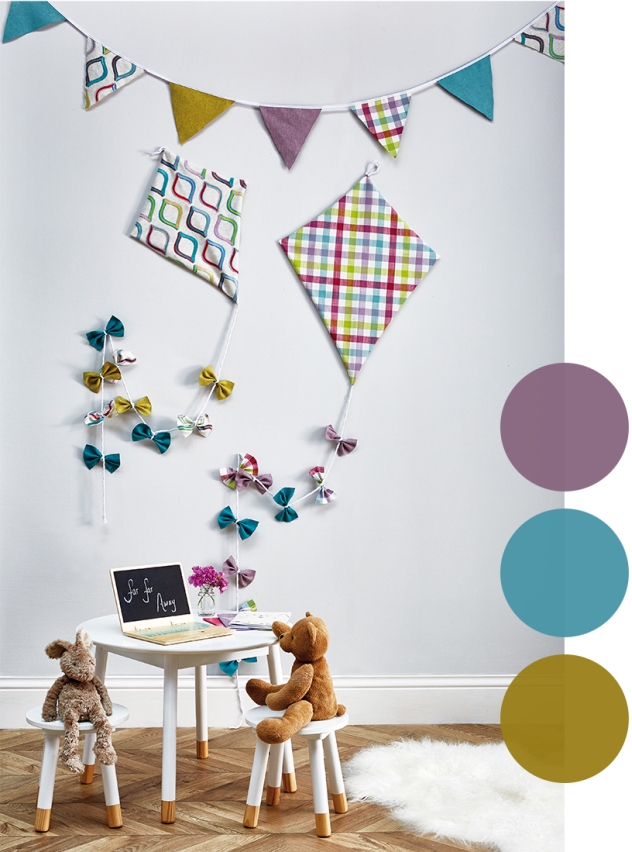 Looking to add something a little different into your children's room? Look no further than this fun fabric kite idea!
Transport bedrooms to the great outdoors with flying kites that inject a feeling of playfulness and adventure into any room. Whether you hang them to create a fun feature wall or suspend them from the ceiling for a more dramatic look, kites are a great way to add colour and personality.
Get creative and make your own using fabrics from our Big Adventure collection. We love how our Hopscotch and Spinning Top designs work together in these large-scale kites and coordinating bunting.
GET THE LOOK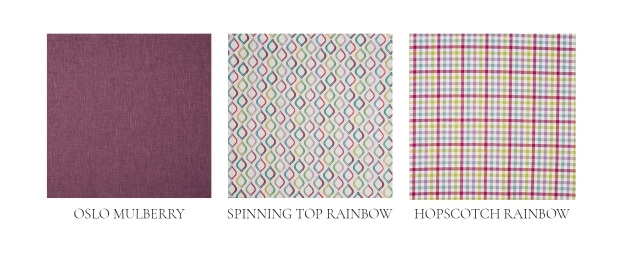 4. Star-shaped Cushions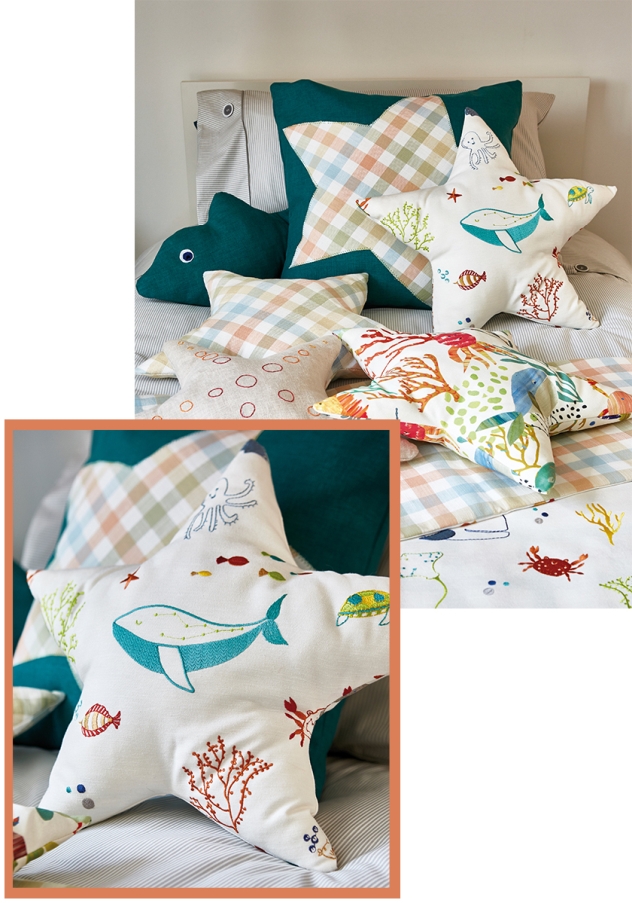 Usually, a space that serves to be more practical than stylish, it can sometimes be tricky knowing how to introduce soft furnishings into your children's room. The key to creating an interior scheme for kids is keeping everything as playful and exciting as possible, and we think these star-shaped cushions do just that!
A unique way to add a selection of colour and pattern, any type of novelty shaped cushion is at home in a children's room. We love how these star-shaped cushions have embraced an underwater world theme, using our Splash and Bubbles fabrics.
GET THE LOOK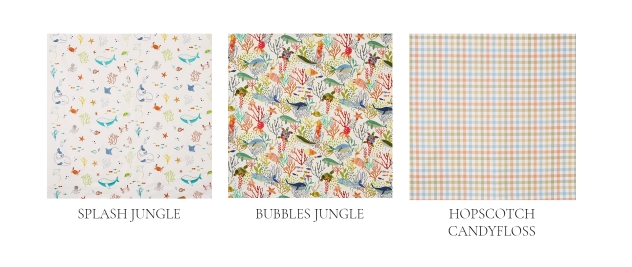 5. Butterfly Canopies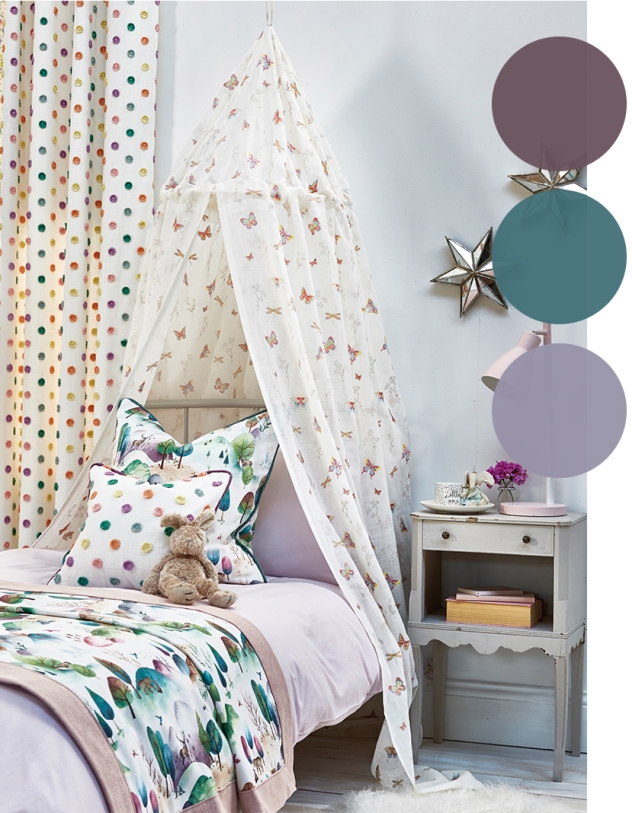 A canopy adds instant sophistication into any interior, giving a grown-up feel to a children's room. Not only do they offer sophistication, canopies give a feeling of comfort and protection when hung above a bed, helping your little ones peacefully drift off to sleep.
An ethereal canopy, like this one in our beautiful Flutterby voile, is enhanced by a calming pastel colour scheme of dusky pink and lilac shades, alongside the enchanting misty forest scenes in our Woodland Walk fabric and Hilltop Heights wallpaper. These design elements help create the perfect retreat from the outside world to give an older child the space that they need.
GET THE LOOK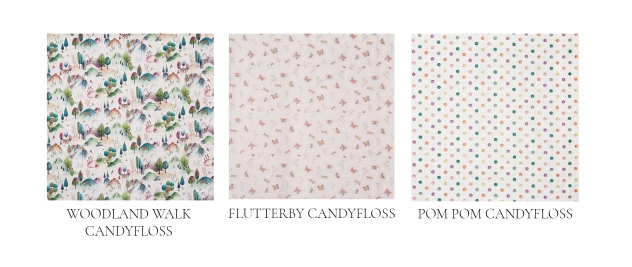 6. Fabric Balloons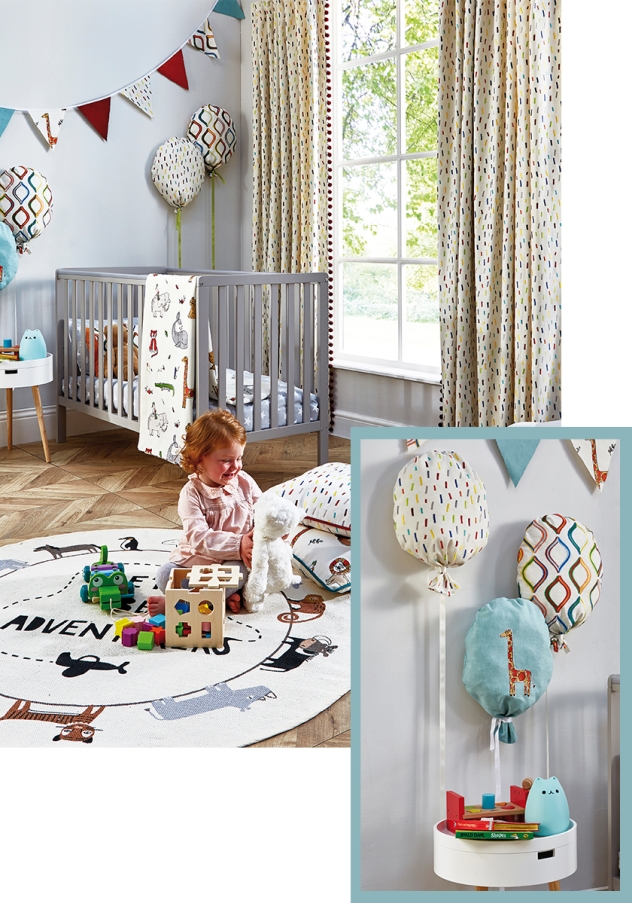 Similar to the fabric kites, incorporating balloons into your child's room instantly transports them outdoors.
These playful, yet calming additions are the perfect choice for nurseries. The hanging balloons provide an alternative to cushions and other accessories that can overcrowd a cot, making it unsafe for your little ones.
Just like other soft furnishings, the 3D balloons are a great way to pull a colour scheme together and add pattern, as well as offering another dimension to a feature wall.
GET THE LOOK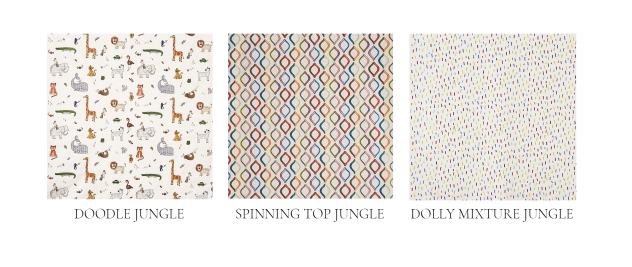 7. Beanbags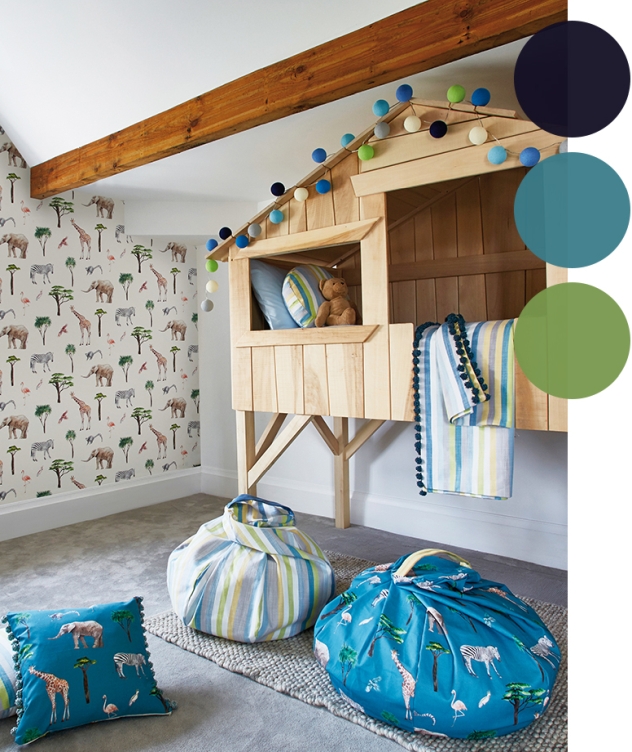 For a quick and effective way to update a room, why not add a beanbag? The addition of a new seating area in any children's room or play area can instantly transform the interior.
Whilst offering a cosy place to sit and read, beanbags can also inject much-needed colour into an otherwise neutral interior scheme. Our On Safari Reef fabric is the perfect choice with its marine background and fun safari-inspired design. Pair the statement fabric with another beanbag in a coordinating design, like Skipping Reef, for a practical yet stylish seating area.
GET THE LOOK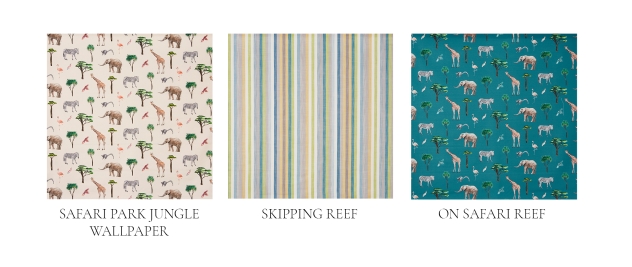 For more children's room ideas, discover our latest Pinterest board for more inspiration.