We all need a little colour in our lives at the moment, but it can be hard to choose a colour scheme that will affect your emotions and bring you joy in your home.
The study of how we respond to certain colours and the way they affect our emotions, otherwise known as colour psychology, has proven that colour impacts the way we feel. Whether that be happy, sad, energised or relaxed, we all feel the effects of colour mentally, physically, and emotionally.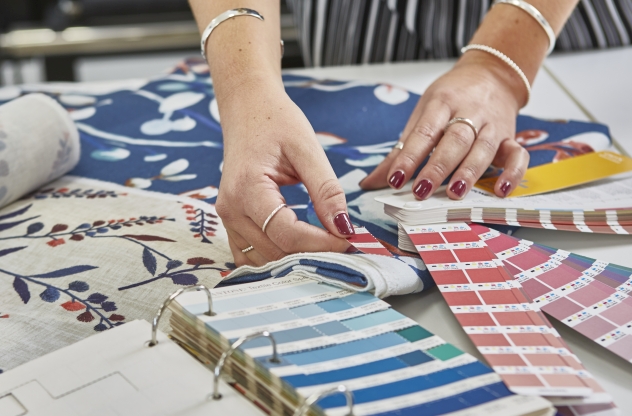 As we continue to spend more time at home, the colour trends for 2021 have been influenced by our current lifestyles.
Our homes have become more than a sanctuary to retreat to at the end of the day, they're our living spaces, offices, schools, gyms and everything in between. This multi-functionality has impacted the way people want to feel in their homes and the colours they choose to decorate with.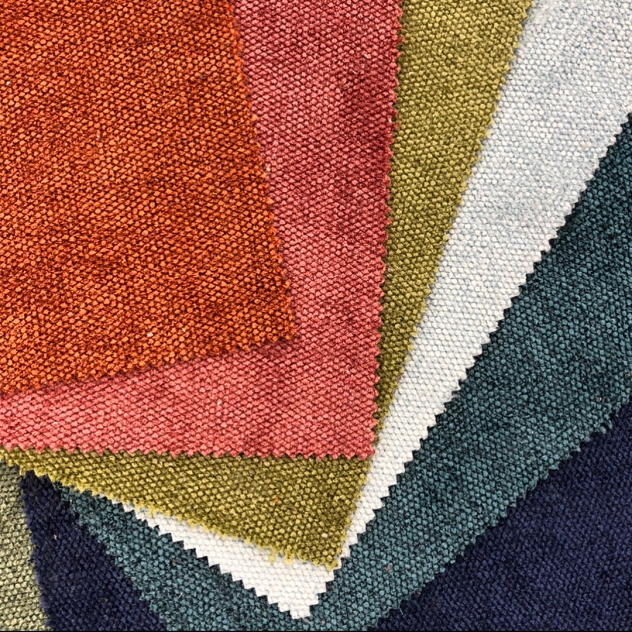 Take the time to think about how you would like each room to make you feel. Calm in a living space, relaxed in a bathroom or energised in your office or home-schooling area.
There's not any one colour that will instantly make you feel a certain emotion, it's about creating a colour palette of shades that work together in harmony to spark a feeling of joy.
Read on and discover the colour schemes that could transform home in our essential guide to colour and how it affects our emotions.
Muted pastels create a calming interior.
If you are looking to bring a sense of calm in your living space, muted pastels are the perfect colour choice for your home.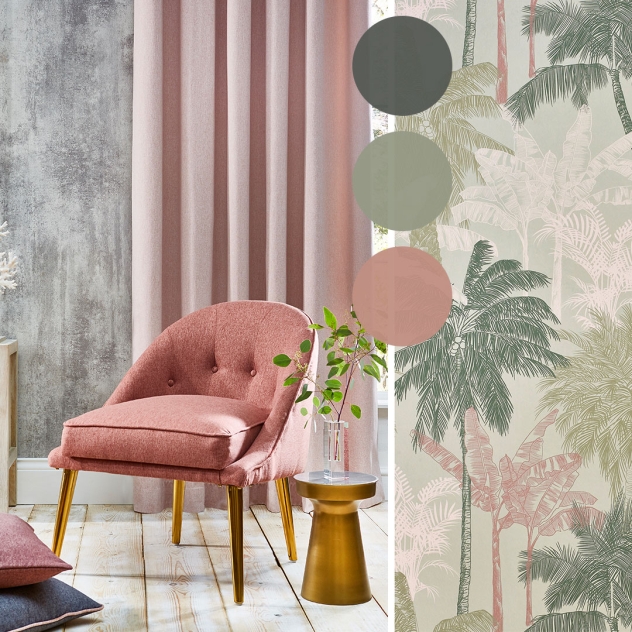 Pastels are tints of primary and secondary colours on the colour wheel, making them lighter, softer and more calming than saturated shades. These subtle tones help introduce tranquillity and leave you feeling restored.
This colour palette is most suited to places you would retreat to relax and wind down in the evening, such as bathrooms and bedrooms.
The soft sage and dusky pink shades from our SS21 Caribbean collection work together in harmony to create a restful interior scheme.
Incorporate this muted colour palette into your home effortlessly with our St Vincent wallpaper. The wallcovering embraces soft shades of green, pink and white, featuring calming palm tree foliage that transports any bedroom, bathroom or sanctuary space to a tropical serenity.
Complete the interior scheme with living greenery and pastel home accessories to enhance the feeling of calm.
Create an energising home with happy colours.
Introduce the ultimate happy colours into your home with an interior featuring bold cobalt blue and energising sunshine yellow.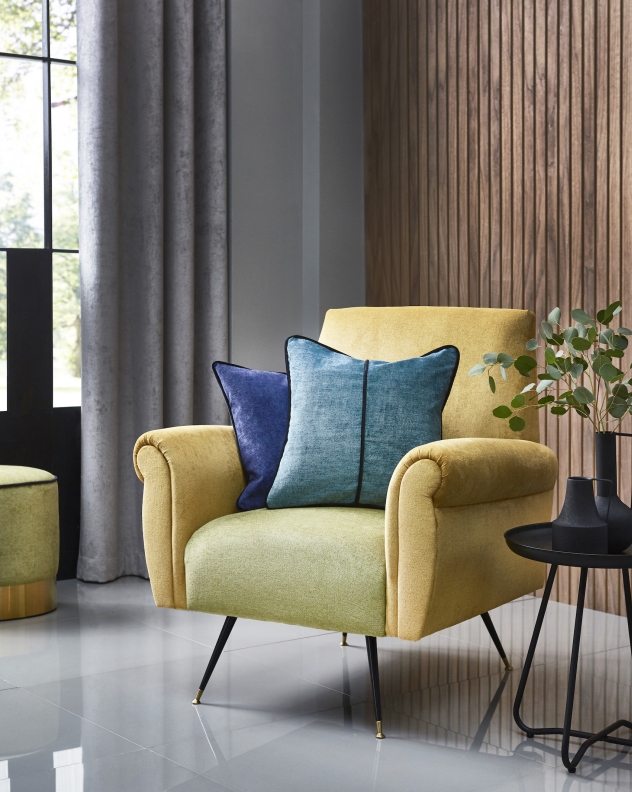 Sitting at opposite ends of the colour wheel, cobalt blue and sunny yellow shades create a complimentary colour scheme that evokes feelings of optimism and confidence.
Replicating the feeling of joy you experience when the sun shines through a bright blue sky, this colour combination helps us to feel more positive about the day ahead. This means the colour confident scheme is the ideal choice for rooms you'd usually begin your day in, such as kitchens and breakfast areas.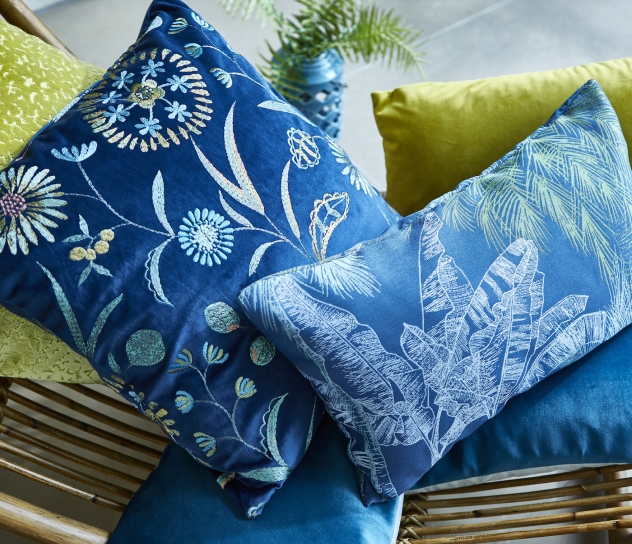 Add bursts of colour in statement soft furnishings to instantly energise your surroundings.
Our Bravo collection of chenilles is a great choice for colour confident interiors. Ideal for statement upholstery, accent cushions and drapery, the fabrics add vibrant solid colour into any room. The plain chenilles work perfectly with tropical designs from our Caribbean collection to add energy into a space. The bold cobalt blue found in our Barbuda embroidered velvet instantly brings happiness into any home in accent cushions and accessories.
Find comfort from the outdoors and embrace earthy tones.
Embrace a colour palette inspired by the outdoors and find comfort in shades of moss green, rust orange and burnt red.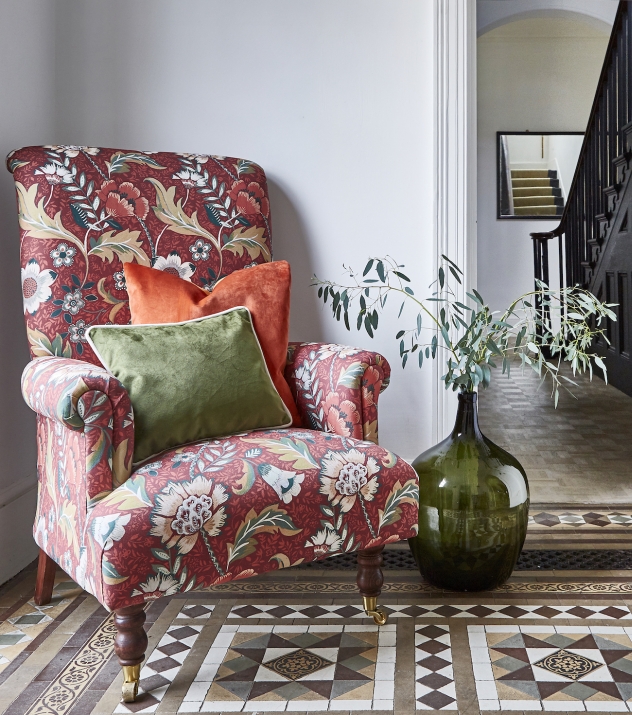 There is nothing more peaceful than an interior scheme that brings the great outdoors in. Green is known for its calming qualities but introducing a deeper tone of the shade offers a feeling of focus, making it perfect for spaces where productivity is key, such as home offices.
While green offers a feeling of clarity, rust red and orange tones help inject a warm cosy feel that creates an inviting interior you're happy to spend your day in.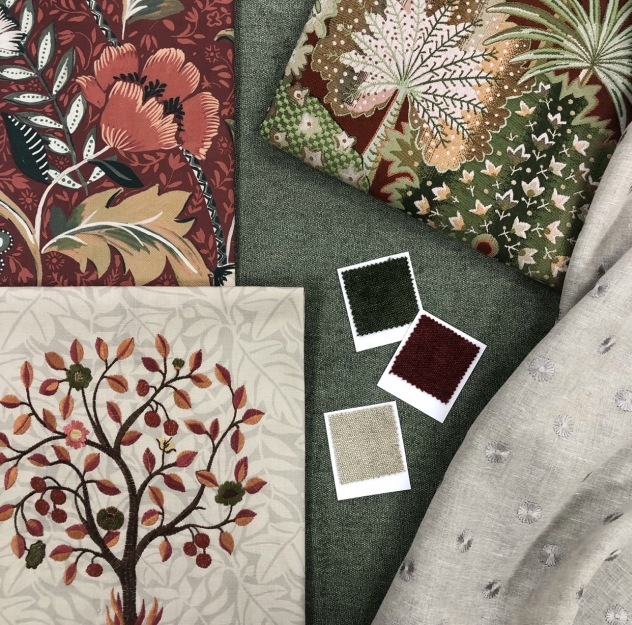 These earthy tones lend themselves perfectly to a more traditional décor style.
Our Arts & Crafts-inspired Journal collection embraces this colour palette with its decorative jacquards, prints and embroideries, perfect for layering in upholstery, drapery and accessories. The fabrics work in harmony with natural accessories such as wooden furniture, rattan lighting and wicker baskets, all adding to the comforting feeling of the outdoors.
Sometimes an accent cushion, feature wallpaper or floor-length curtain is all you need to inject a colour that will spark emotion, whether that be a sense of joy, calm or happiness.
Now you've discovered the colour palettes you could introduce into your own interior, it's time to completely transform your space to give a fresh outlook and approach to life at home.
Discover our latest Pinterest Board for more inspiration.
.