Adding pattern into your space is a great way to express your personality and showcase your style.
Surrounding yourself with patterns that inspire and bring you joy is a great way to breathe new life into your home. Whether you're stepping into spring with floral fabrics or escaping to distant shores with tropical wallpapers, start with a pattern you love and build your interior scheme around it.
From focal feature walls, maximalist upholstery and statement wall hangings, there are many ways you can incorporate on-trend designs into your space. So, we're here to share with you our 4 big pattern trends for 2021 and how to bring them into your home.
Step into spring and embrace florals in your home.
Look forward to brighter days ahead with the classic spring floral trend. The arrival of a new season offers the perfect chance to update your home décor and incorporating pattern is an easy way to refresh your space.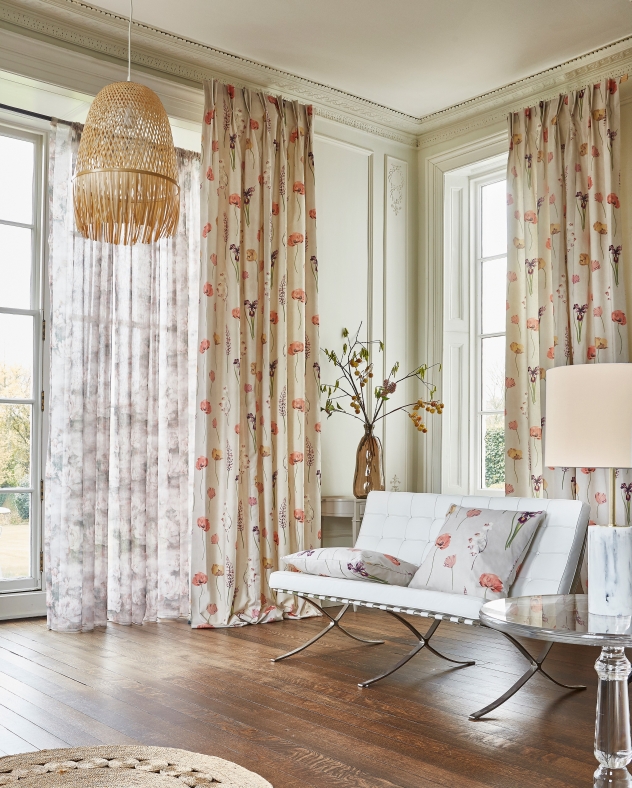 Layer floral and foliage fabrics to create an interior scheme reminiscent of an English garden. Achieve this look by mixing botanical designs in a similar colour palette to create a cohesive interior scheme.
Include these floral fabrics in floor length drapery to really inject pattern into your space. Alternatively, you can embrace accent cushions, featuring both large blowsy florals and intricate botanical designs for a pattern contrast.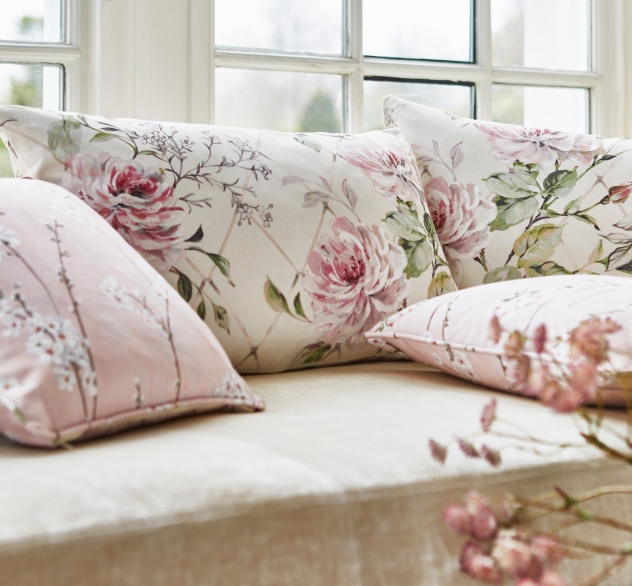 Fabrics from our Kew Gardens inspired Grand Botanical collection offer a feeling of spring in any interior, with designs featuring illustrated florals, trailing wildflowers, and ornate painted tiles.
Escape to distant shores with patterns inspired by the tropics.
Interiors inspired by wanderlust are fun, fresh and help bring a sense of sunshine into any home. Both relaxing and energising, tropical design is a big trend for 2021. Whether you embrace calming palm tree motifs in muted colour palettes or instantly uplift a space with contrasting tropical prints, the trend offers something for everyone.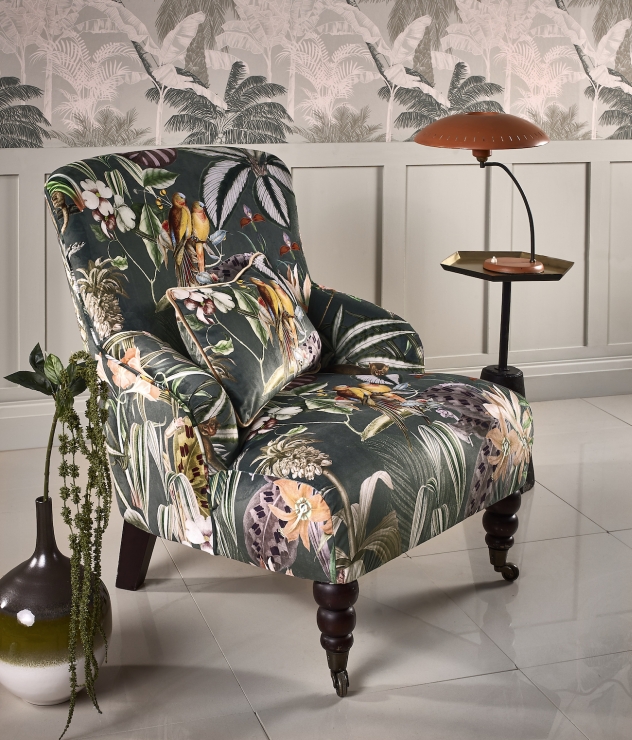 It can be daunting incorporating these bold patterns into your home, but you can be as daring or as subtle as you'd like. Go all-out tropical with our St Vincent feature wallpaper and contrasting upholstery in our Barbados velvet to create a bold interior inspired by island wildlife.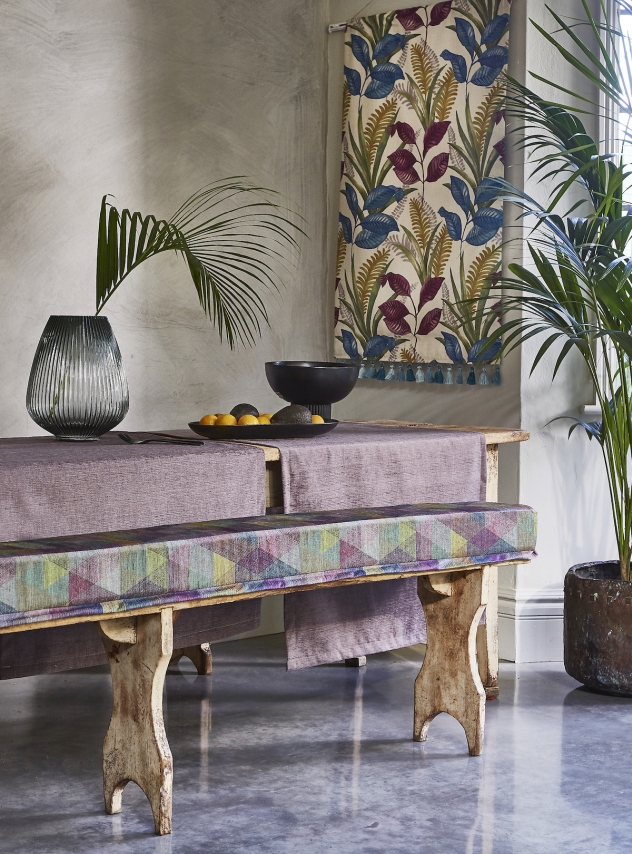 You don't need to redecorate to transport your home to the Caribbean. Something as simple as a wall hanging can instantly give your space a refresh. We love how the Sumba fabric from our Bali collection looks in this statement art piece, bringing a little pattern to a neutral wall.
Go maximalist with both bold colour and pattern.
The definition of maximalism is 'more of everything', which means the more pattern the better. The interior trend is all about curating a living space with pieces you love, helping to create an atmosphere of individuality. This layering of bold colour, pattern and texture adds character into any interior, making for a more interesting home.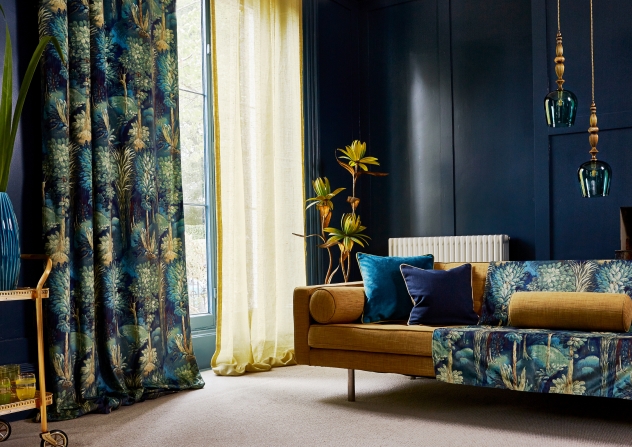 Large scale designs are the perfect choice for creating a maximalist interior scheme. The best way to bring these over-the-top designs into your interior is with statement curtains and accessories. Floor-length drapery in our Forbidden Forest velvet makes an impact with its jewel toned colour and statement foliage design, while the coordinating throw brings added interest to a velvet seating area.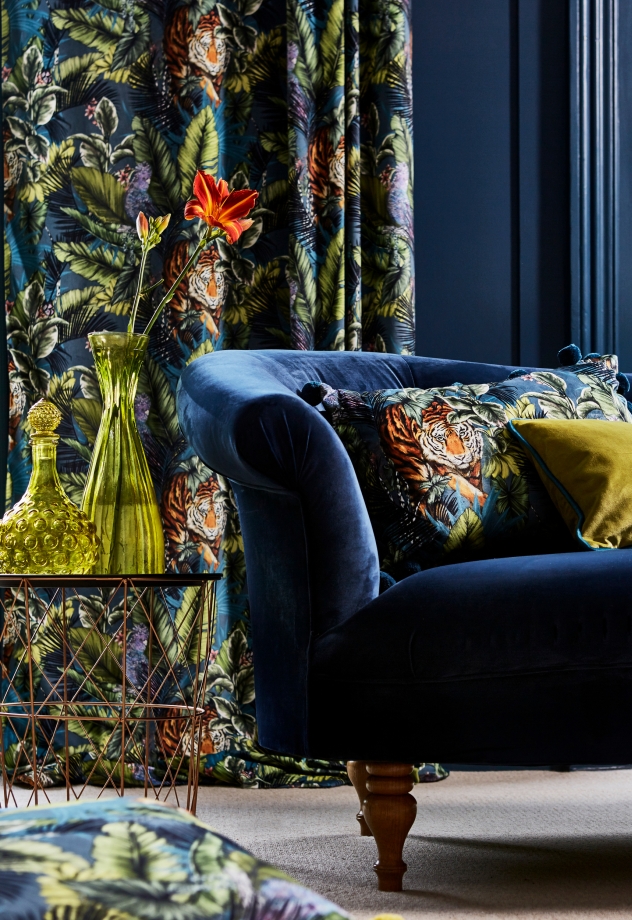 Maximalist décor isn't for everyone. If you want to add hints of these statement patterns into your home then accent cushions are an ideal choice. Our stand-out Bengal Tiger design offers the perfect pop of personality into a space without committing to a full maximalist scheme.
Add pattern into a neutral interior with traditional motifs and contemporary geometrics.
Not everyone is a lover of bold colour, but that doesn't mean you can't update a neutral space with pattern. Greige is a big colour trend for 2021 and layering pattern is essential to embracing the popular shade as it adds depth to a more pared back scheme.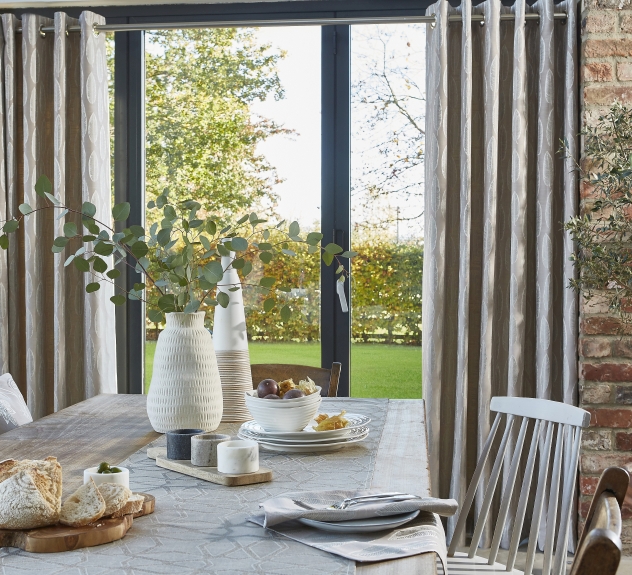 Mixing fabric designs in neutral tones is effortless. As long as you keep to the same subtle griege colour palette, the patterns you choose will work together in harmony. Something as simple as a geometric table runner in our Wish fabric instantly adds interest to a natural wooden dining table.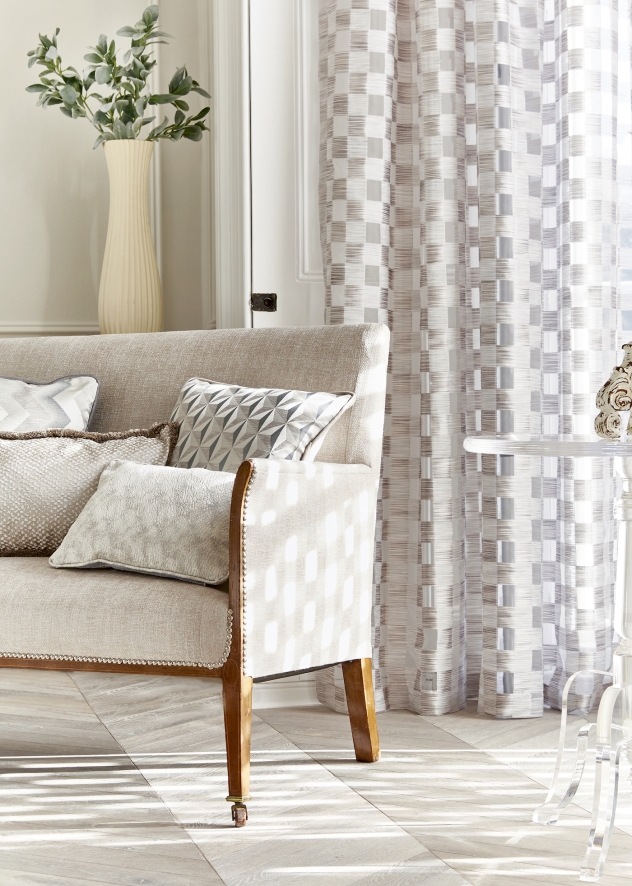 If you want to be more adventurous with pattern in your neutral interior, go all out and clash traditional damasks with contemporary geometrics. Use cushions to easily layer multiple designs from our Penthouse collection to bring a boutique feel into your home.
.