As we long for city breaks and weekend getaways, the trend for hotel-inspired homes is gaining momentum in 2021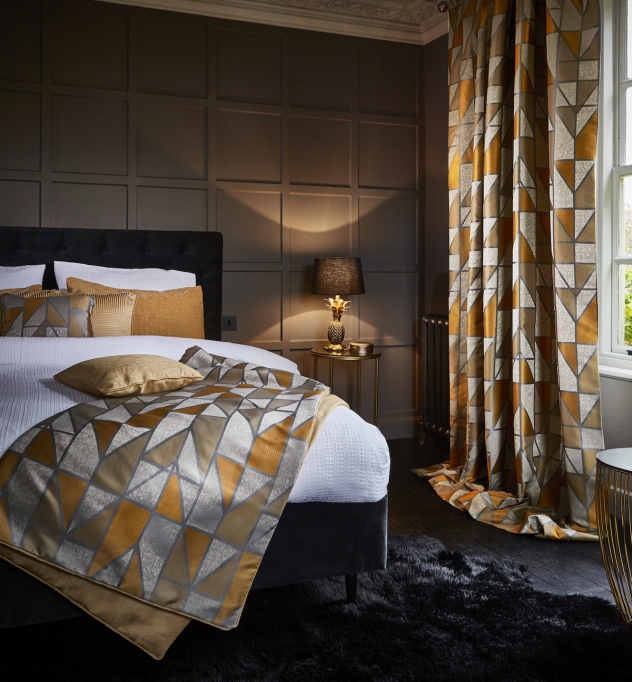 Take inspiration from some of your favourite hotels and create an interior that reminds you of your most memorable getaways. Our homes have become the place where we work, teach, exercise, eat and sleep, so creating a space that reminds us what it's like to venture outside of our four walls has never been more important.
Learn how to transform your home into a space worthy of a five-star rating with our 6 Ways to Design a Hotel-Inspired Home.
.
1. Create a stylised feel with minimalistic décor.
Most of your favourite hotel spaces will have been carefully curated by an interior designer, so thoughtfully placed, smaller pieces are the key to achieving a boutique hotel look.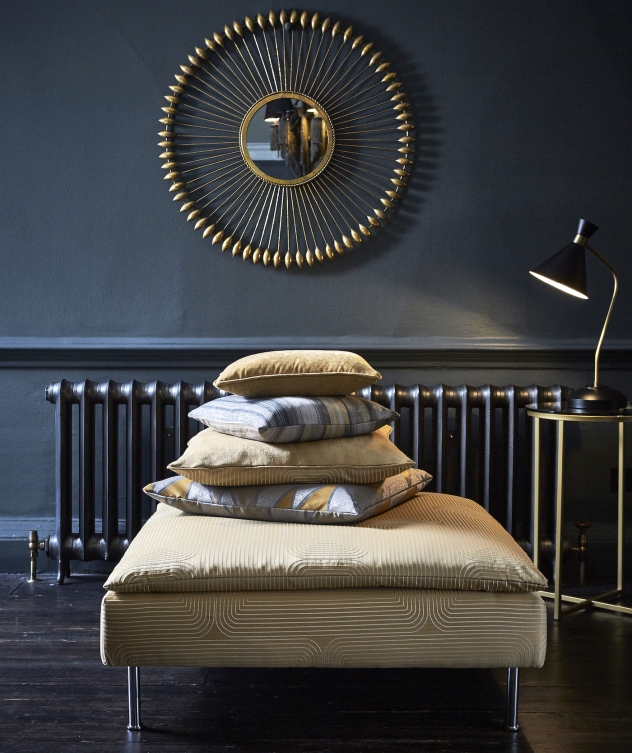 Think about what each décor piece will add to the room, whether you are styling a hotel-inspired bedroom, bathroom or living space.
Keep décor simplistic and style sophisticated home accessories that complement each other to create a cohesive scheme. Metallic accents are a perfect choice in luxurious interiors as their shimmering, reflective quality help add a feeling of glamour, whether that is in statement mirrors, lamps or opulent bar carts.
.
2. Add drama with floor-length drapery.
Contemporary hotel interiors are all about dramatic, sophisticated décor, so adding floor-length drapery into your home is an easy way to achieve this look.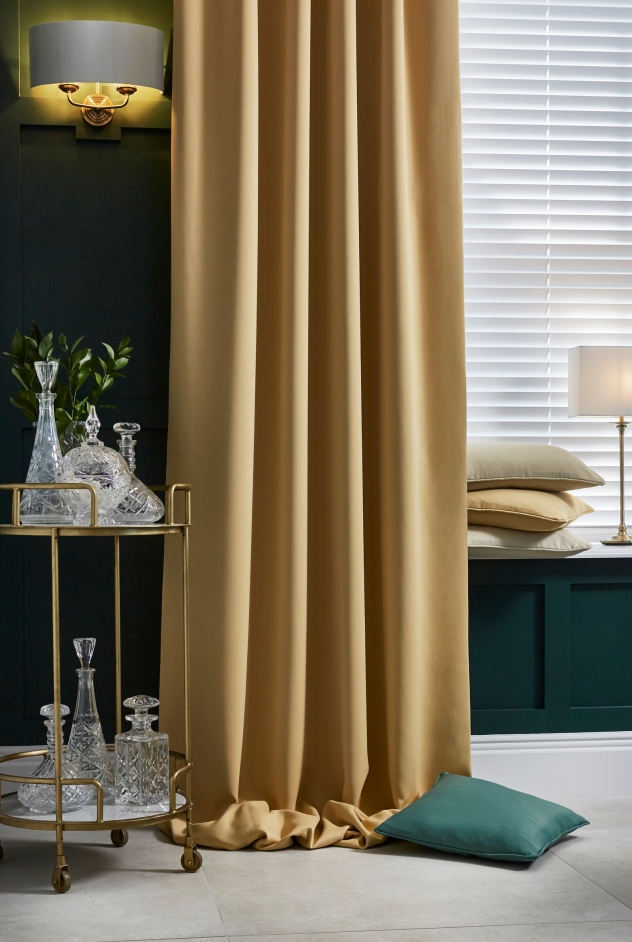 Not only do they add sophistication; floor-length curtains are known to elongate your window and make a room feel taller.
Puddling your curtains is the easiest way to add a luxe, dramatic feel. Choose a suitable fabric that will drape beautifully to create a stunning puddle. Steer clear of thick, heavy woven materials and choose a light satin fabric from our Islington collection that will drape perfectly, offering a dramatic pooling effect ideal for living rooms and bedroom spaces.
.
3. Create wall panelling for added sophistication.
Once a design feature reserved for boutique hotels, wall panelling has become the must-have interior trend for this year.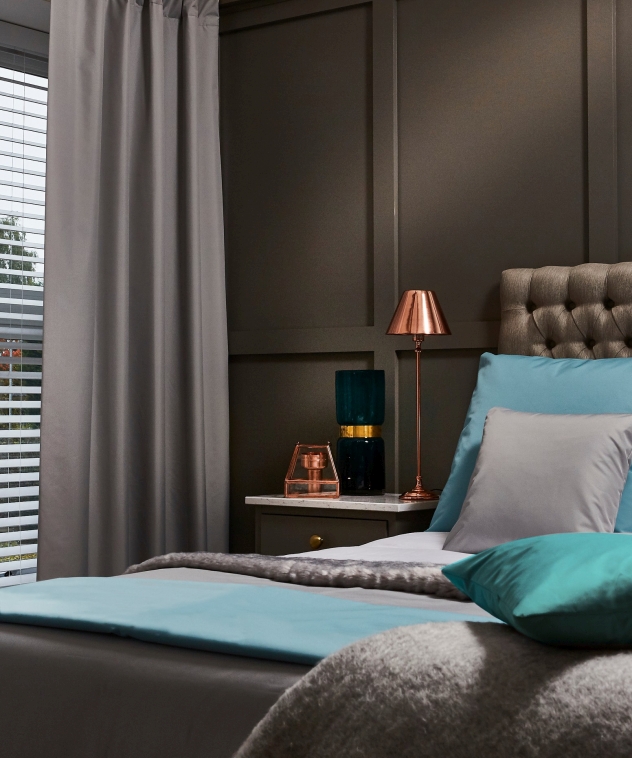 The 2021 replacement of the feature wall, the wall panelling trend is a great way to make your space feel like a five-star getaway.
As more people have turned their hand to DIY while we've spent more time at home; learning to create this wall panel effect has become the go-to home improvement project of the past year. The technique instantly changes the way a room looks and feels, making a space appear less flat while giving an air of sophistication. We love this trend when used as a feature wall behind the head of a bed for the ultimate hotel-inspired bedroom.
.
4. Embrace a dramatic colour scheme.
The two main features of a boutique hotel are luxury and individuality. Both these elements can be easily achieved through moody colour combinations and shimmering metallic accents.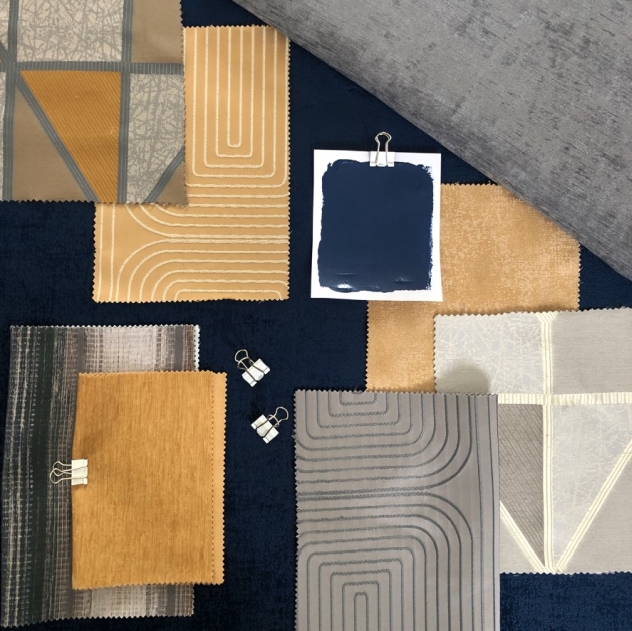 Use dramatic colour palettes in areas of your home to adopt the feeling of a boutique hotel.
We know how colour can affect our emotions, so creating a colour scheme that will emulate the feeling of a relaxing retreat is a great way to transform your home into a five-star hotel. Adding bursts of colour in statement soft furnishings is an effortless way to incorporate a new colour palette into your interior.
Deep navy blue is the perfect choice for a calming, yet sophisticated scheme. Counteract this feeling of calm with fabrics from our Vision collection, showcasing warm gold and amber colourways that will energise any room. The fabrics also offer a subtle metallic sheen that looks amazing when paired with mixed metal accessories.
.
5. Add an accent armchair.
When you have established your hotel-inspired colour palette, it is time to start thinking about pattern. Statement upholstery is one of the easiest ways to incorporate pattern that will transform the look and feel of a room.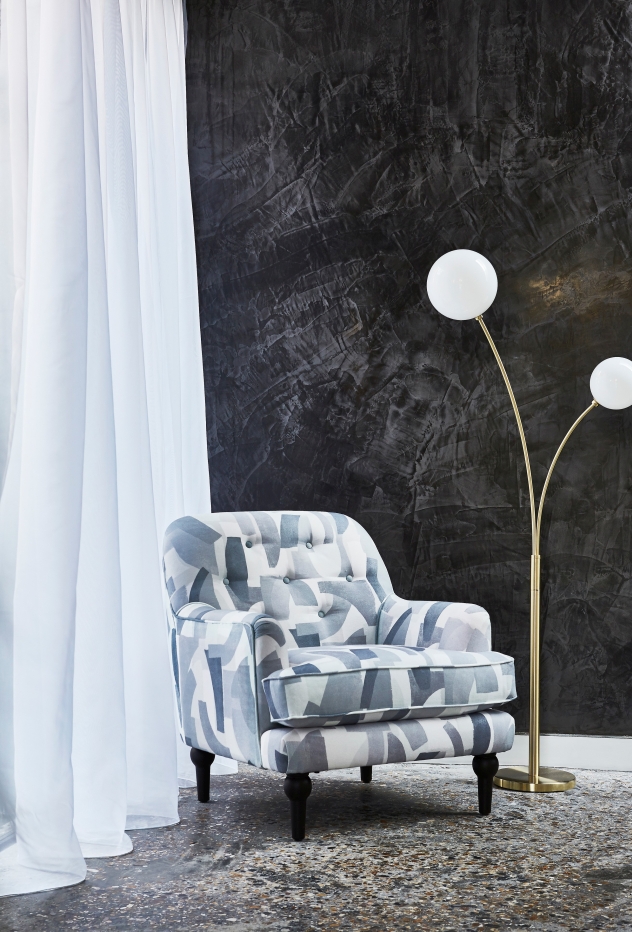 Contemporary geometrics and fabrics inspired by modern architecture are the ideal choice because of their clean lines and graphic linear forms.
Covering an old armchair in one of the designs from our architecture-inspired District collection is a great way to create a hotel-inspired feel in your home. Our Underground design offers a modern sophistication and makes a statement with its abstract geometrics.
All collections from our PT Contract range have been specifically designed and tested for use in commercial settings; making them an obvious choice for an interior inspired by boutique hotels.
.
6. Update your bedding to complete the hotel-inspired look.
Update your bedding and recreate the distinctive boutique hotel style in your own bedroom. The sophisticated charm of a luxurious hotel room has made the look one of the most sought-after bedroom schemes.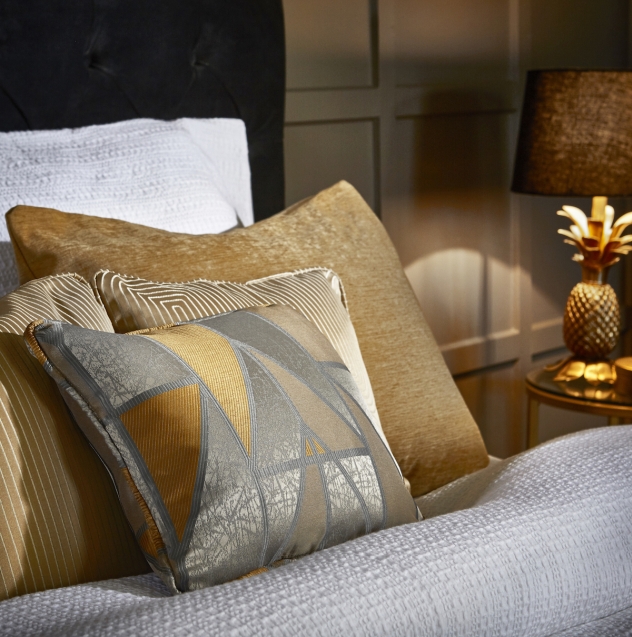 Introduce white, high-quality bedding to instantly give your bedroom the boutique hotel feel.
Choose 100% cotton bedding with a high thread count that will stand the test of time. Accessorise your bed with accent cushions that complement your colour scheme. Mix and match fabrics in the Gold colourway from our Vision collection to add a warm contrast against the crisp white bedding.
The geometric designs work together in harmony when layered. Start with a semi-plain fabric at the back of your layered cushions and work outwards adding more pattern as you go. Our subtle linear design Generation works perfectly between our Divide chenille and the statement Innovate geometric to create a stylised bed fit for a hotel bedroom.
Discover our latest Pinterest board for more hotel décor inspiration.
.