It can sometimes be overwhelming pairing fabric and wallpaper. Should you coordinate or pair clashing prints? Choose a neutral scheme, inject some colour into your walls or go all-out metallic?
Read on for our 'How to Guide' on pairing fabric and wallpaper for various interior styles.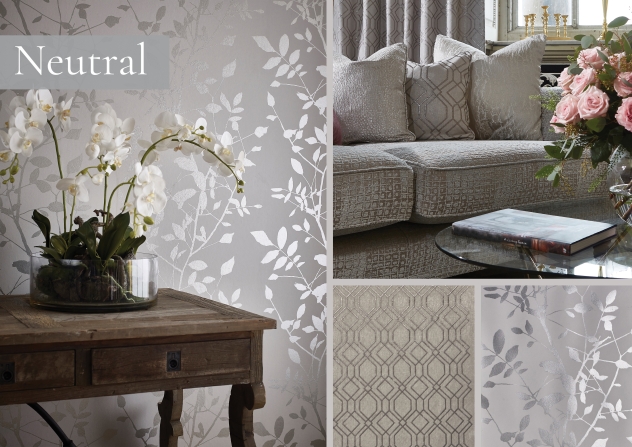 Neutrals come in many forms; from dark grey and charcoal to taupe and ivory. Keeping to this colour scheme makes pairing fabric and wallpaper effortless.
Decorating with varying prints and textures is key to a neutral scheme.
Our Drama wallcovering has a subtle shine in the leafy trail, adding interest into a neutral space, making it the perfect addition to a muted interior.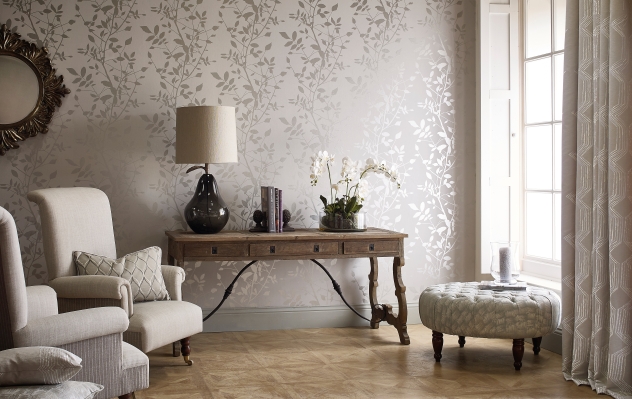 Here we have contrasted the wallpaper with the floor-length curtains in Contemplation Calico. The embroidered geometric offers a subtle print-clash, adding depth into a space that lacks colour.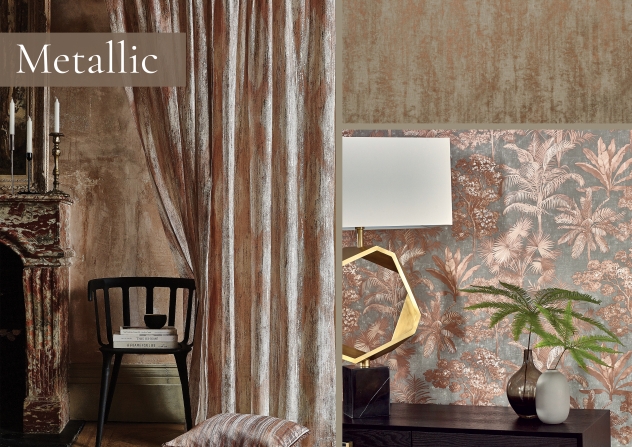 We're used to seeing metals such as copper and gold used in home accessories. However, a complete metallic interior adds a feeling of luxe.
It's easy to over-do a metallic living space.
We've balanced out the striking Enchanted Copper wallpaper with delicate, wide width sheers from our Panoramic collection.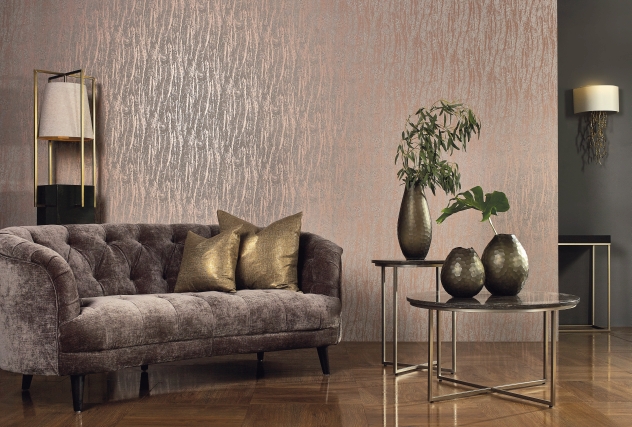 For a more pared back metallic look, incorporate a semi-plain wallpaper, like Bark Copper, and shimmering fabrics from our Phoenix collection.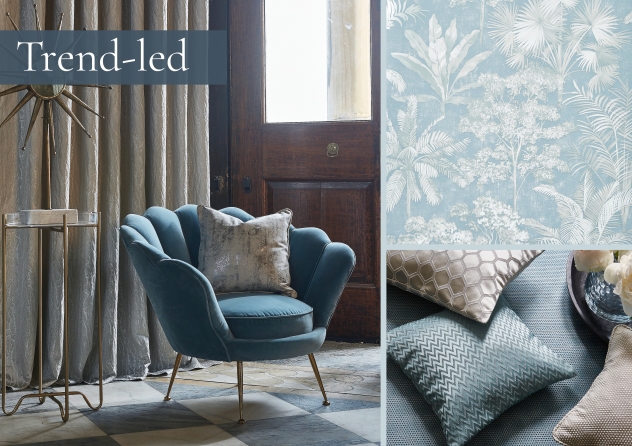 Whether that's tapping into the 70s Revival or opting for Scandi Neutrals; taking on a new trend is an interesting way to pair fabric and wallpaper.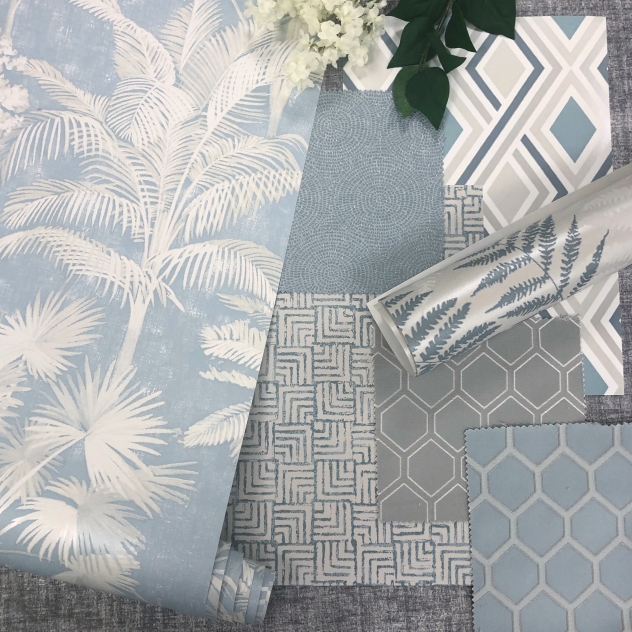 Here we've opted for the Art Deco trend; with statement wallpapers from Ambience, paired with fabrics from our Timeless collection.
Either of our Enchanted, Halcyon or Serene wallcoverings would create a 1920s inspired interior alongside the small-scale mosaic fabrics.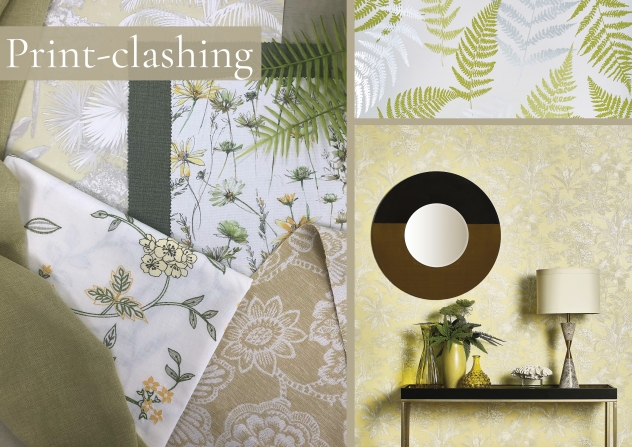 If you're more daring with your living space, clashing prints is a great way to make a statement.
Why not try mixing floral designs from our Bloom collection, with foliage inspired wallpapers from Ambience.
The Bracken and Enchanted wallcoverings depict ferns and forest landscapes in the Gooseberry colourway, which would be ideal for a summer interior.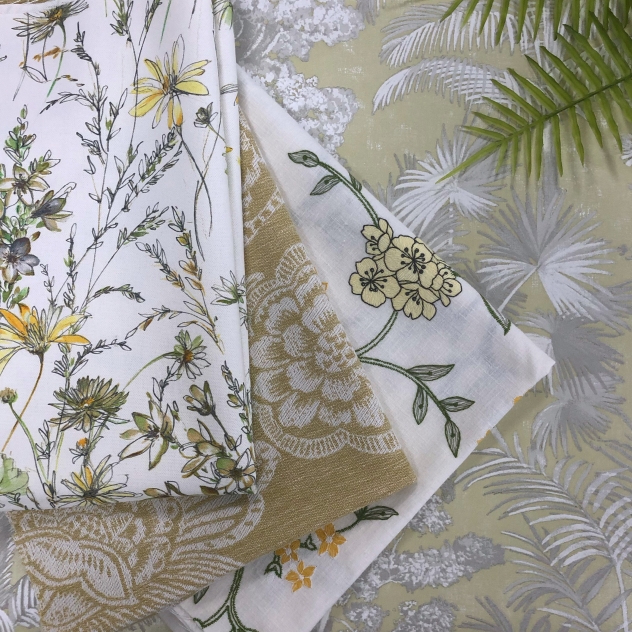 Pairing them with our Bella, Alice and Marie fabrics offers a realistic botanical interior.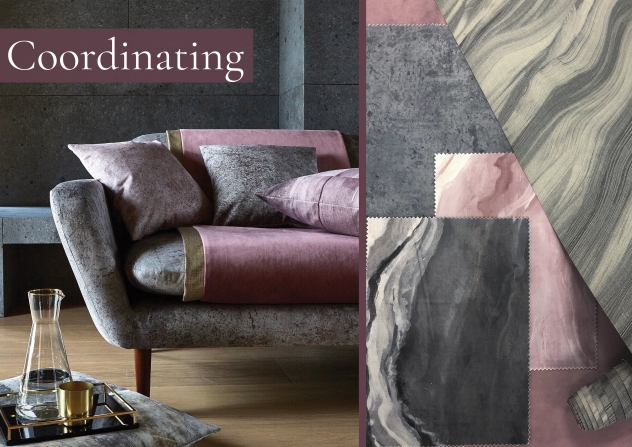 Choosing fabric and wallpaper that coordinate gives a more uniform look to a living space.
We've coupled our marble effect Marmo wallcovering with mineral inspired designs from our Surface collection.
The wallpaper from the Elements collection looks striking as a statement feature wall, alongside our coordinating marbled Lava fabric.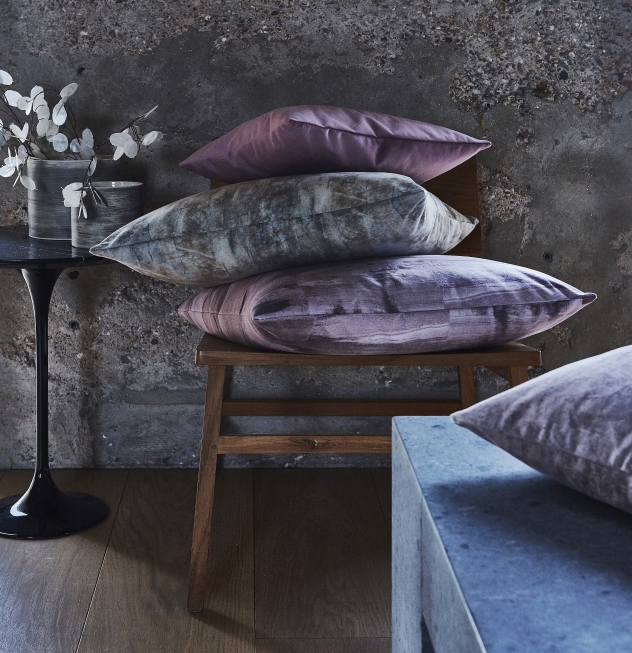 We've chosen the Woodrose colourway in the on-trend velvet fabrics, complimenting the striking grey wallpaper with a touch of dusky pink.
Discover our latest Pinterest board for more inspiration on pairing fabric and wallpaper.
.