The perfect blend of both Scandi minimalism and Japanese design, the Japandi interior trend has become a must-have for homes this year.
Usually embracing cloudy colour palettes and natural materials, Japandi interiors aren't known for their bold prints and statement shades. Learn how to transform the 2021 trend with colour and Oriental-inspired pattern to instantly energise any home.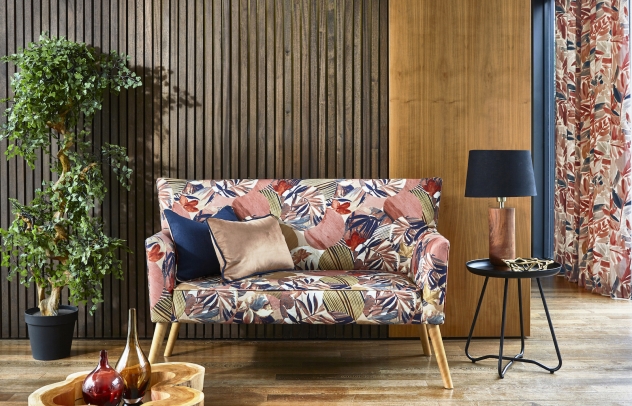 What is the Japandi interior trend?
Japandi – the newest word in the trend dictionary – is a blend of both Japanese and Scandinavian interiors. The two design styles compliment each other perfectly and have been combined to create one harmonious trend, taking the most-loved elements from each.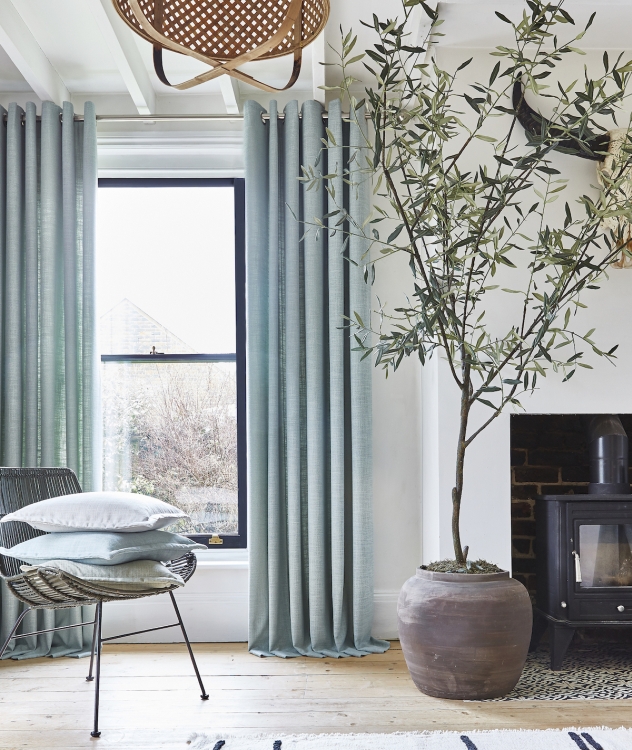 Blending both minimalist design and the art of Feng Shui, homes embracing the Japandi trend marry subtle shades with Japanese-inspired design to create a space that offers a sense of mindfulness.
Usually adopting a palette of soft blues and muted greens, typical Japandi shades breathe new life into any interior. Embracing the neutral tones and Scandi minimalism found in Japandi interiors, our Whisp collection of recycled semi-sheers offer a light linen-look to both curtains and accessories.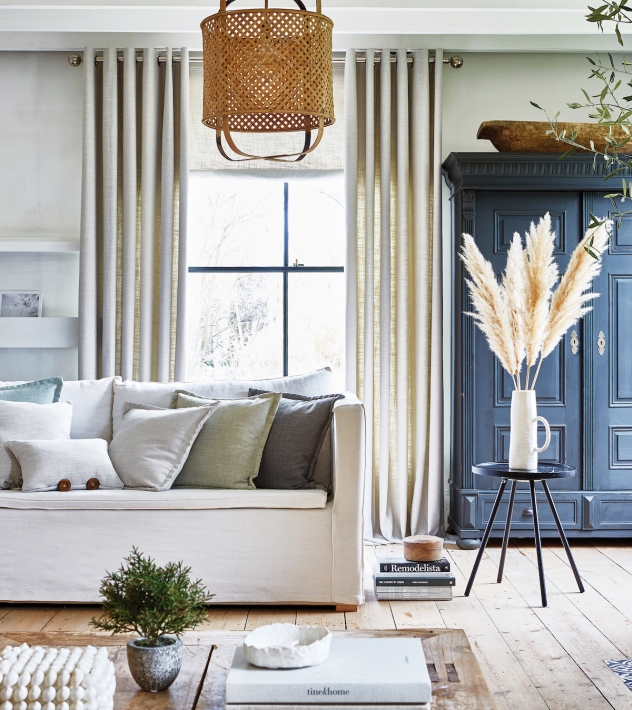 Paired with natural wooden floorboards, rattan accents and rustic foliage, our Whisp collection offers a selection of muted soft colourways that work together harmoniously to create a modern Japandi scheme.
How to add colour and pattern into a Japandi interior?
Japandi interiors are all about bringing both warmth and peace into your home. So, why not create a space blended of Japanese and Scandi design with warm spiced shades and Oriental-inspired pattern.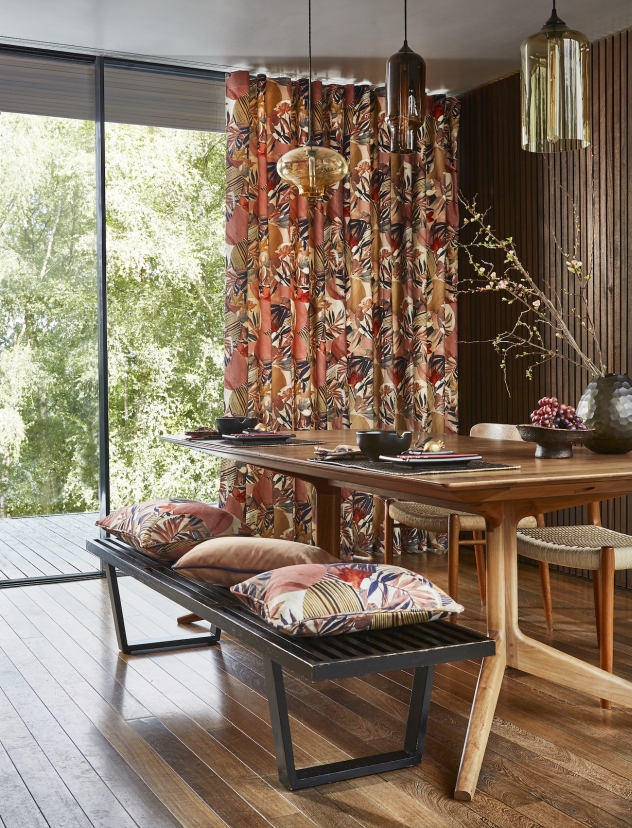 Replace calm, cool tone shades with a warm palette taken from East Asian landscapes.
Our new Kyoto collection celebrates the wonders of Japan with its Oriental influences. The collection's designs were inspired by Japanese gardens and embrace lotus flowers, watercolour foliage and an origami inspired geometric.
Keep the clean lines and architectural elements derived from Japanese design and pair our Kyoto fabrics with black linear accents such as Crittall doors and industrial dining benches. The dark accents contrast with the natural wooden elements that are synonymous with Scandi style.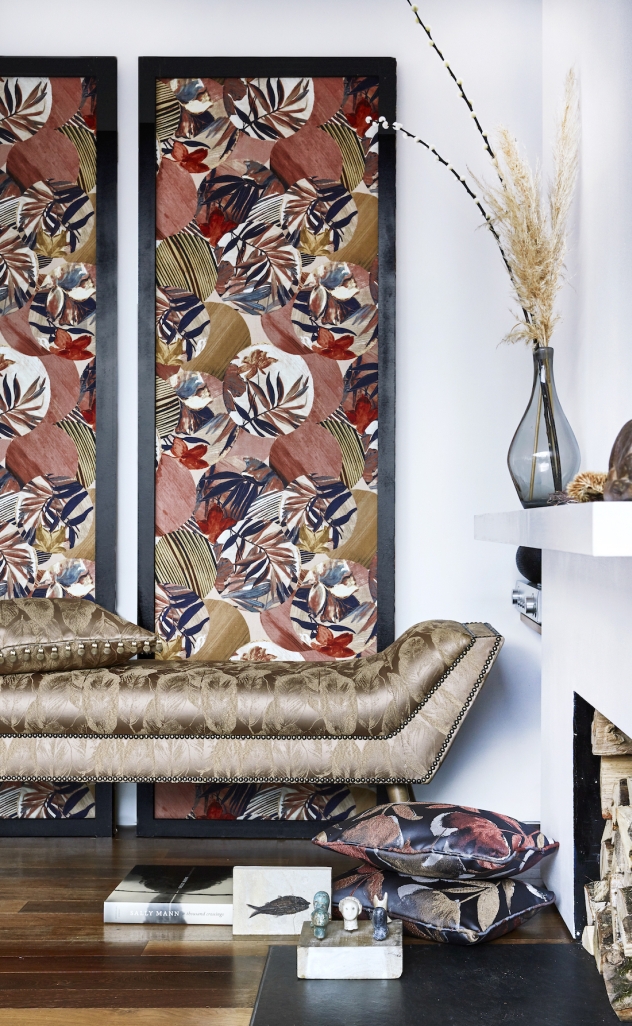 The collection unites harmonious design, warm colours and Japanese-inspired patterns for a fresh take on the new trend.
Injecting colour and pattern into a Japandi scheme is a great way to create a space that embraces minimalism without being cold. The Scandi principle of less is more is still the main focus, and furniture pieces are thoughtfully placed throughout the room in keeping with the Japanese art of Feng Shui.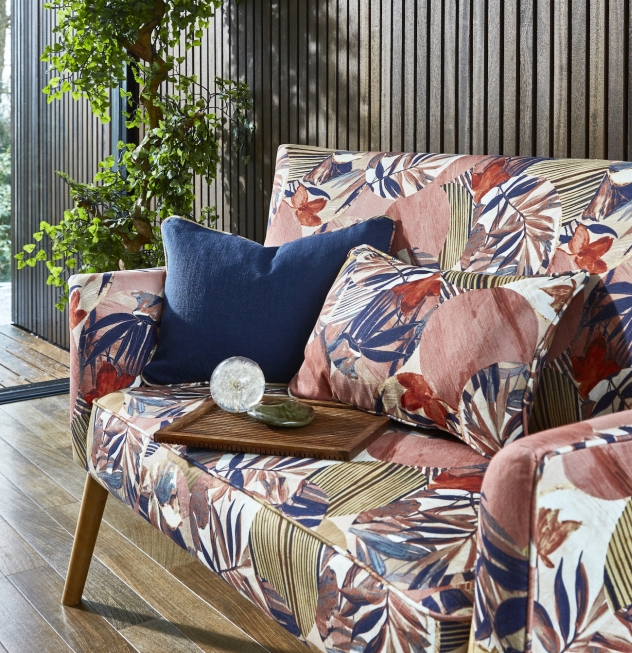 Choose one focal pattern to design your Japandi scheme around and avoid clashing prints that could give a maximalist feel. Instead, use block accent colours to break up the pattern in cushions and accessories.
The Osaka design from our Kyoto collection offers the perfect Japanese-inspired print and makes a real statement when used as upholstery. The fabric's warm shades of red, olive and cobalt instantly energise a room and add personality into a Japandi interior.
Finalise the scheme with the addition of foliage and living greenery to help create the feeling of a Japanese garden. Our Acer design featuring colourful watercolour foliage works perfectly alongside bonsai and blossom trees to give a nod to traditional Japanese culture.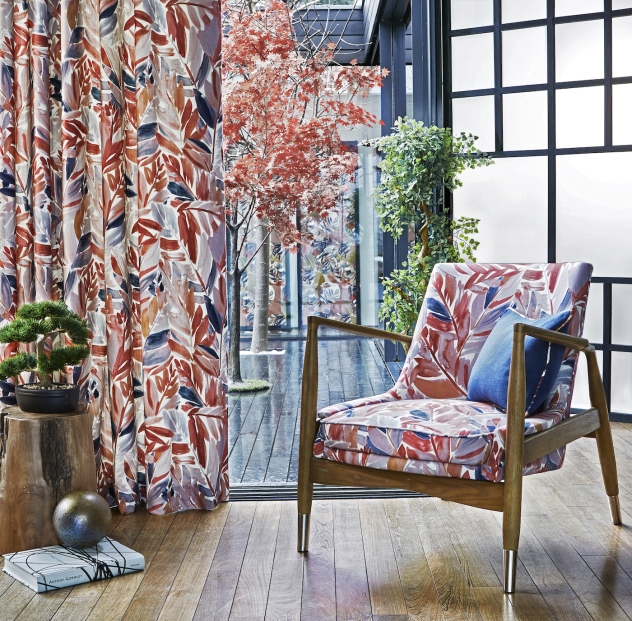 Discover our latest Pinterest board for more Japandi interior inspiration.