Begin the year with a refreshing mix of energetic designs and calming tones from Prestigious Textiles' new collections.
Inspired by colourful landscapes, moody rainforests and textural mid-tones, the range of collections perfectly encapsulate ever-changing trends to add depth and confidence into your home.
Take a closer look at the new collections, ranging from textured semi-plains, leafy velvets, watercolour motifs, and bold prints.
The Ezra Collection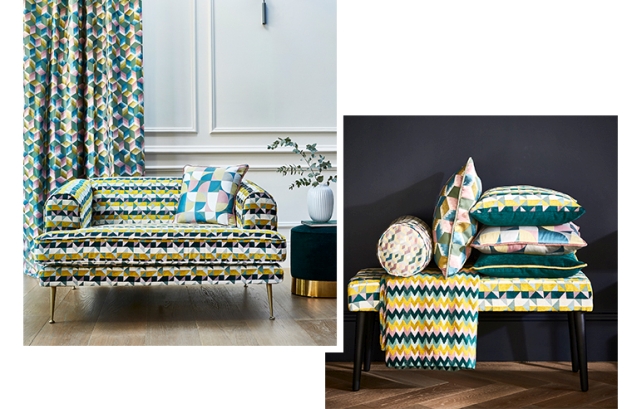 The 70s fashion trend has been rising and this has been captured in the Ezra Collection's vibrant geometrics. Incorporate a distinctive element into your home with sculpted chenille fabrics and multi-weave techniques in a palette of popular 70s shades.
The designs feature energetic and contrasting hues that are reminiscent of the theme, from mustard yellows to cornflower blues for a contemporary take on the trend.
GET THE LOOK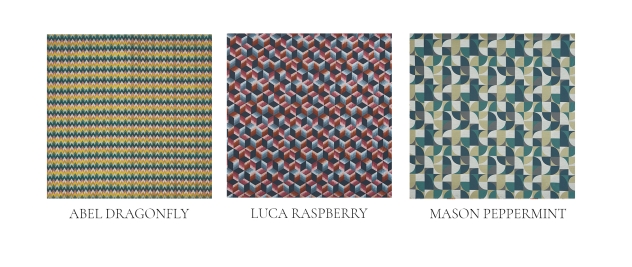 The Craft Collection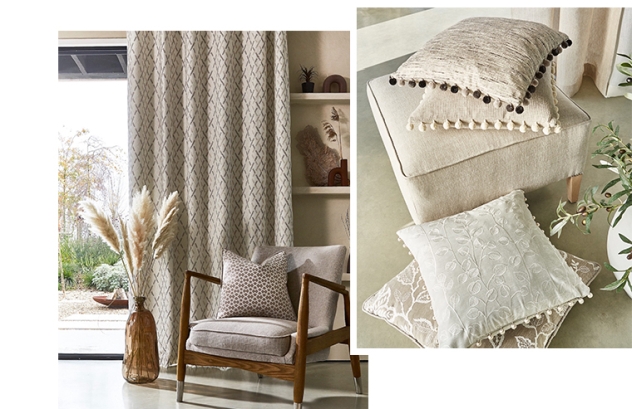 Evoke a calm home environment with the Craft Collection that takes inspiration from natural textures through embroideries, weaves, jacquards, and sheers, whilst incorporating warm-toned shades for a cohesive feel.
Add interest to your space through crewel work embroidery, a tufted polka dot, as well as semi-plain textures. The collection boasts a timeless range of shades featuring warm neutrals, fresh greens, and cool silvers, enhancing a balanced interior that`s suitable all year round.
GET THE LOOK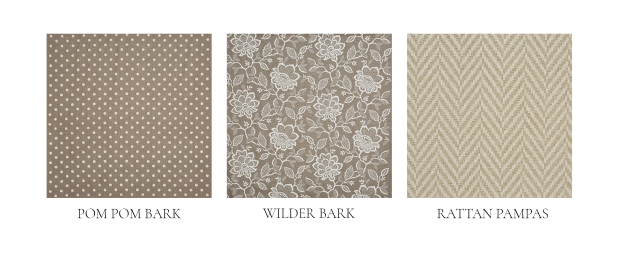 The English Garden Collection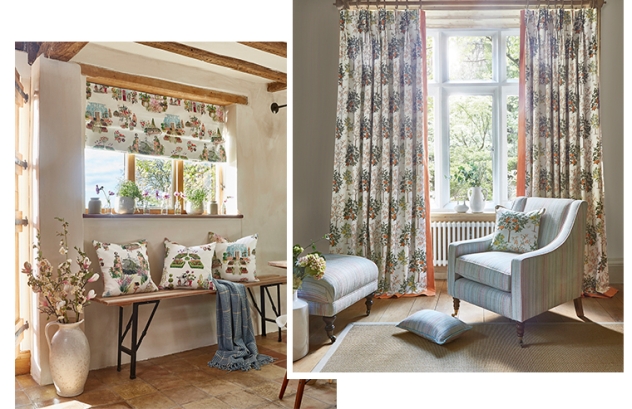 The English Garden Collection's range of painterly botanicals and conversational prints are the quintessence of country living. With watercolour motifs of gardens in full bloom and traditional stripe and check designs, the collection perfectly captures a homely feel.
Suitable for year-round use, the designs are available in a vast palette of seasonal hues that take you from rosy pink and spring greens, through to sage and orange for a more Autumnal finish.
GET THE LOOK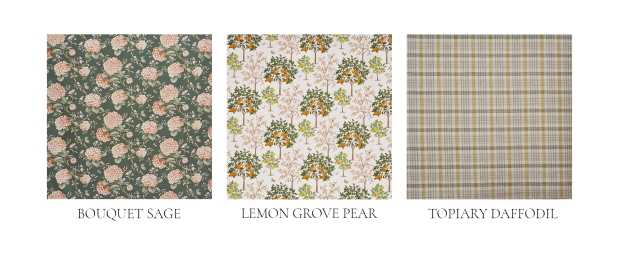 The Maharaja Collection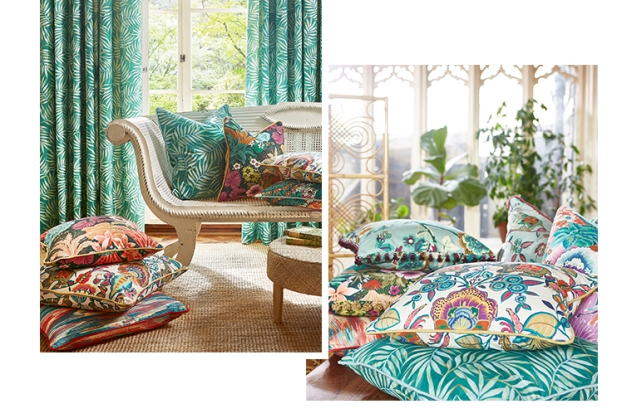 Incorporate a festival of colour with the Maharaja Collection`s vibrant colour palette and intricate hand painted designs reminiscent of Indian Summers. Go bold with adorned elephant prints, statement henna-inspired florals and multi-tonal abstracts that capture the theme.
The collection effortlessly introduces a haven of colour with an uplifting and bold colour palette that emulates blossoming nature and grand festivities within any space.
GET THE LOOK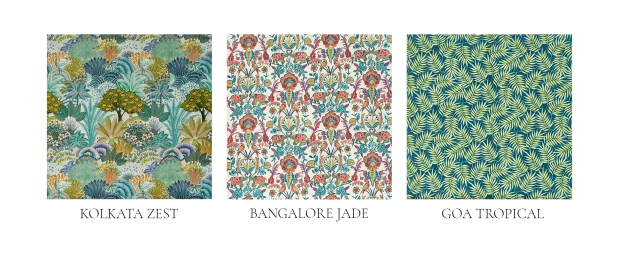 The Monsoon Collection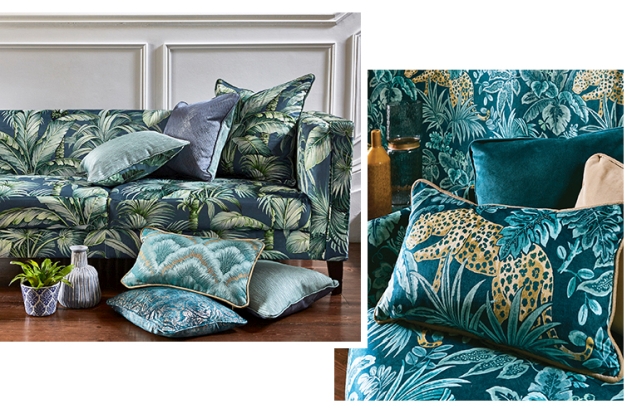 The bold Monsoon Collection offers a maximalist approach to the popular tropical trend, opting for moody jewel tones, statement two-tone prints on sumptuous velvets, and elements of metallic foil for added dimension and interest.
The collection incorporates a luxuriously decadent palette with tones of rich greens, deep reds, and contemporary charcoals that allow for a confident and captivating feel suitable for any interior choice.
GET THE LOOK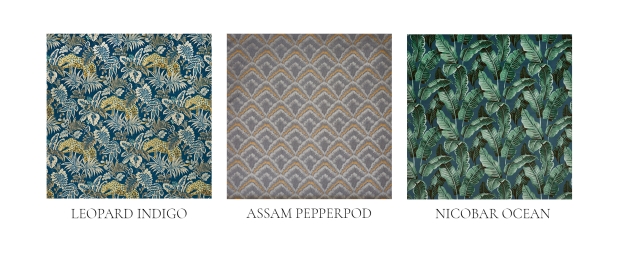 Our latest semi-plains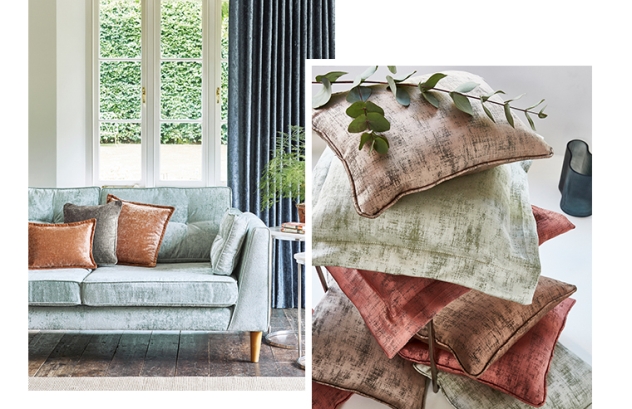 Complete the look with our two semi-plain collections, York and Granite.
The York Collection offers a range of soft chenille fabrics in modern shades, featuring a subtle metallic sheen for a dimensional finish. Perfect for upholstery or drapery, the collection exudes timelessness with its wealthy colour palette for any scheme.
Inspired by embossed metal and stone textures, the Granite Collection offers sophistication with semi-plain fabrics available in soft pearlescent shades such as staple greys, on-trend lilacs and muted rusts for a refined addition.
GET THE LOOK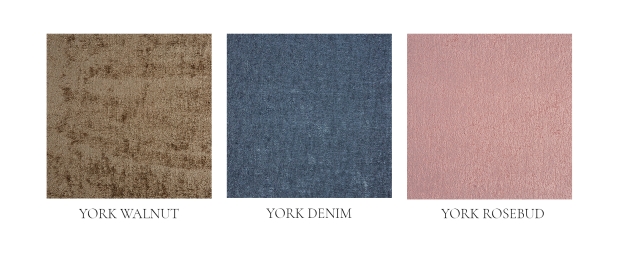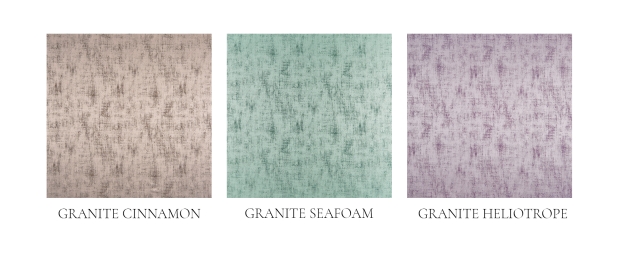 Browse all our New Collections here.