With the rising popularity of staycations in the past two years, the desire to base our décor schemes around our favourite beachfronts has never been stronger.
Whether it's refreshing your living spaces with shades of white or accessorising with aquatic colourways, Here at PT we have curated some top tips on how to recreate your home away from home.
Transport yourself to the coast and create a sophisticated beachy haven that invites the sensations of coastal life in. With just a few simple tweaks, you can give your interior the coastal update it deserves. From incorporating timeworn materials and opting for woven fabrics to inviting nautical colourways in, we have consulted with our experts to gather the best tips for creating your own personal retreat.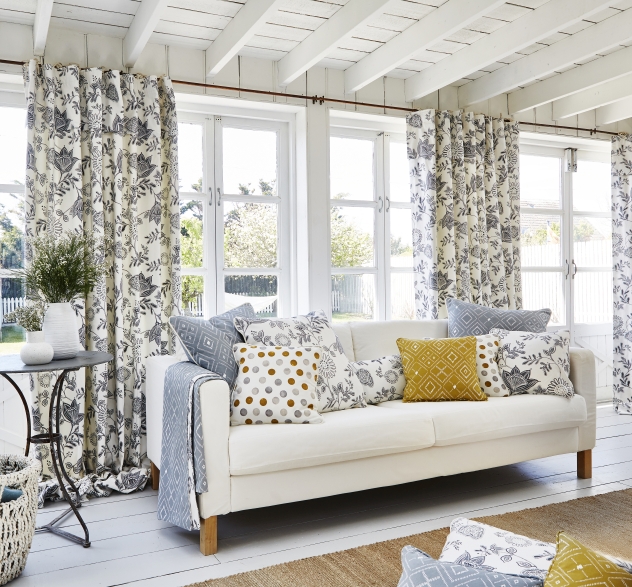 Coastal Colourways
Nothing says nautical quite like blue and white. These quintessentially coastal colourways are perfect for recreating the beachside look within your home; however, other shades can be introduced for a contemporary spin on the theme.
When choosing your interior palette, look to the beach for inspiration for relaxing and restorative hues to work with.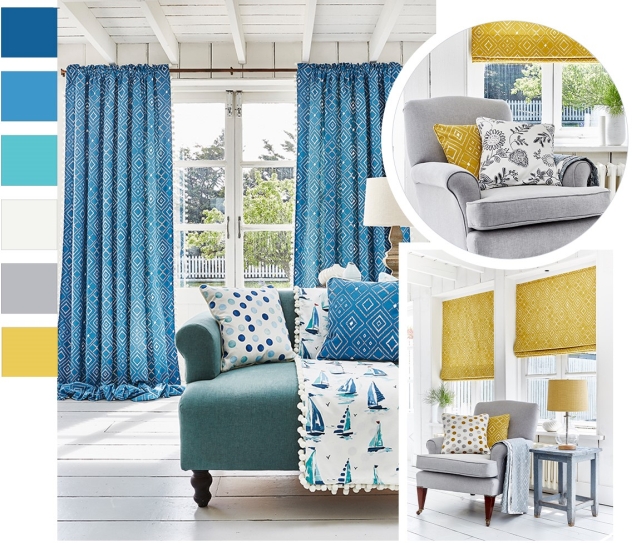 A backdrop of white presents the perfect coastal canvas to commence your nautical scheme with. Its light-reflective properties are perfect for creating an open and airy feel, with its neutrality allowing colour accents to come to the fore for added interest. Finish walls in white for a clean aesthetic, or take it one step further and pair with white flooring for the ultimate beach hut look.
Weave in natural hues captured from much-loved seaside scenes through soft furnishings, with Coastal Retreat's calming blues, dreamy yellows, and aquatic corals all synonymous with the coastal style. Pair the Collection's Shale grey colourway with brighter hues for a contemporary spin on the notoriously lively theme.
Bright and Breezy
When thinking of beach houses, open spaces, minimal clutter, and floods of natural light often spring to mind. Dim, cramped interiors should be ousted with a bright and breezy feel.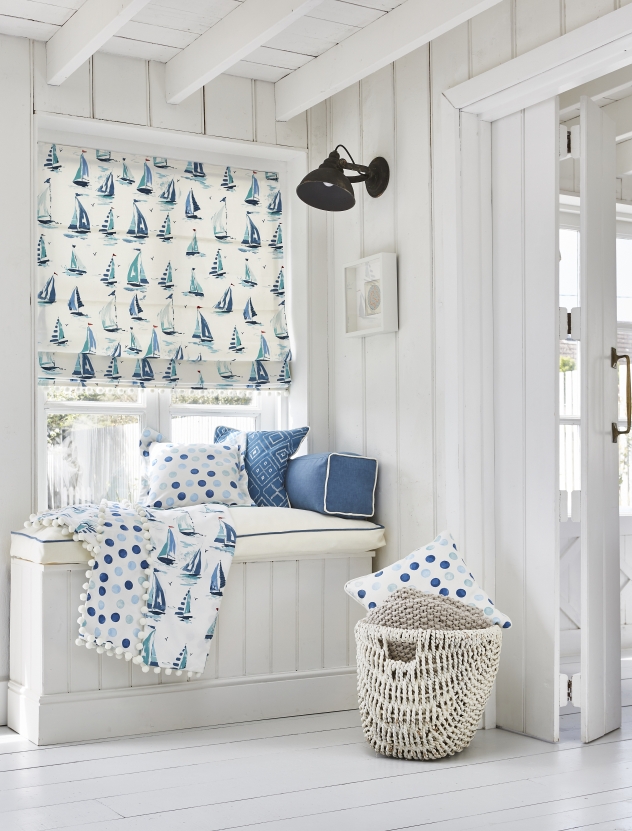 Opt for clean and simple when furnishing your space, bearing in mind that less is more. Aim for a lighter interior that truly flows, maximising natural light by limiting window dressings and opting for thinner materials where possible. For rooms with limited natural light, tastefully curated lamps and mirrors are perfect for creating the illusion of a lighter, airier space. Be selective when incorporating furnishings and natural elements into your space, ensuring they don't obstruct and minimising clutter.
Take a Tactile Trip
Take note of the coast's rugged textures and layer up on multiple finishes. Natural, weathered materials are the quintessence of coastal living, so mix and match contrasting textures for the ultimate seaside feel.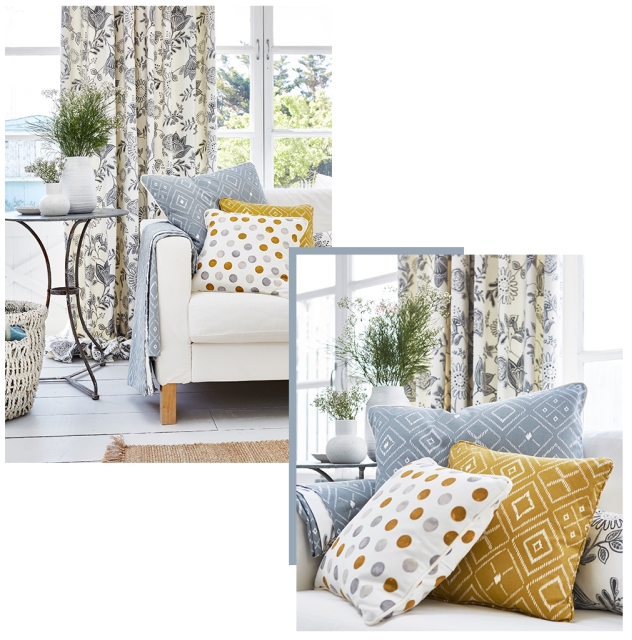 Lighter, weathered wood flooring forms the perfect base for coastal décor, with original floorboards finished in white presenting the ultimate laid-back finish synonymous with the coast. Pairing with jute rugs, wicker baskets, and an assortment of rattan accessories will give your space a quintessentially coastal feel.
Create contrast and mix weathered materials with smoother finishes for added depth and texture. Cotton, jute, distressed wood, wicker, and glass all work harmoniously to evoke the sought-after nautical theme.
The Shoreline is in the Details
Bringing the coastal theme to life also requires paying attention to the smaller details, so whether you're looking to intensify your nautical décor scheme or longing for a more pared back look, coastal-inspired accessories should be your go to.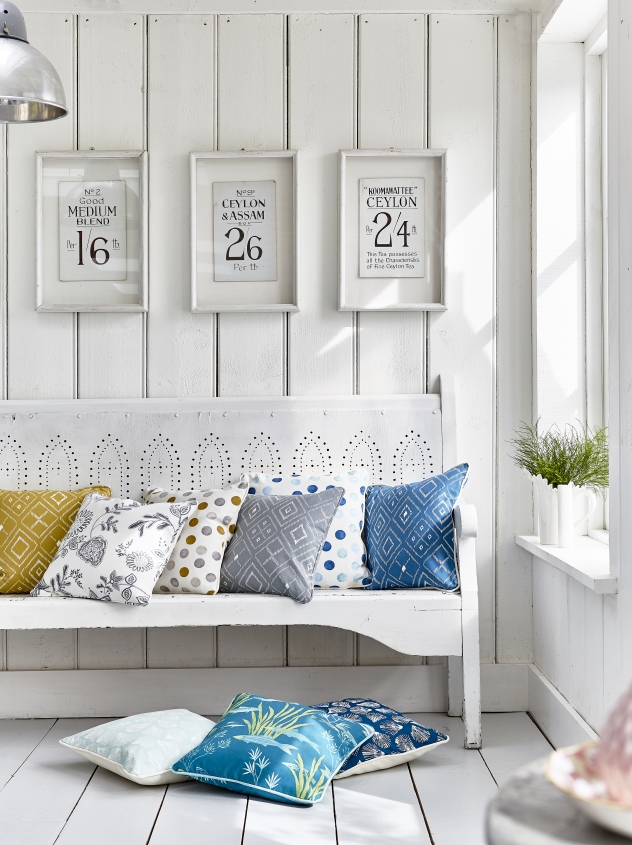 Allow scatter cushions with painterly watercolour spots, shells, and brazen underwater scenes to take centre stage against a backdrop of white furnishings, or add a personal touch to your décor scheme with treasured trinkets. Seashells plucked from golden sands and framed pictures of fond memories by the sea are both perfect for making spaces feel lived in and down to earth, essential for perfecting the coastal theme. Potted plants are ideal for connecting interiors to the outdoors, so incorporate grasses and palms often found by the sea into your space.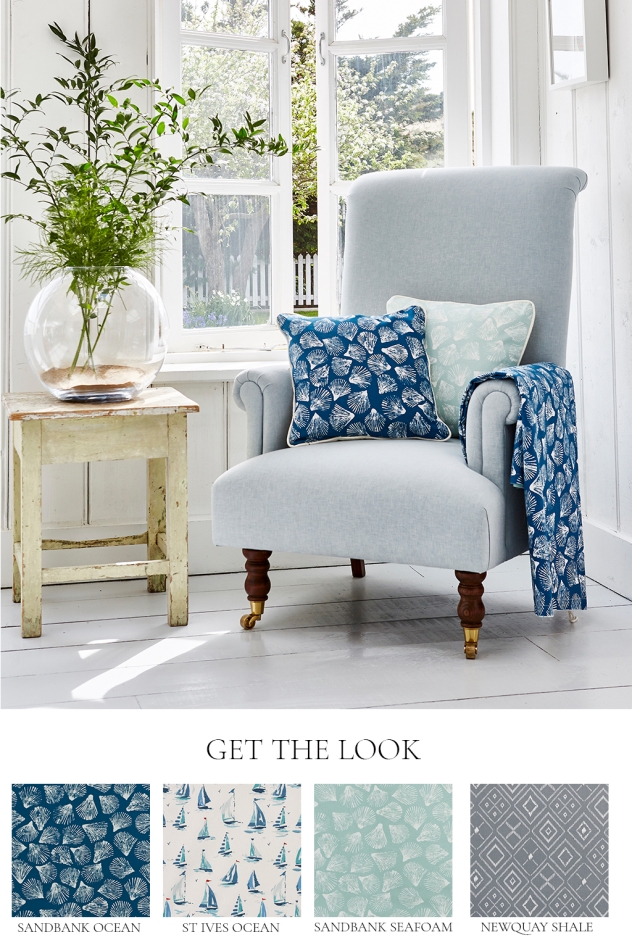 Discover our latest Pinterest board for more inspiration