Living spaces are being inspired by misty, moody winter mornings, embracing dark seasonal blooms and cool colour palettes. Recently, plants have become more than just an addition to a room and botanicals have started to dominate soft furnishings.
Blowsy florals in maximalist deep plum and burgundy hues are being used in contrast with the fresh shades of natural foliage to create interiors that are uplifting while also being warm, cosy and rich.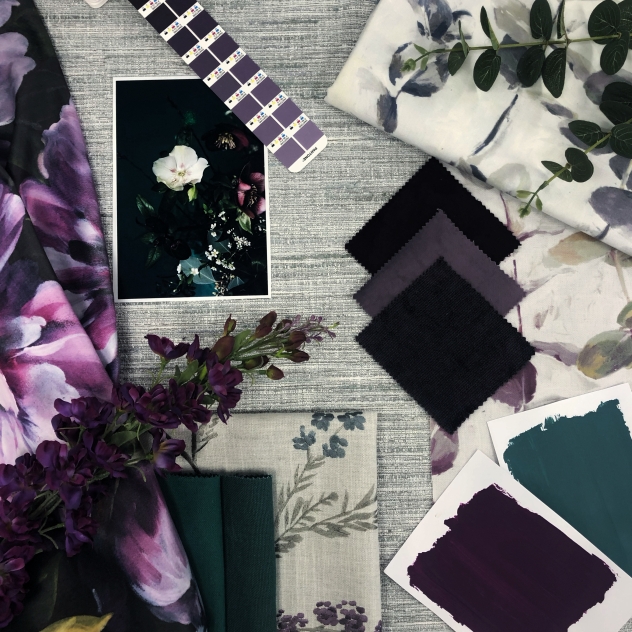 Interiors have taken inspiration from wintry bouquets this A/W, from dark and dramatic floristry to misty floral arrangements.
With the current trend for maximalist interiors, these wintry arrangements have been translated into large-scale floral fabrics. The maximalist designs are most suited in bold, jewel-tones to create a dramatic décor.
Our blossoming peony Secret Oasis in the bold Ultra Violet colourway complements a maximalist scheme with its large-scale floral design. The fabric works perfectly for statement, floor-length curtains or as accent cushions alongside deep purple and emerald Velour accessories.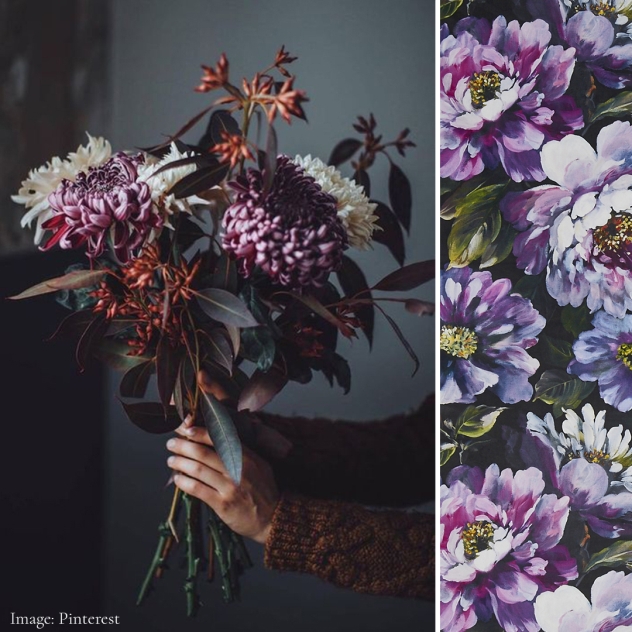 Alongside blooming florals, eucalyptus has become a popular foliage choice in winter bouquets, with the soft green stems complimenting dark, moody florals.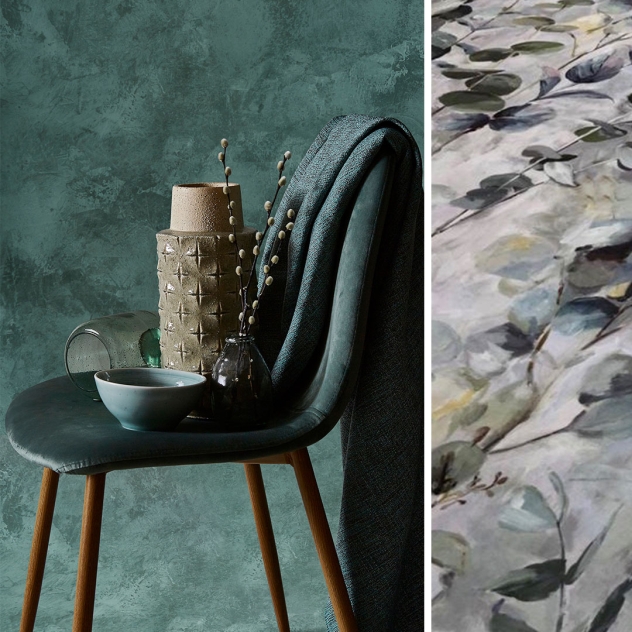 Our Reflections collection sees a modern take on the traditional floral theme. Its palettes are inspired by natural settings, evoking misty mornings for a wintry feel.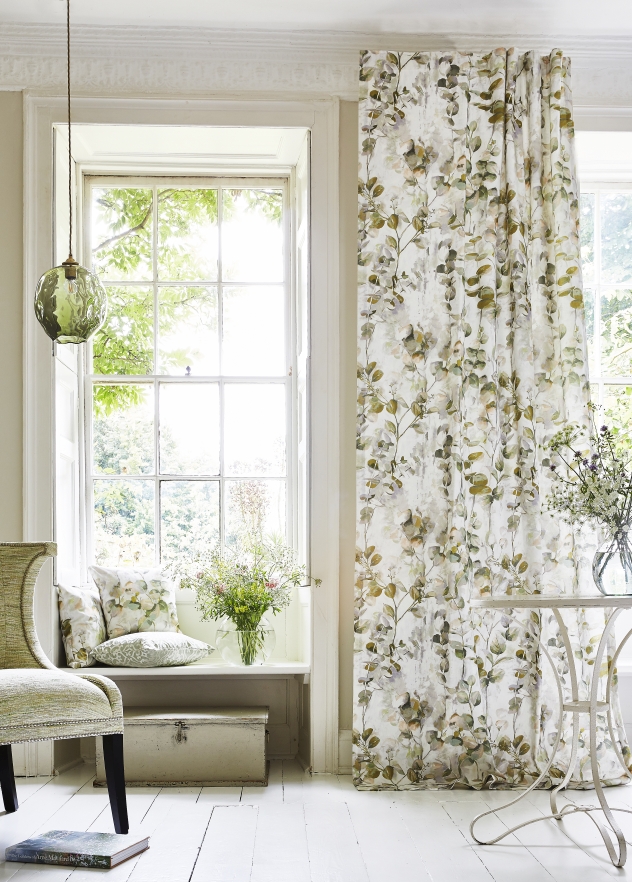 The Aquarelle design from the collection was inspired by the on-trend foliage, featuring a hazy, watercolour design of trailing eucalyptus.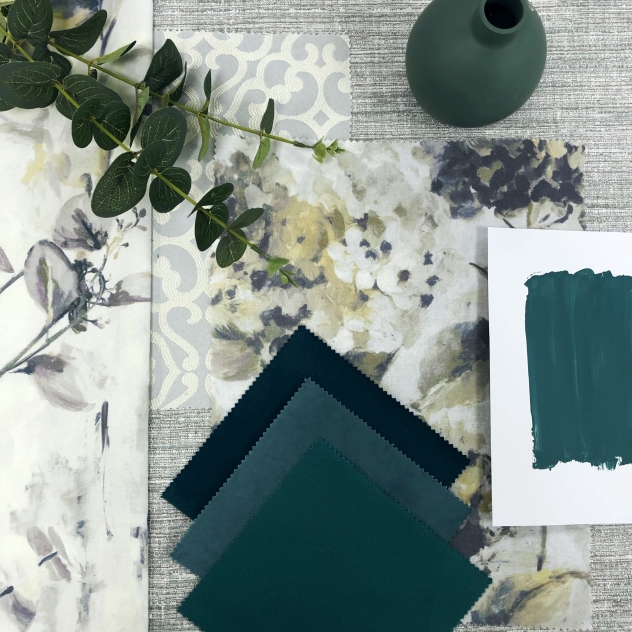 The icy colour palettes in Reflections coordinate perfectly with emerald and forest green hues. Our Velour, Havana and Twilight plain fabrics offer an added texture, bringing warmth into a cool, winter floral décor scheme.
The trend transitions perfectly for a festive living space, as jewel tones have appeared as an alternative to traditional candy cane shades.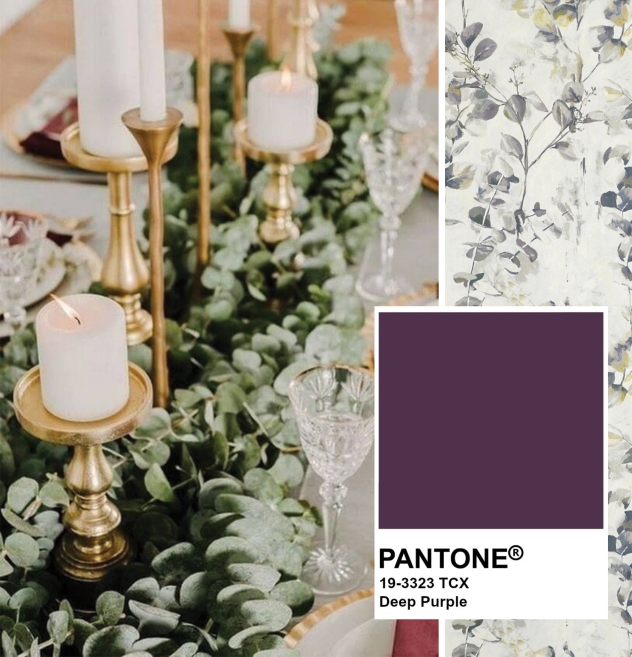 Complement the Aquarelle fabric with a eucalyptus table runner for the perfect Christmas table setting. Add accents in deep plum shades for a luxurious festive scheme and incorporate metallic accessories to complete the sophisticated Christmas colour palette.
.
Discover our latest Pinterest board for more inspiration
.