Invite the wonder of the rainforest into your home and create a tranquil space with the new range of printed velvets and textured jacquards.
The bright and bold tropical trend is proving to still be prominent in interiors, and here at PT we have been looking at new ways to put a twist on the summery style. Stepping away from the vivid colours of tropical shores, we're looking for inspiration in the depths of the rainforest for a more decadent and luxurious look. Inspired by the treetop canopies and captivating wildlife, the Monsoon collection has been designed to evoke the tranquil depths of the jungle and tell a story through detailed illustrations and playful leopards.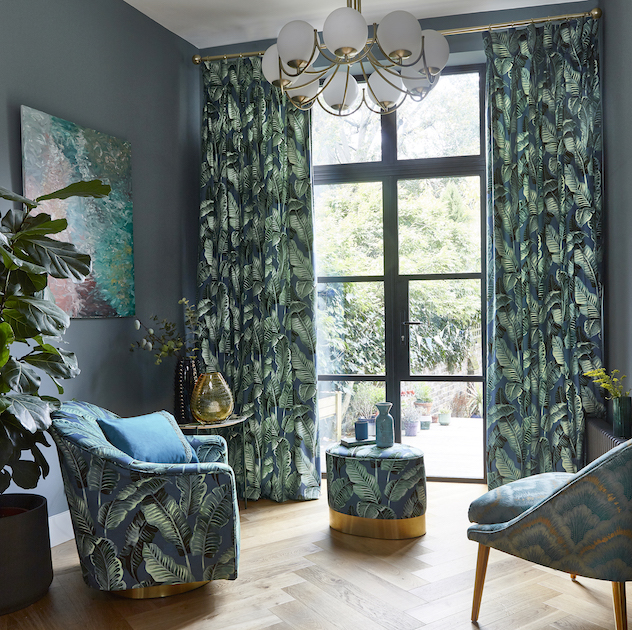 A Touch of Velvet
The soft touch of velvet is an easy way to add luxury to any interior, with large-scale statement designs taking it to the next level.
Go bold and bring the beauty of treetop canopies into your living space with floor-length curtains featuring statement palm trees for a dramatic finish. Pair with the timeless banana leaf design and bring balance with complimentary textured jacquards for a more tactile, sophisticated look. For the ultimate interior statement, upholster a focal piece of furniture in an eye-catching velvet to bring a little drama to an interior scheme.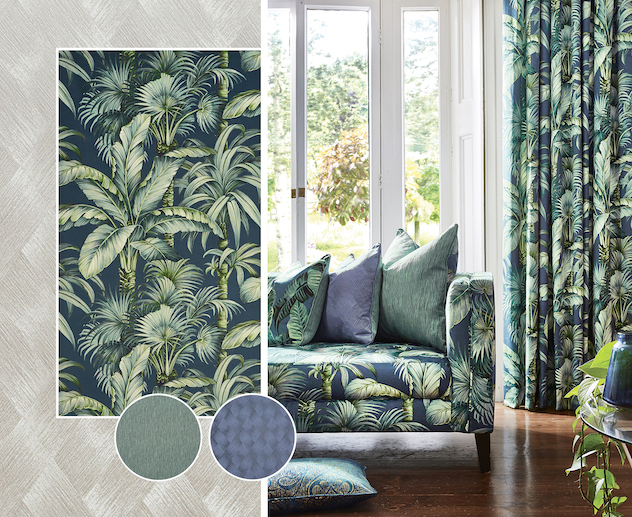 Moody Tropics
A jewel-tone colour palette allows for a confident and sophisticated maximalist look in any space.
Transform your home into a sanctuary and envelope yourself in the moody tones of dark charcoals and peacock blues or feel the rush of tropical heat with a spicy red colourway. Why not try a monochromatic colour scheme to create a rich and harmonious look by exploring all the shades and tones within the same hue.

Alternatively, introduce richly coloured, bold prints by pairing with contrasting block colours. Utilise statement cushions or paint a stand-out feature wall in clashing colours to create a modern, jungle inspired palette whilst keeping a sense of calm and luxury.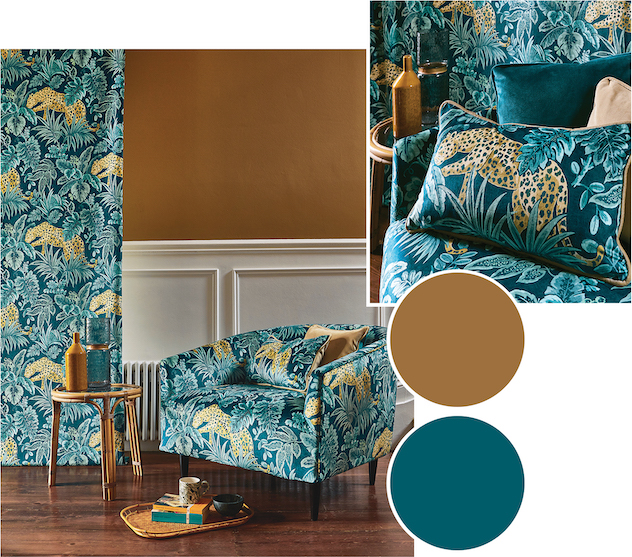 Timeless Touches
Curate a space with pieces you love by layering unique accessories and scatter cushions with added dimension.
The Darjeeling design is perfect for adding that extra special touch, with a metallic foil overprint that catches the light, resembling a glistening moonlit stream.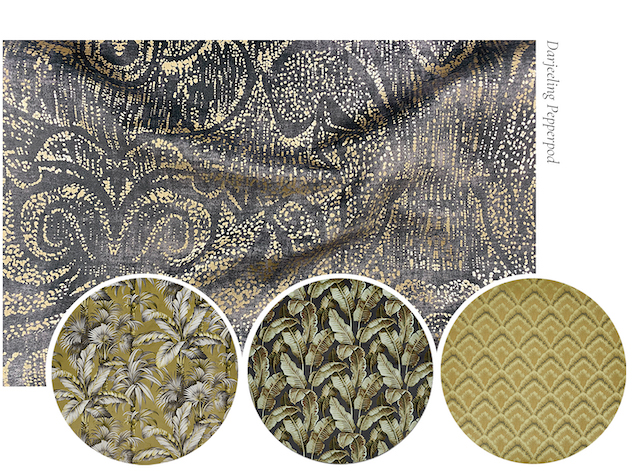 Evoking the plumage of a peacock, the Assam design features metallic accents to create a captivating finish – perfect to co-ordinate with gold or brass accessories to encapsulate the warmth of the rainforest.