It's time to abandon your living room and blow the cobwebs from your sun house, summer has officially begun.
Instead of evenings around the dining table and cosy nights on the sofa, summer is the season for alfresco dining, homemade lemonade and time spent outdoors.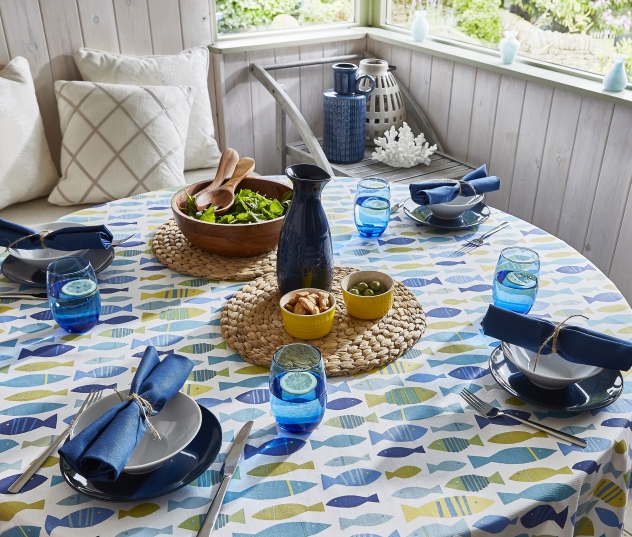 Nothing says summer like an inviting table setting, ideal for garden party nibbles or a family barbecue.
When creating the perfect table setting, we suggest choosing your colour scheme first. You can't go wrong with coastal inspired blues, alongside hints of green and yellow. Our Finn fabric in the Ocean colourway looks fantastic as a summer-ready tablecloth.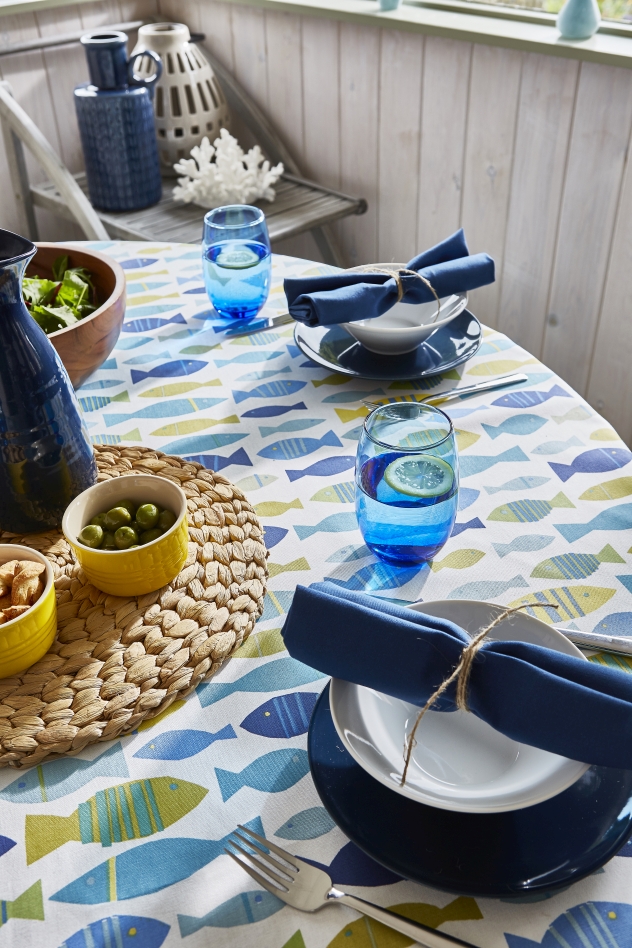 The woven rattan placemats act as a centrepiece, adding a natural texture to the setting. The maritime feel is complemented by navy and white crockery and napkins in our Panama fabric.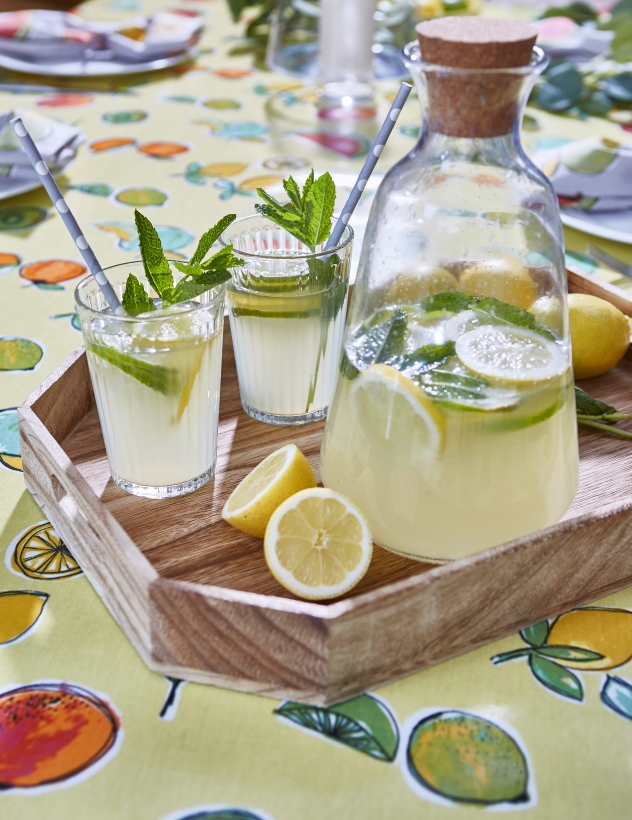 As well as creating the perfect summer dining area, set up a drinks table in the kitchen for mid-afternoon refresh.
There's nothing more enjoyable than a glass of homemade lemonade on a warm day. We've used our Fruit Salad design as a PVC tablecloth, making it easy to wipe away any accidental spillages.
You can also bring the outside in with our brunch table setting, perfect for a summer morning.
We're loving the country home feel of wooden serving boards, rattan bread baskets and wildflowers. The trailing table runner in our hand-drawn Elsa Butterscotch design, featuring honeybees, butterflies and ladybirds, compliments this rustic look.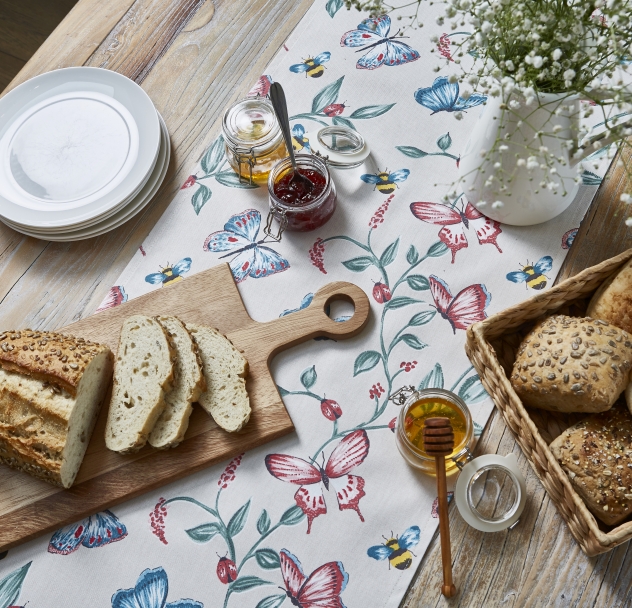 All these summer occasions require a lot of preparation. Brightly coloured aprons in our Betty and Dolly designs will protect any garden party outfit from a kitchen mishap.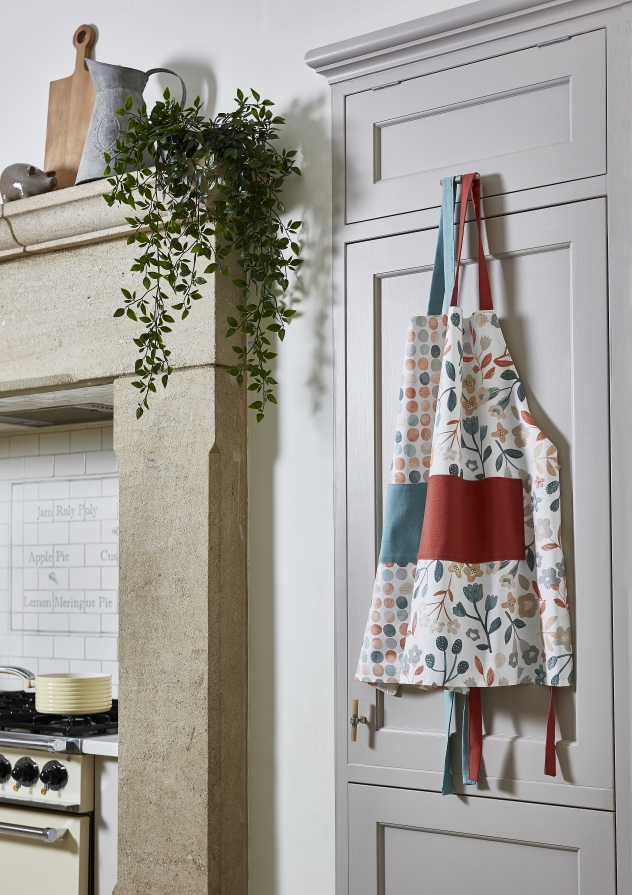 Don't forget, school is out for summer.
It's almost time for the school holidays, so be prepared to keep the kids entertained. Get ready for colouring-in and painting, made easier with our Elmer Ocean PVC tablecloth protecting surfaces, whilst looking quirky and colourful.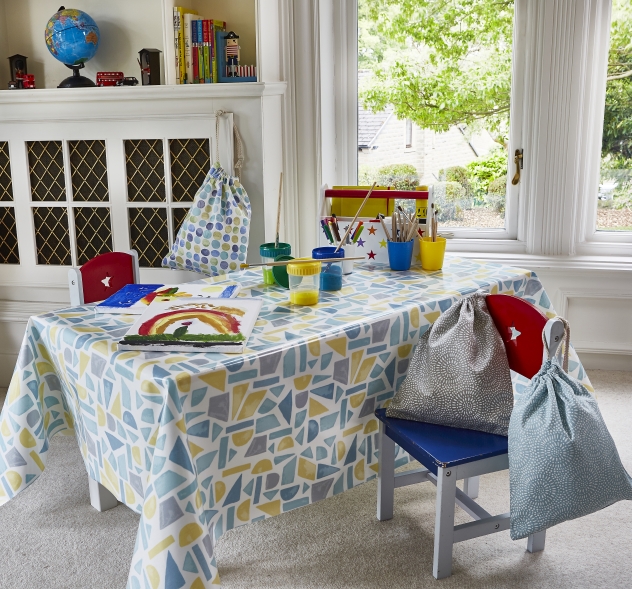 Most importantly, summer is about the outdoors. Plan a day trip with the whole family, including your four-legged friends. Pack all the day's essentials in a puppy-print tote bag in our Woof fabric.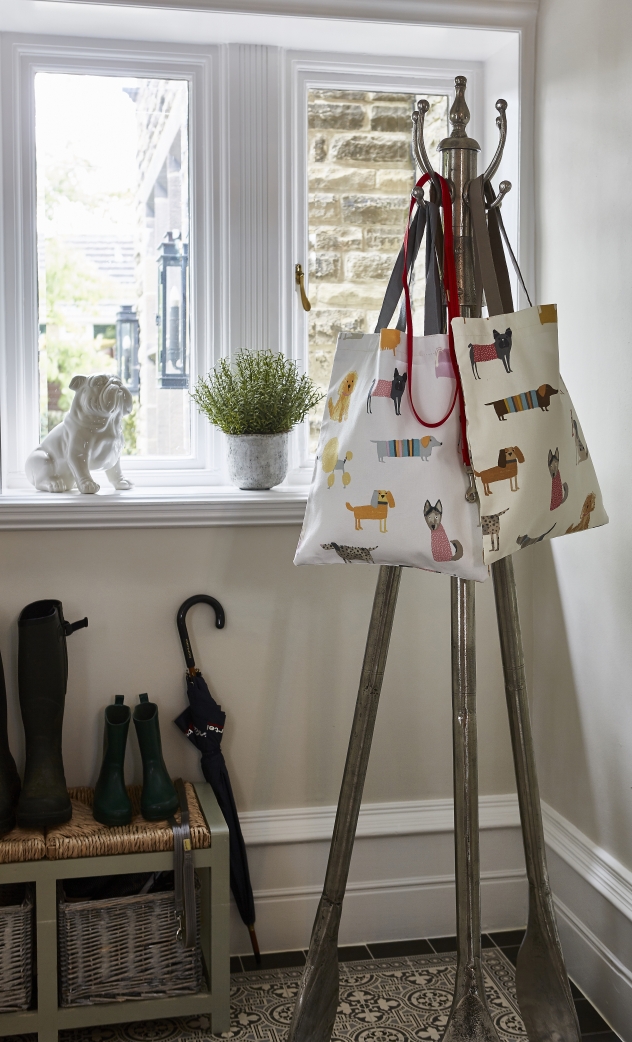 As you can see, we're all set for summer thanks to the fabrics from our Sketch collection. All the designs are available in both PVC and PVM finishes, giving you the option to have these fabrics in an easy-clean, family friendly quality.
For more inspiration, take a look at our latest Pinterest board 'Set for Summer'.
.