Add a whisper of style and tranquillity to your scheme with sheer fabrics. Their elegantly fuss-free finishes are ideal for evoking effortless serenity in a number of spaces.
A harmonious blend of style and free-flowing simplicity, sheers have the power to instantly transform a space, creating a light and airy feel that evokes restorative calm. Sheers are also equally as practical, with a range of uses in various settings. From adding snippets of interest with adorned finishes to making an ethereal entrance into a space, discover more on how to use sheers to transform your home into a Summer sanctuary below.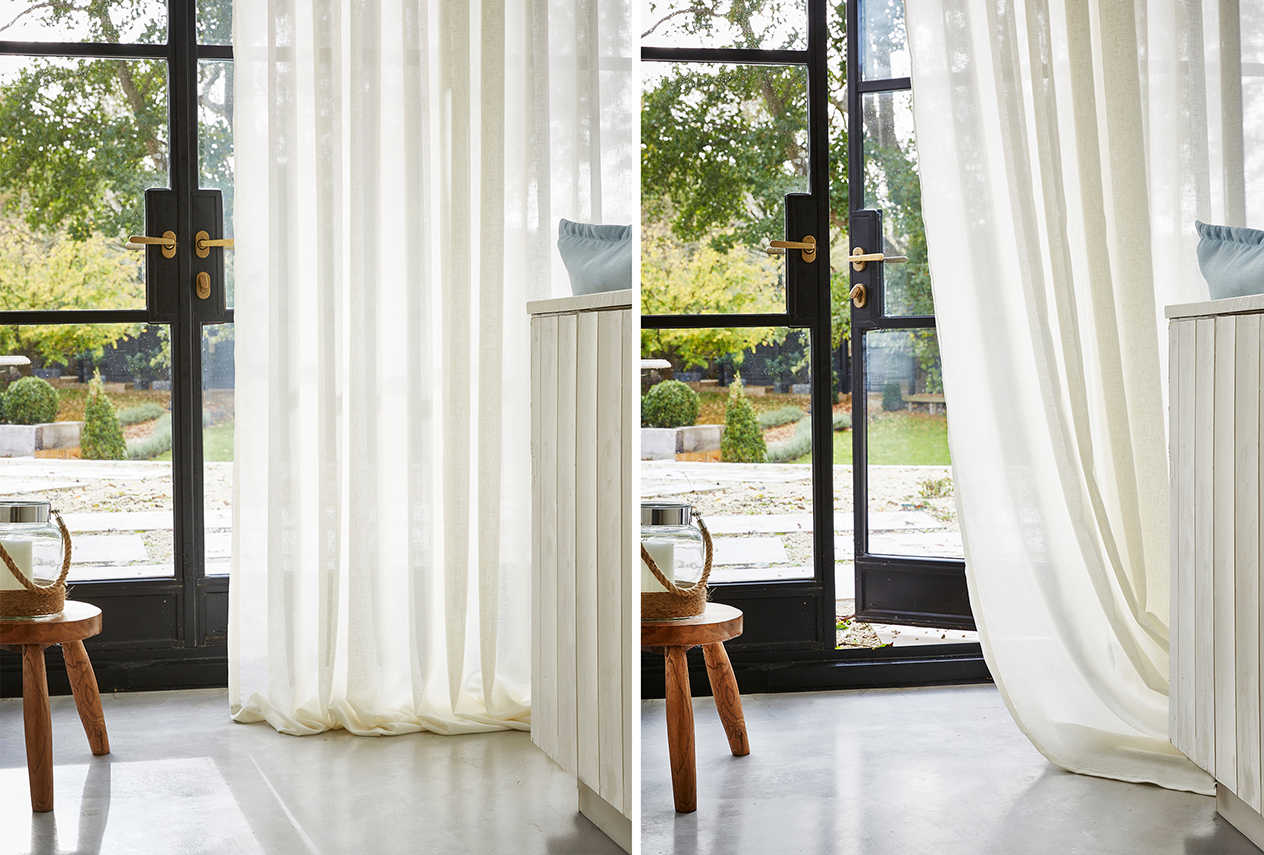 Use Sheers to Bring the Outside In
Blur the distinction between your indoor space and the outdoors and invite the beauty of nature inside with a gentle sheer finish.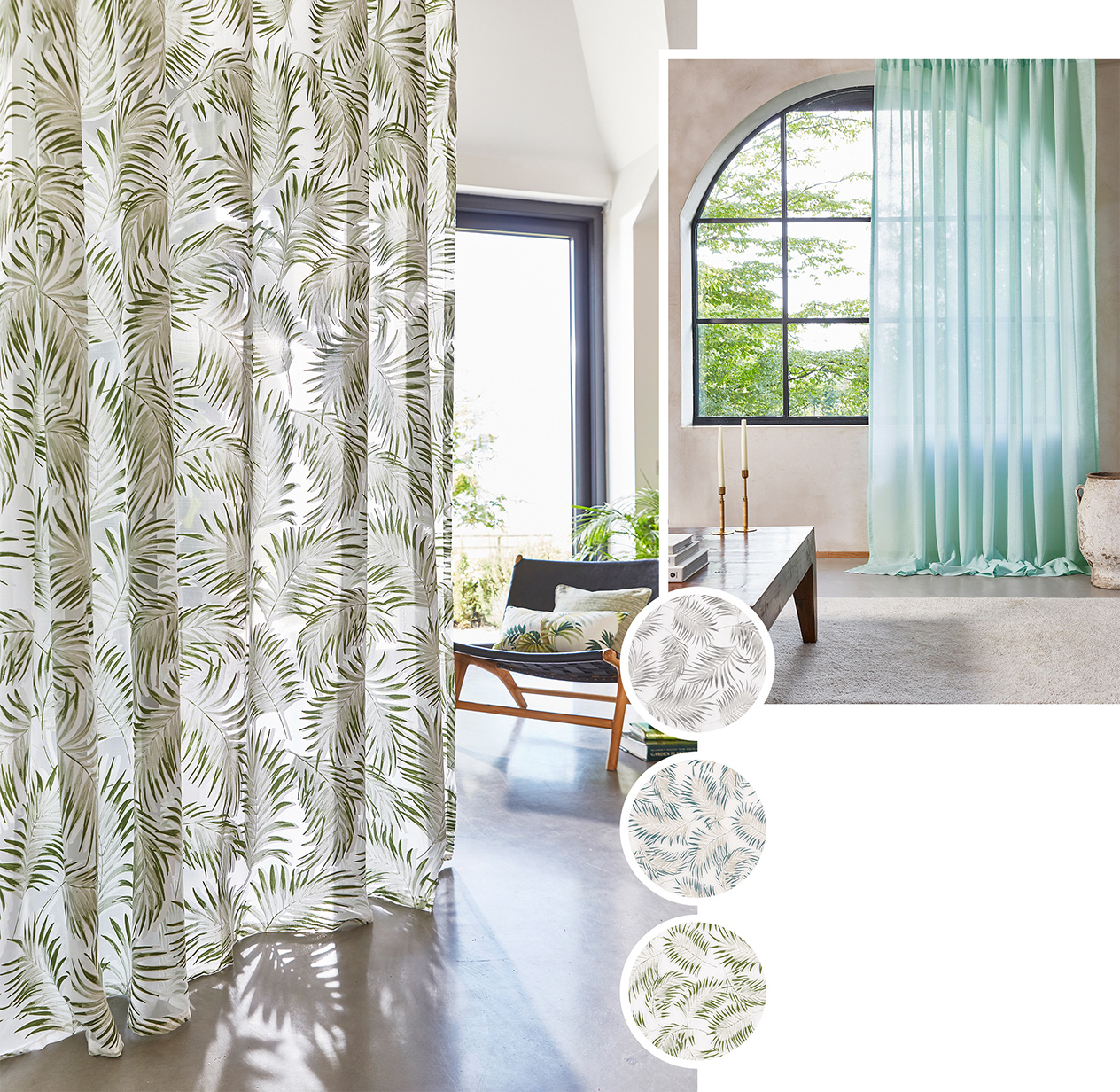 Summer House Collection, Tranquil Collection
Start the journey to your outdoor space indoors and create a scheme anchored in nature with beautiful burnout designs depicting sprawling palm leaves. Allow your window space to take centre stage and frame inviting outdoor views with subtly textured, wide-width sheer fabrics suitable for even the largest window spaces. The whisper-thin finish of sheers allows for a fusion of indoor and outdoor areas, creating a harmonious blend of privacy and daylight. Linen and light play beautifully together to create a bright and airy space, perfect for Summer. Sheers also accentuate and soften architectural features such as exposed brick walls, creating an ideal backdrop to laid-back living.
Make the Perfect Entrance with Sheers
Frame a doorway or create an intriguing room divider; the options are endless for introducing a space with the beauty of sheer fabrics.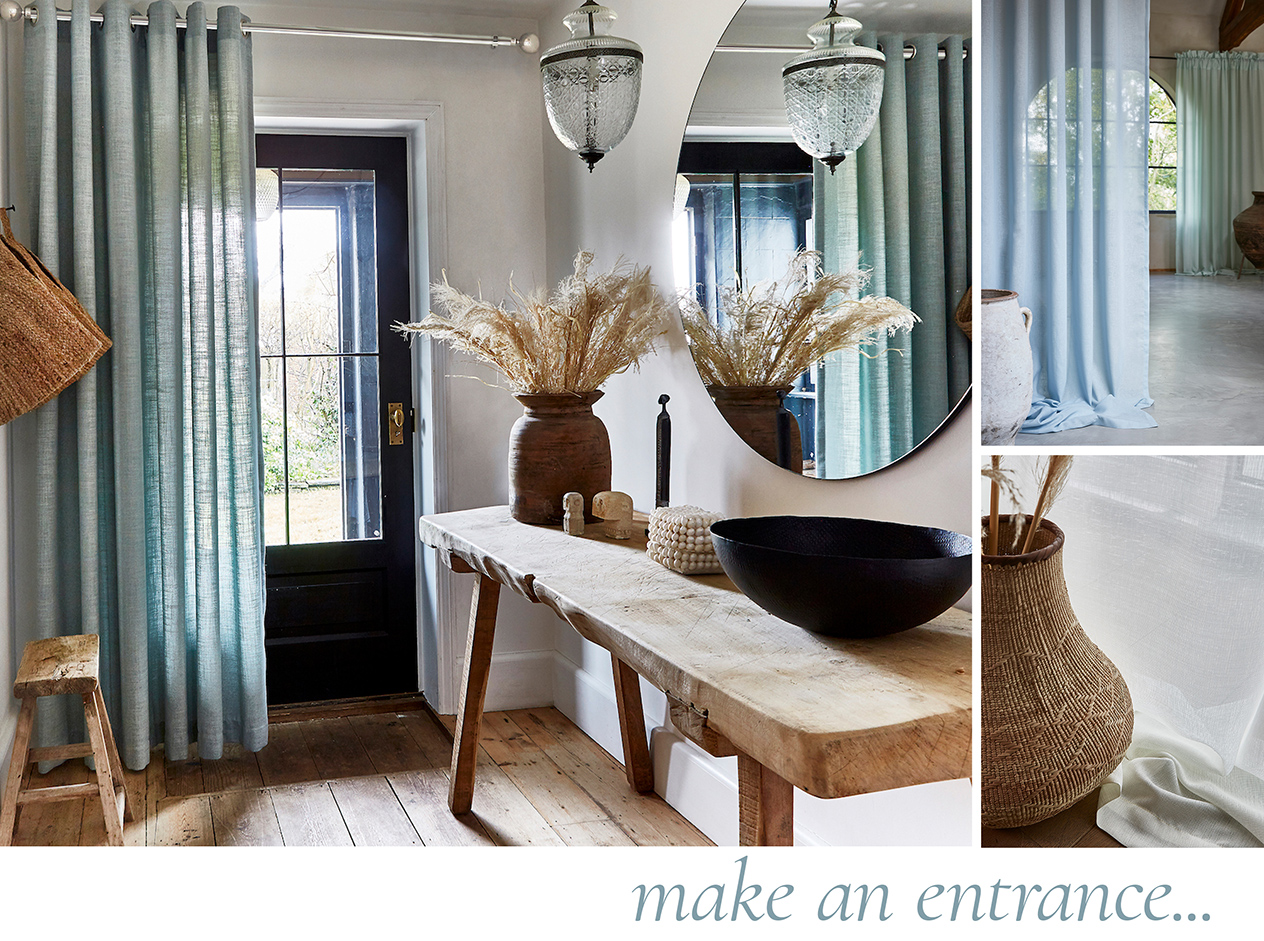 Whisp Collection, Tranquil Collection, Fenchurch Collection
Step into a serene sanctuary and hang sheer fabrics at your doorway, setting the tone for a calming space as soon as you walk through the door. Whisp's entrancing wide-width fabrics drape beautifully in a range of door or window spaces, with its light-linen look and soft pastel colour palette integrating effortlessly with existing décor. Ideal for open-plan spaces, bridge the gap between different areas of your home whilst still maintaining a light and airy space with sheers. Allow your sheers to pool beautifully for an elegant touch.
Add Depth to a Scheme With Multiple Sheer Fabrics
The understated finish of sheers means they are highly suitable for layering, creating intrigue and interest.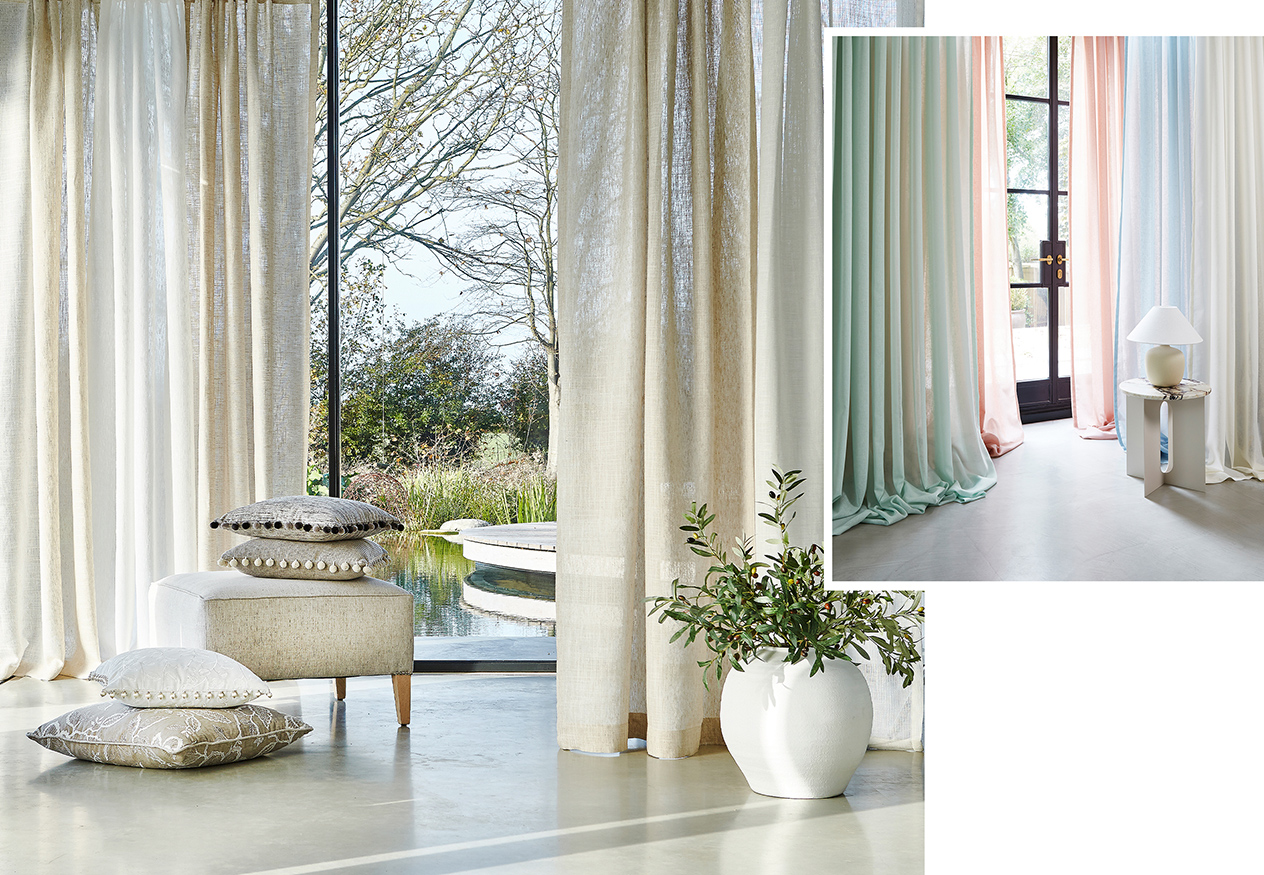 Craft Collection, Tranquil Collection
Create interest with multiple sheer fabrics used upon large expanses of walls, providing a continuous backdrop to laid-back luxe that still allows architectural features to shine through. Add gentle pops of colour with subtle cross-slub textured sheers in vibrant shades of pistachio to gentler sky-blue hues.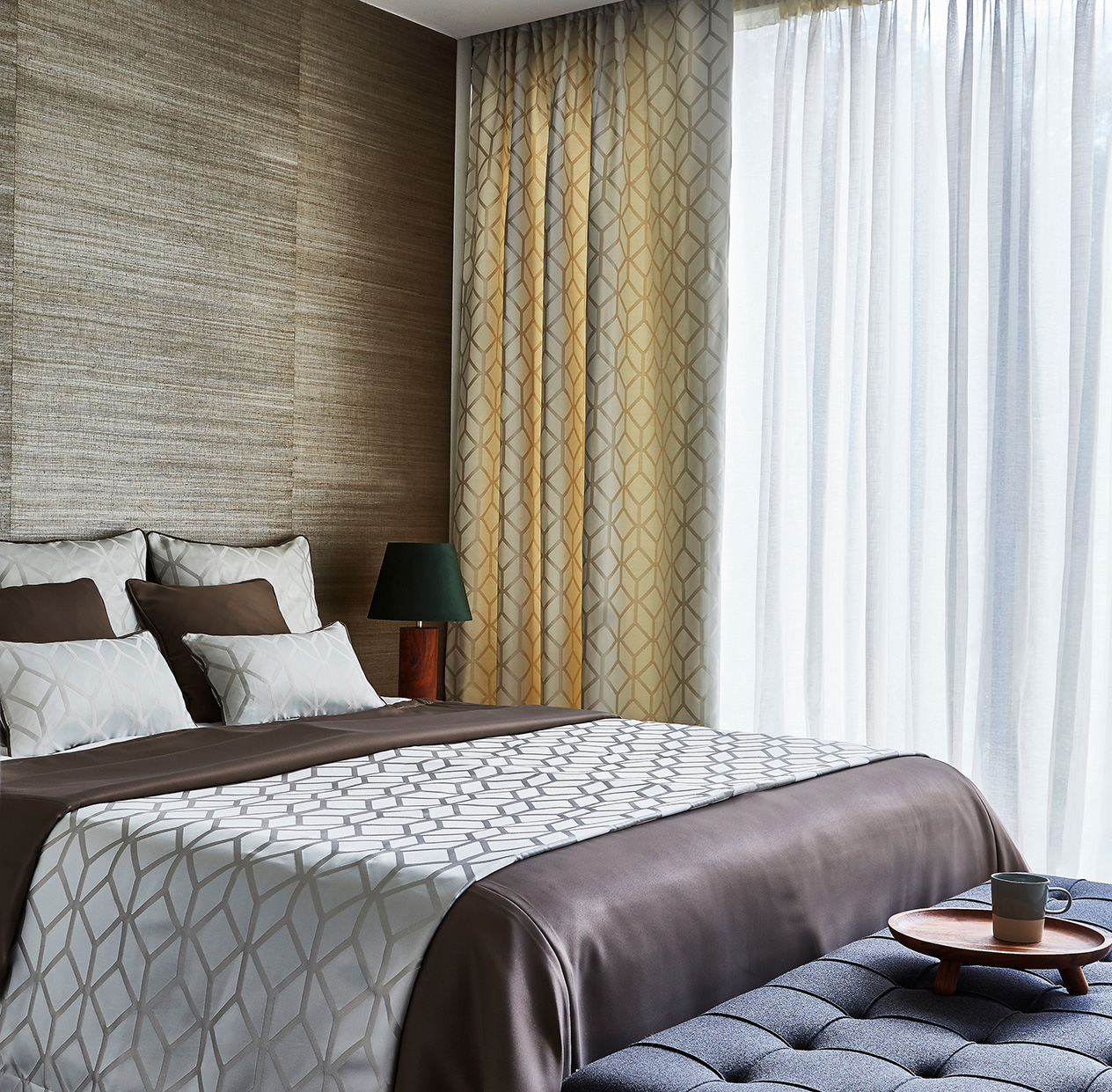 Alternatively, pair with curtains for a layered look that allows for serenity and calm year-round. Whilst sheer curtains already provide a measure of privacy, add an additional layer of protection with curtains. The uniform lines of striking geometric designs are elegantly softened by the gentle finish of sheers, making for a striking contrast within your window space that effortlessly combines style and practicality.
Enjoy Form and Function with Sheer Blinds
The defined lines of sheer blinds create a structured, architectural feel, whilst still providing the same gentle beauty and privacy of sheer curtains.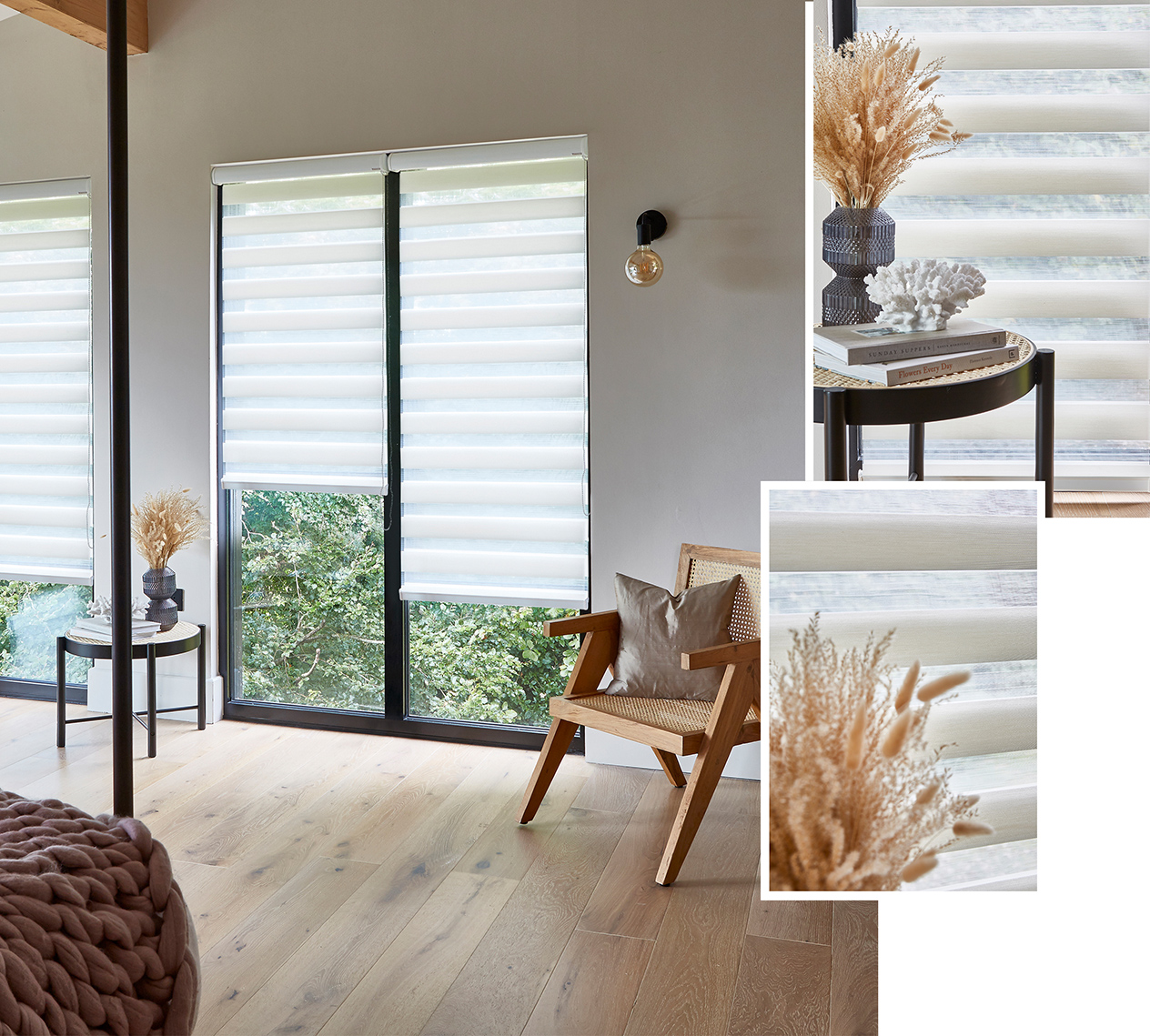 PT Blinds Manhattan Collection in Tribeca Pearl
The control over light and privacy provided by sheer blinds, also known as Day and Night Blinds, makes them a highly practical solution to incorporating sheer fabrics into your space. PT Blinds' Manhattan Collection presents 2 layers of voile and opaque alternating fabric in 46 different designs and shades, suited to a plethora of décor schemes. They are perfect for controlling the intensity of light entering a room, while also presenting the option to completely isolate your space from the outside world.
Discover the Perfect Sheer Within our Simply Sheers Book
With 35 ethereal finishes to choose from, spanning simple, elegant plains in neutral tones to nature-inspired burnout sheers, Simply Sheers encompasses a design for any scheme and window space.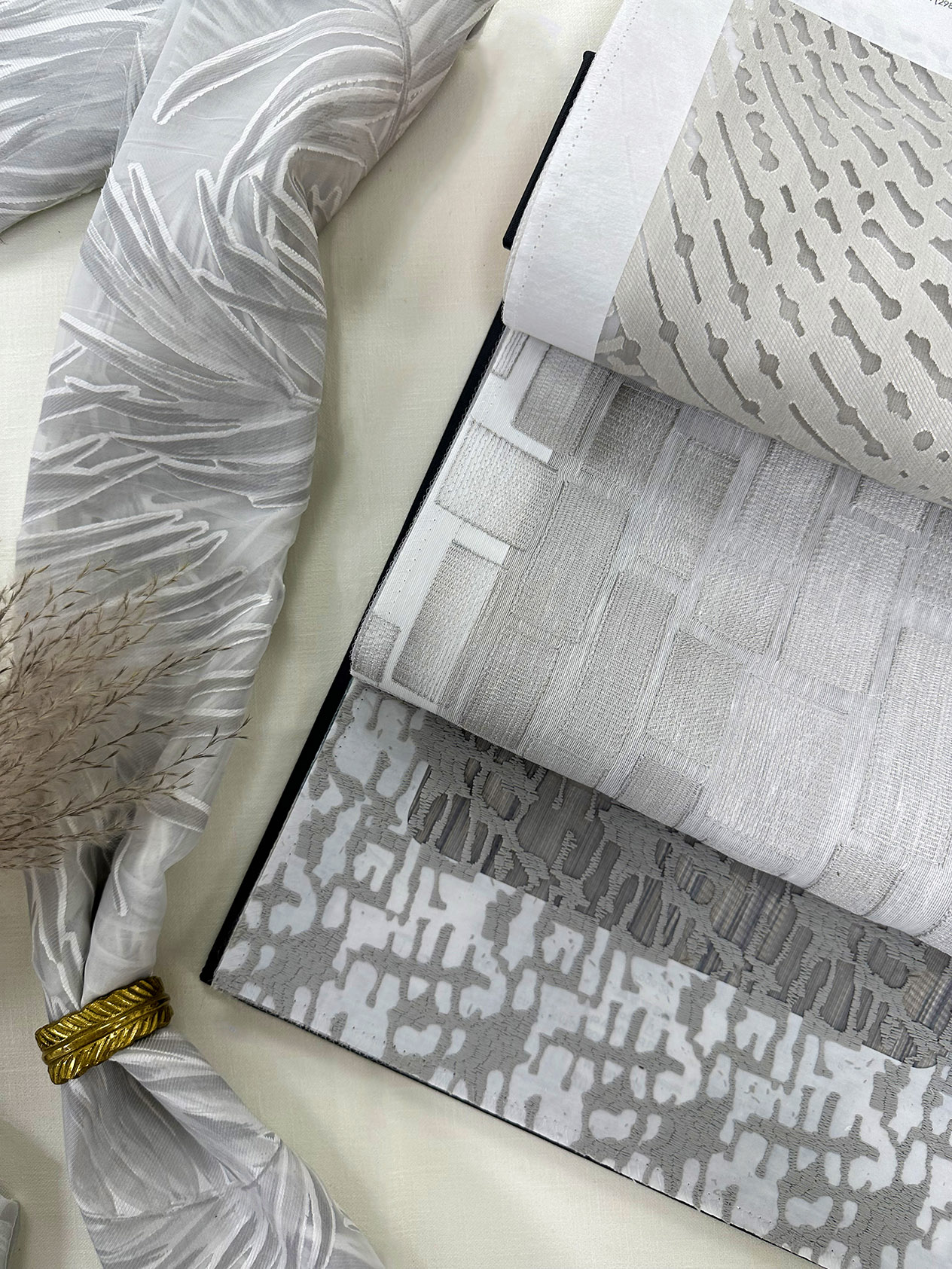 (From Left to Right, Clockwise) Rey Feather, Arch Pewter, Particle Sterling, Zulu Mineral
Be inspired by our ethereal portfolio of sheers, or locate your nearest Stockist here
Discover our latest Pinterest board for more inspiration