Continuing to dominate the interiors space with its connotations of optimism and joy, Viva Magenta provides the ideal dose of maximalism for uplifting Summer schemes.
As we try and enjoy the Summer months despite recent adversities, Viva Magenta provides the pop of energy and inspiration we have all been needing. Combining powerful hints of fuchsia and crimson, Viva Magenta elevates any room it makes its way into, inviting feelings of positivity into your home. Whether you are just discovering the shade or have had your eye on this impactful hue since its unveiling, find our expert advice on incorporating the confident yet versatile Viva Magenta into your space below.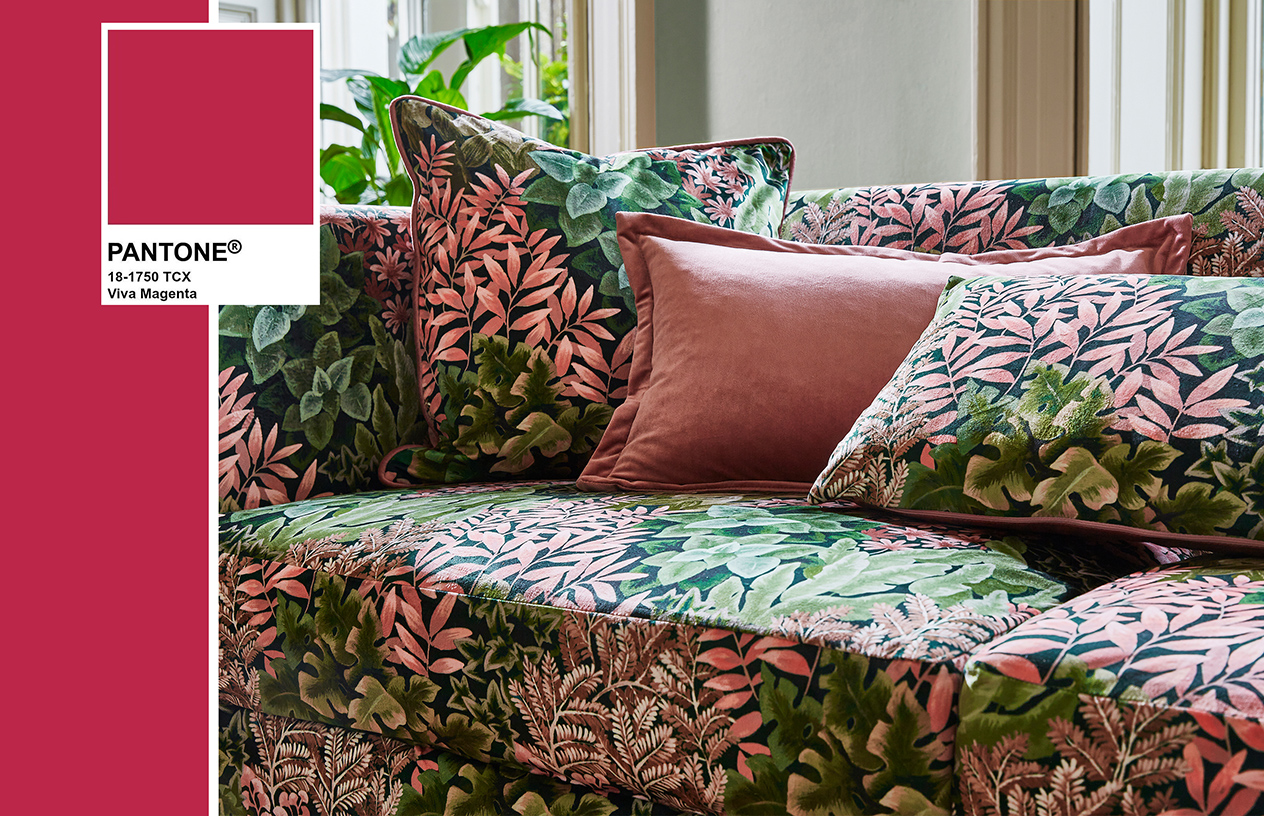 Introduce Accents of Viva Magenta
A little goes a long way with this powerful shade, so start small when incorporating Viva Magenta into your palette.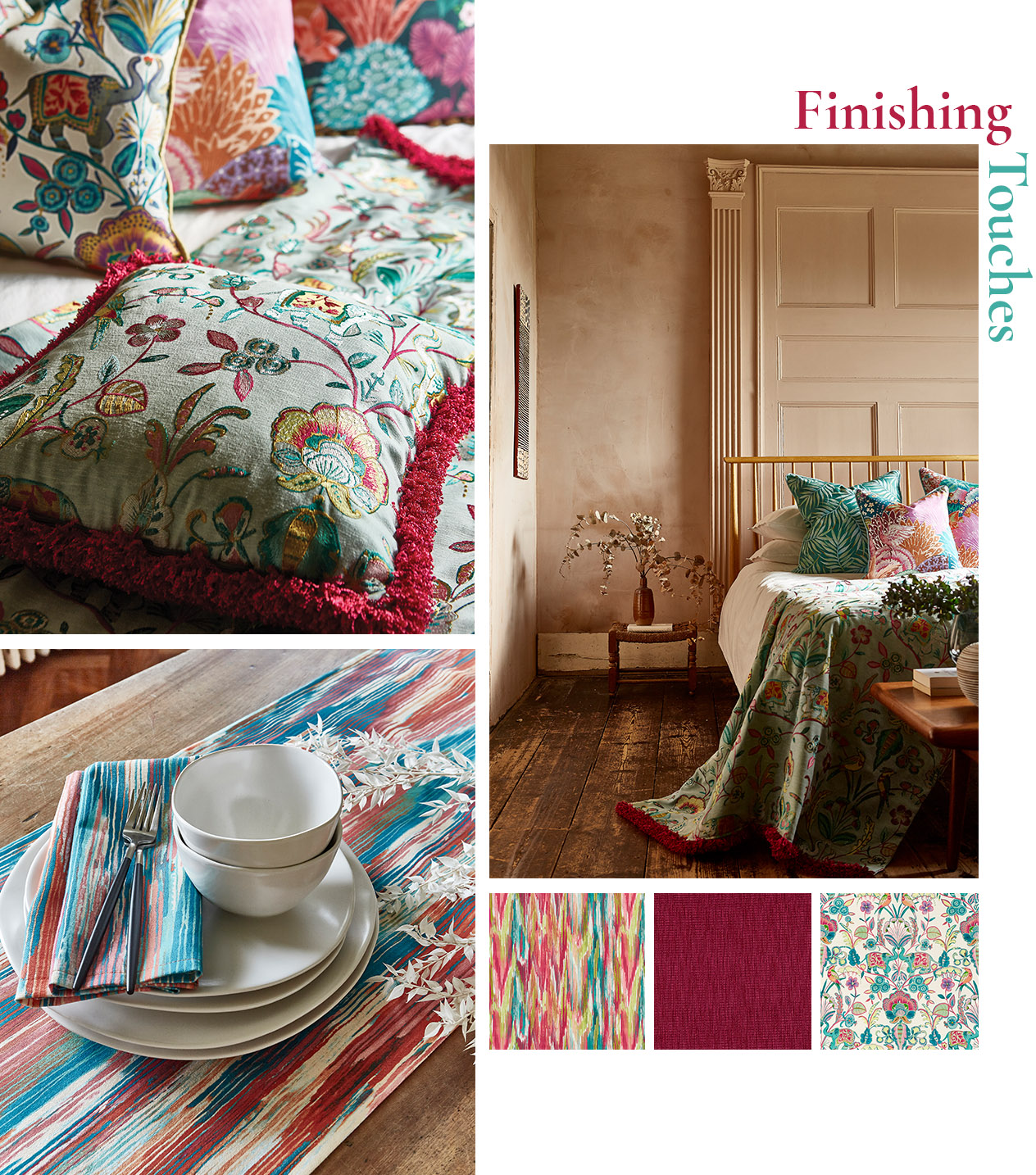 Maharaja Collection, Bali Collection
Due to its punchy nature, only a small dose of Viva Magenta is needed in your space to make an impact, making the hue perfect for accessories. This also makes Viva Magenta ideal for minimalists that want to test the waters with a maximalist approach. Add snippets of interest and showcase Viva Magenta through cushion or curtain trimmings, throws, or scatter cushions.
Create a vibrant Summer table setting and present Viva Magenta through table runners and napkins; using the shade within accent pieces immediately draws the eye to these areas and creates sufficient impact. Combine with similarly lively hues such as punchy amber, jade, and turquoise tones within your fabrics.
Highlight Viva Magenta's Natural Influences with Earthier Finishes
Tame Viva Magenta's vibrant streak with pared-back, calming Earth hues for an enveloping space that instils calm.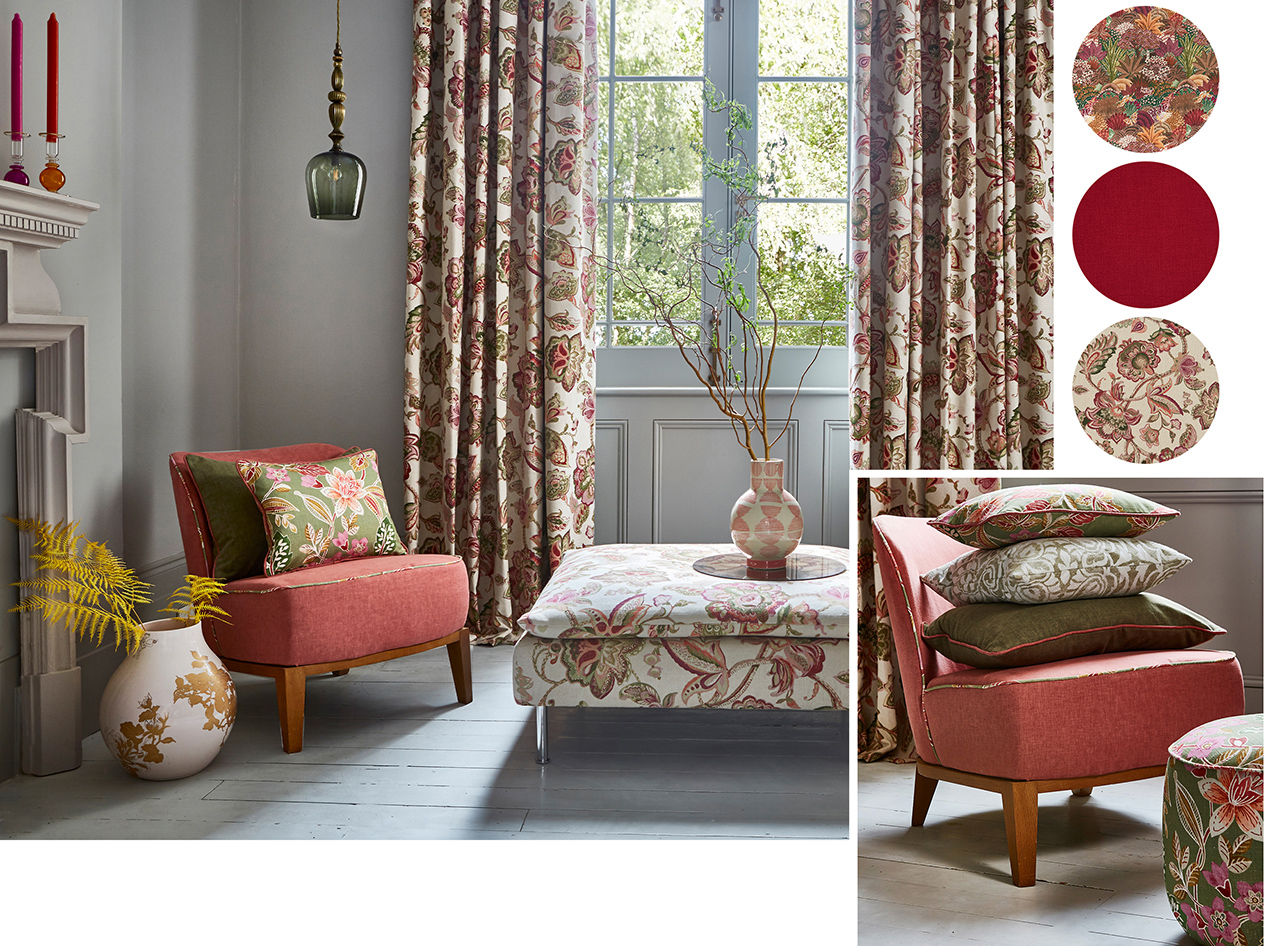 Sri Lanka Collection, Maharaja Collection, Saxon Collection
With the source of its inspiration deep-rooted in nature, Viva Magenta pairs effortlessly with earthier tones. These can make the sheer intensity and brightness of this hue more manageable for those that prefer a pared-back look. Painterly depictions of sprawling flora in rich, verdant hues and delicate linen-look textures are the perfect counterpart to Viva Magenta's characterful nature, and ensure your Viva Magenta scheme remains liveable yet captivating.
Present earthier colourways through statement floor-length curtains, or other focal pieces of furnishings such as footstools and armchairs. Reserve bolder touches of Viva Magenta for accent pieces such as scatter cushions, candles, or vases.
Combine with On-Trend, Punchy Pastels
Create harmony and balance the intensity of Viva Magenta with pastels that pack a punch.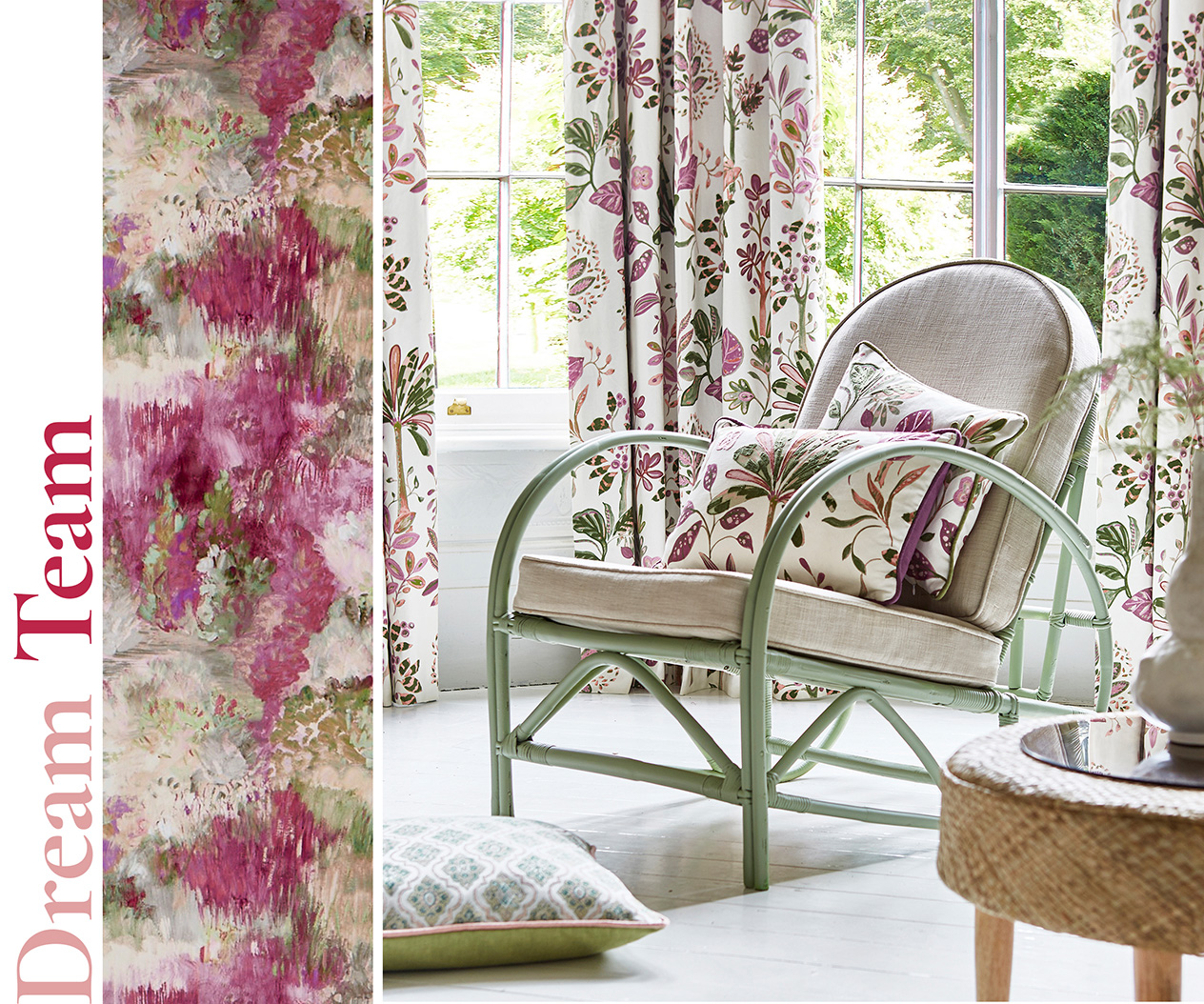 Painted Canvas Collection, Sri Lanka Collection
Despite its intense character, Viva Magenta is surprisingly versatile, pairing with a range of hues that encourage your space to come to life. The gentler nature of pastels complements the punchy tones of Viva Magenta, with the two joining forces to create entrancing spaces that showcase eye-catching snippets of colour.
Pair accents of Viva Magenta with vibrant depictions of stylised trees and blooming florals in delicate pink tones. Floor-length curtains are perfect for framing picturesque outdoor views. Entrancing, multi-tonal abstract designs presenting varied palettes of fuchsia, ranging from lighter, daisy-inspired hues to Viva Magenta, are ideal for incorporating a varied palette of pinks into your space.
Embrace Viva Magenta's Maximalist Nature with Expressive Designs
Harness the full potential of Viva Magenta and let its standout nature shine with designs as equally as maximalist.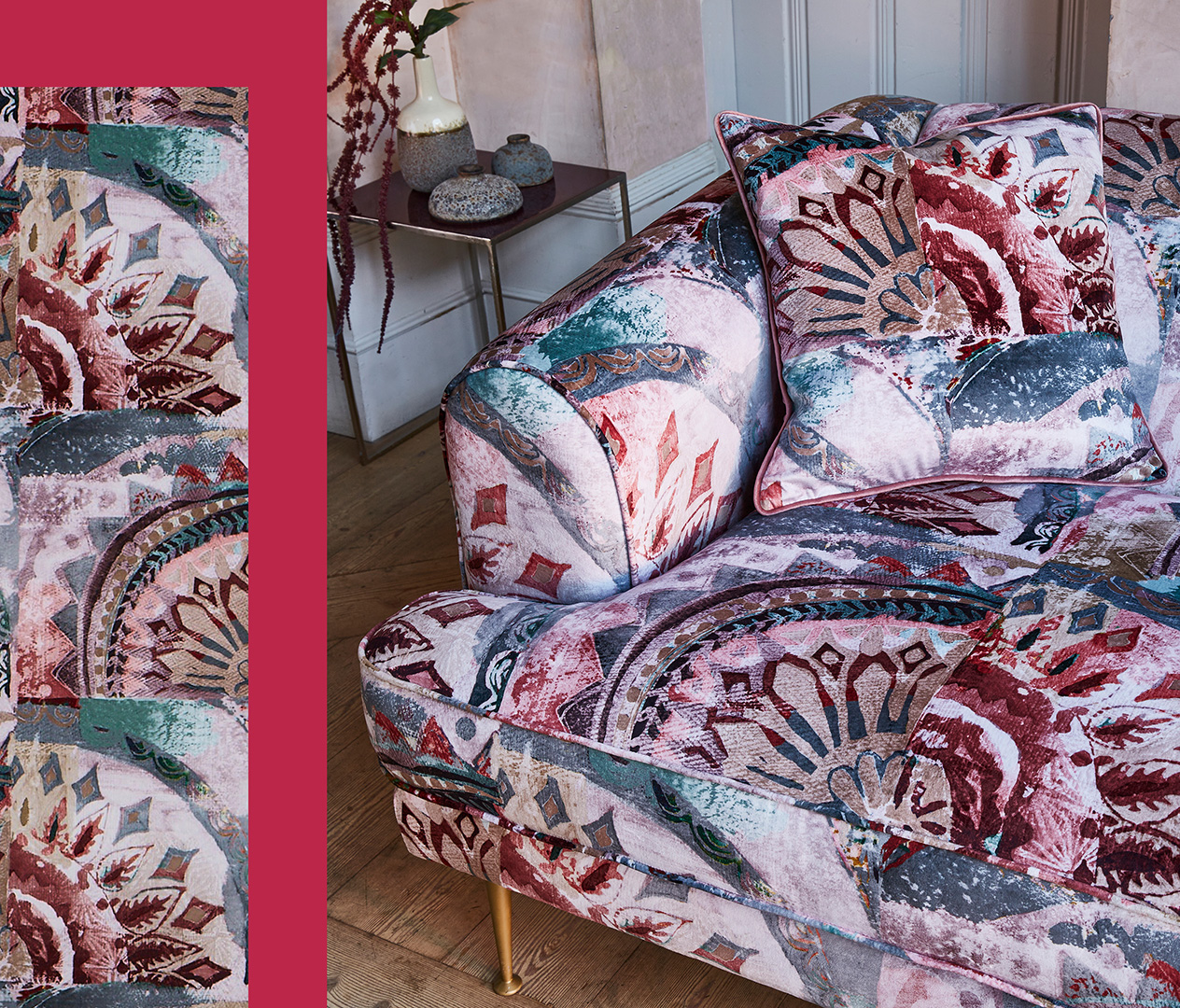 Ensure your guests are captivated as soon as they enter the room, by amplifying Viva Magenta's unashamedly maximalist nature with conversational designs. Pair with large-scale geometric velvets inspired by grand architecture upon large expanses of furniture, such as statement sofas or armchairs. Why not complement the richer, more vibrant tones of Viva Magenta with a backdrop of exposed plaster walls? Gold and copper are ideal for injecting a touch of opulence to an otherwise vibrant scheme, so feature the two in accents such as sofa legs or side tables for further impact.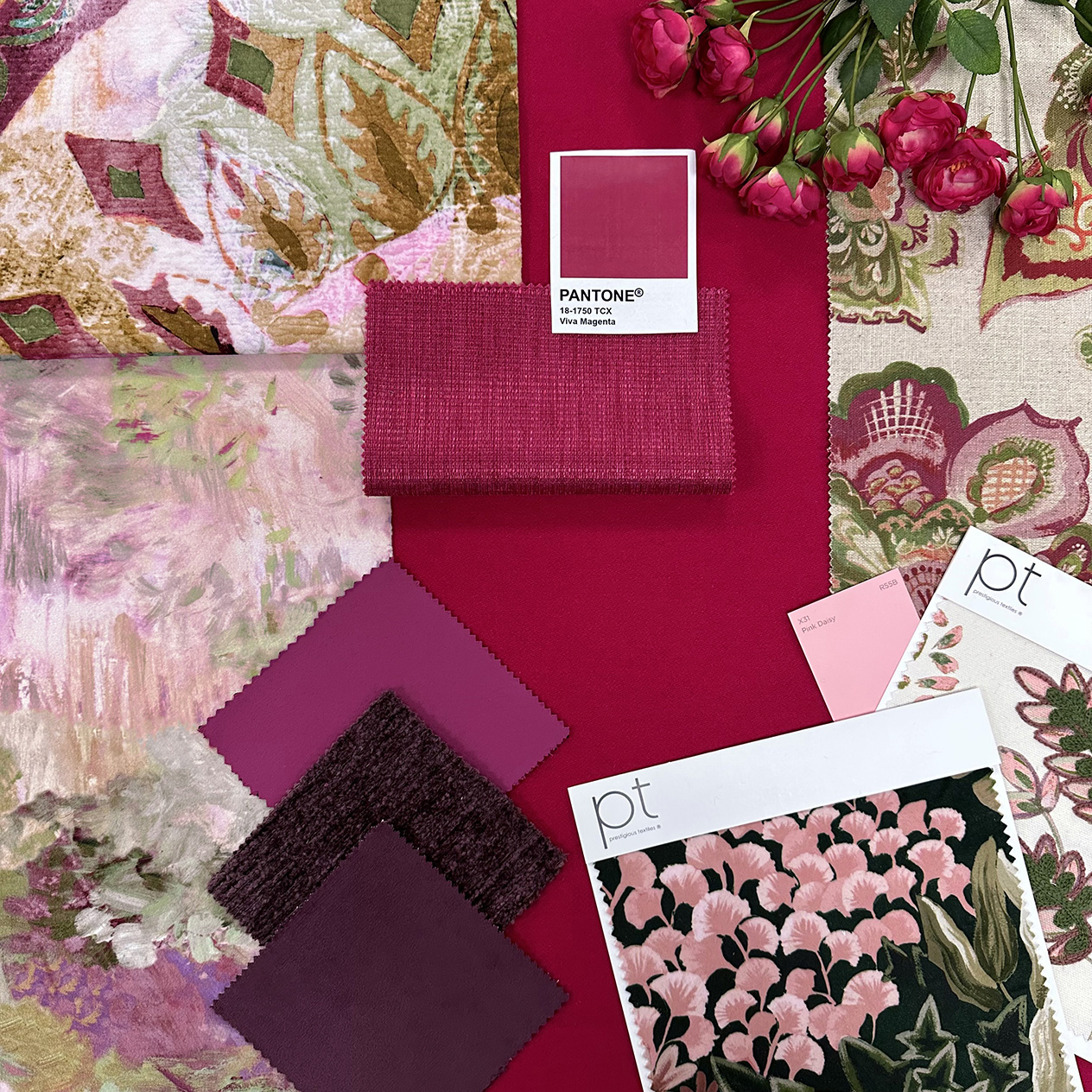 Discover Painted Canvas' maximalist take on the Viva Magenta trend here, or locate your nearest stockist
Start forming your Viva Magenta scheme within our product search
Discover our latest Pinterest board for more inspiration