Looking forward to brighter skies and warmer days ahead, the new collections from Prestigious Textiles embrace expressive landscapes and optical illusions.
Immerse yourself into this season's sophisticated and confident collections and get ready to invigorate your space.
Encapsulating imaginative colour, pattern, and texture, the five new collections of fabrics and wallpapers are designed to inspire distinct, creative, and versatile new home stylings. So, delve into our list of interior trends you need to know for the season ahead.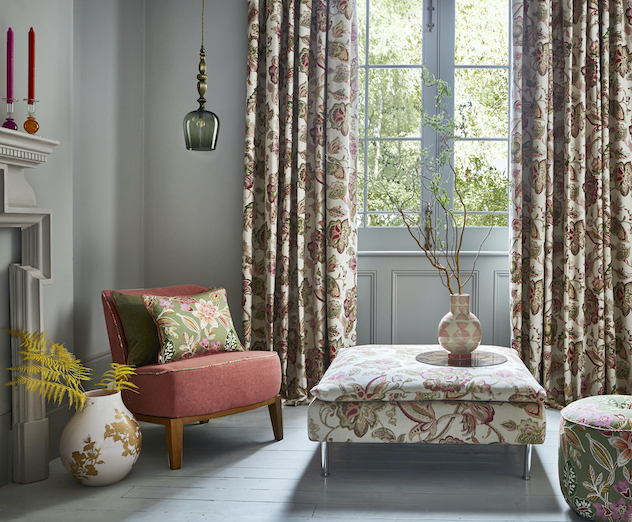 Summer Jacobeans
Bring dreams of travel and adventure to life by introducing global influences in traditional fashion to your interior scheme.
Inspired by the original tropical landscapes and vibrant culture of Sri Lanka, the linen-look collection of Jacobean florals and stylised trees is bursting with colour and style. Featuring painterly textures and intricate embroideries, the collection incorporates stunning Jacobeans, ornate damasks and a complementary mosaic tile, for truly captivating interiors. Complete with rich hues of emerald, gold and navy, Sri Lanka is rich in pattern and colour for uplifting home décor.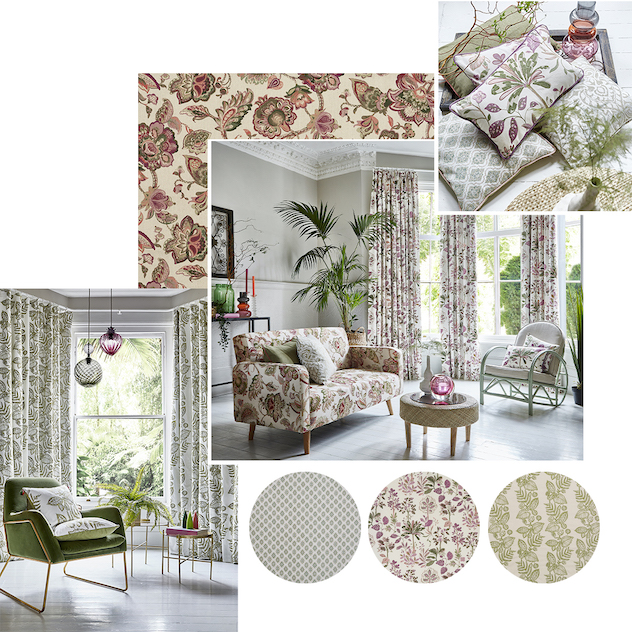 Interior Illusions
Explore three-dimensional effects and multi-layered schemes to create excitement in the home.
Playing on optical illusions and embracing layered finishes, the Perspective Fabric collection includes statement prints, textured semi-plains and tactile jacquards. Taking inspiration from natural stone, marble effects and stonework, the collection embraces a colour palette of charcoal tones, rusty oranges, and deep moss greens imbued with subtle hints of metallic.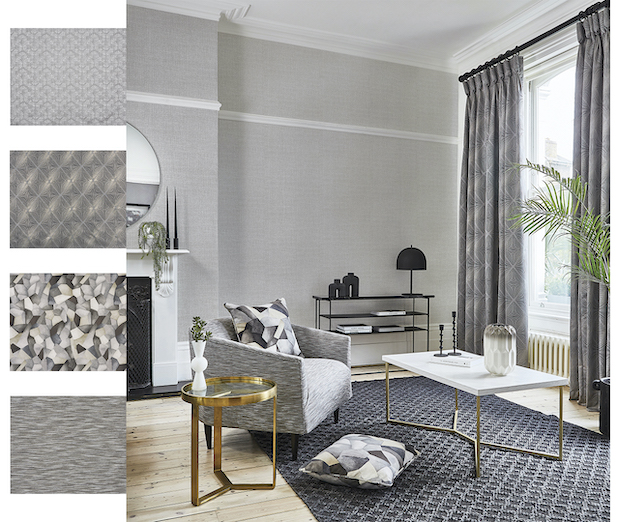 Depth is created with two striking prints embracing three dimensional effects and complementary jacquards further enhance the theme for creating multi layered interior schemes.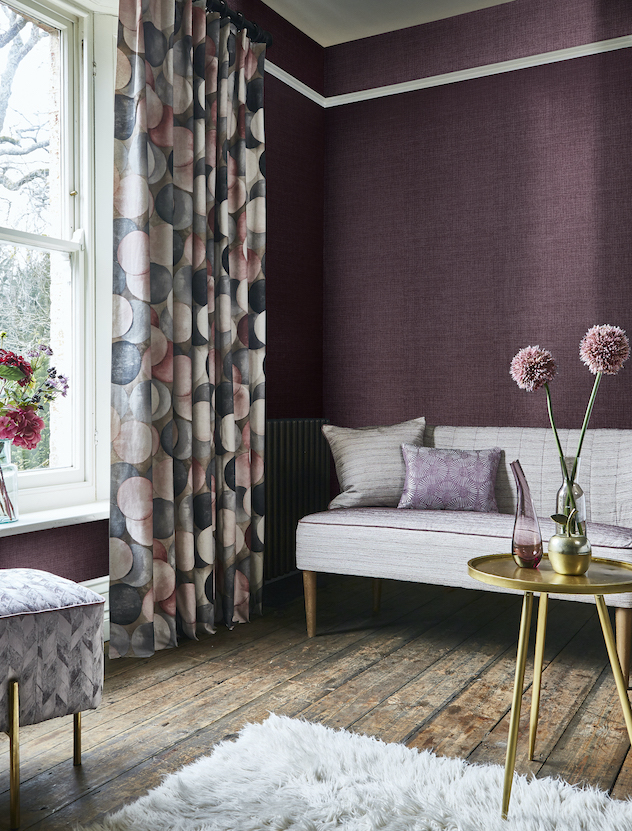 Why not go all out on your interior décor and co-ordinate your fabric with complementary wallpaper for a statement scheme?
Exciting designs are worth repeating and the Perspective wallpaper and fabric collection is no exception. Designed to complement the range of fabrics, the eclectic mix of textures and pattern have two feature designs embellished with an embossed finish. Offering corresponding colour in shades ranging from natural tones, damson shades to cerulean, a textured semi plain wallpaper has been added to compliment the feature designs.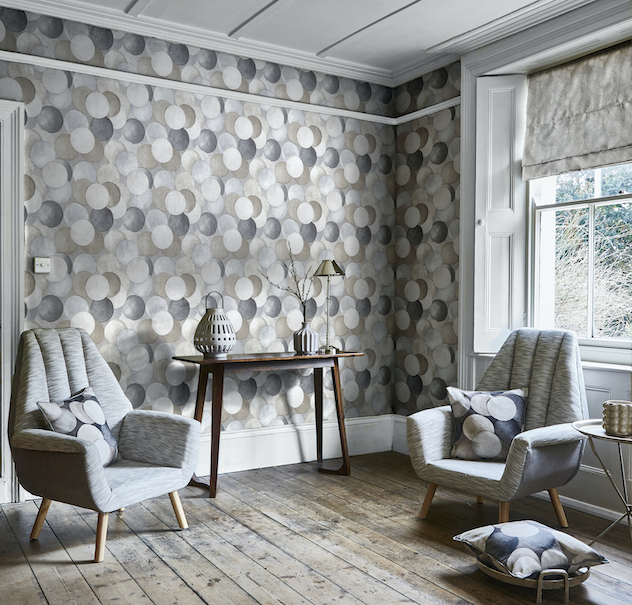 Hotel Chic
Inject the charm of the Yorkshire countryside to homes and commercial spaces with classic, woven geometrics.
Introducing Haworth, the latest addition to the PT Contract range. Ideal for upholstery, the inherently fire-retardant fabrics include beautifully crafted designs that will work perfectly in both residential and commercial settings. Inspired by the rugged Yorkshire landscape, the collection features a range of complimentary, small interlocking weaves in a variety of multi-tonal earthy shades, rich hues, and essential naturals.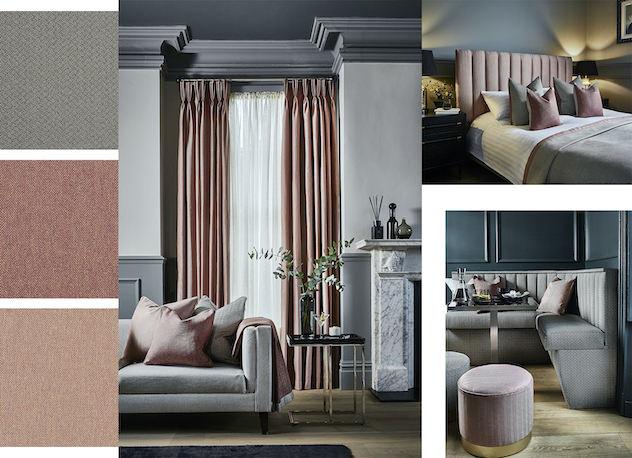 Laidback Luxury
Reconnect with nature by introducing natural fibre fabrics in the home.
Offering a beautiful 100% linen in a range of 34 colourways, the Nordic collection has a natural linen texture that adds a tactile finish for effortless drapery and accessories. Featuring an array of soft natural tones, from soothing pastels shades to rich earthy hues, the stunning linen selection will give a delicate finish to any interior.