2020 is the year for colour lovers, with bold colour combinations being a must-have in home interiors.
When it comes to creating your living space, colour is the best way to express your personality through soft furnishings, feature walls and accessories.
We've highlighted the shades that are going to be on-trend for 2020; with interiors featuring combinations of earthy pink and terracotta, the new neutral sage green and Pantone's Colour of the Year, Classic Blue.
Get colour confident and discover our Colour Edit for a more in-depth look at these exciting new colour trends, featuring expert advice from PT's Head of Design, Marie Parry.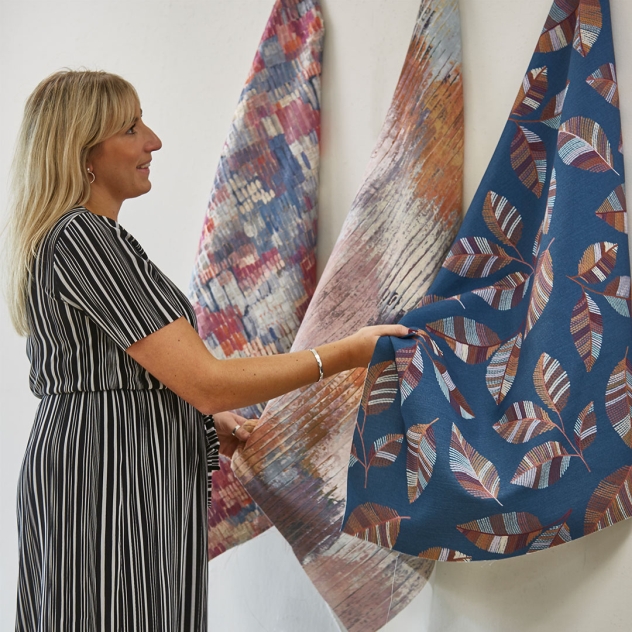 Pantone's Classic Blue
Each year Pantone announce the shade they predict to be The Colour of the Year. Previous years have seen Living Coral, Ultra Violet and Greenery as the annual must-have shades, but this year the colour experts have selected Classic Blue as their on-trend colour.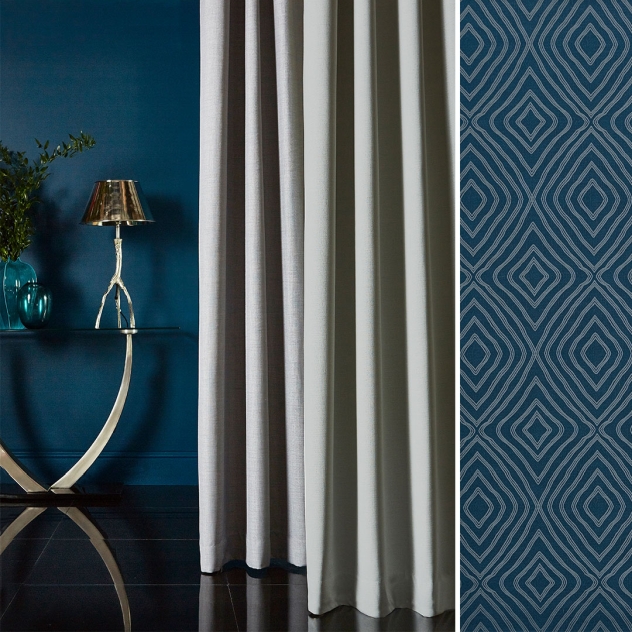 Marie says:
"With today's society being so busy and hectic it's a big trend to make your home a sanctuary of calm away from the chaos of the outside world. This trend is enhanced by calming tranquil colours such as Pantone Classic Blue, a serene and relaxing colour.
This colour trend brings the outdoors inside and combines perfectly with foliage and plants further embracing the peaceful, laid back style."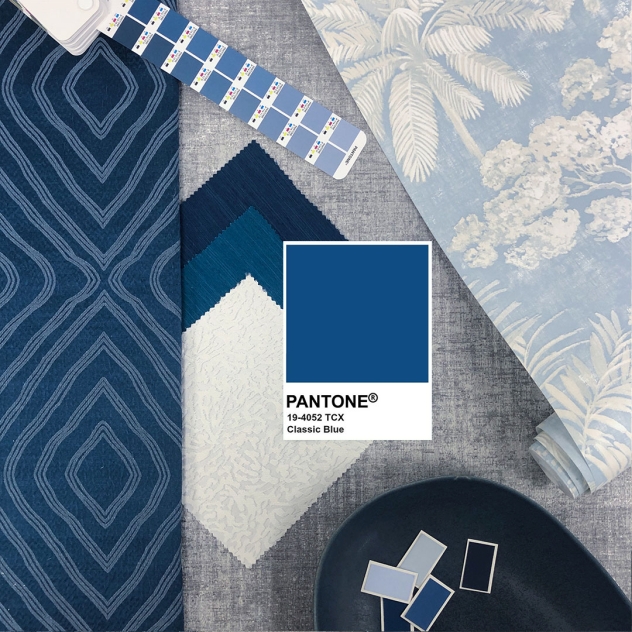 Introduce Pantone's Classic Blue into your home
Accompany the sapphire coloured designs from our Enigma collection with blue toned fabrics in on-trend velvets from Majestic, or our inherently FR Grosvenor collection.
Feature walls are also a striking way to incorporate the colour into your home, using statement wallpapers like our Enchanted Skylight.
Discover our Pantone Classic Blue Pinterest board for more inspiration
.
.
The New Neutral - Sage Green
Even neutral schemes have been given a colourful update this season, with sage green being the perfect addition for a more natural look. The relaxing shade is the more mindful colour option for uncluttered interiors ready for a spring refresh.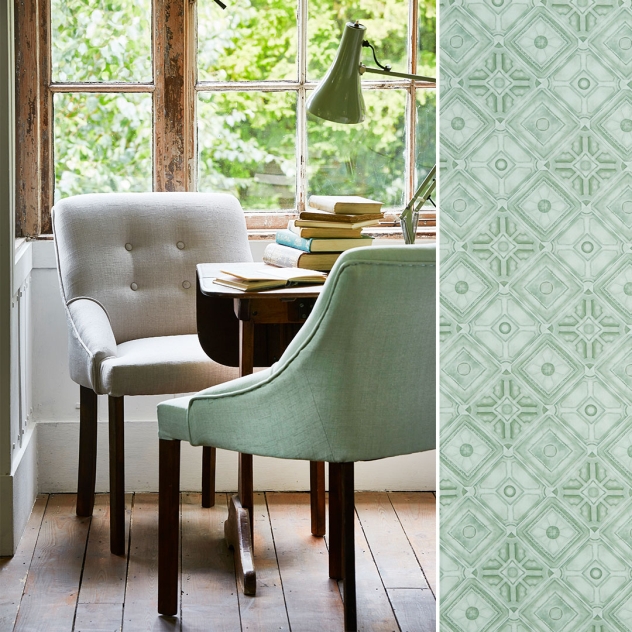 Marie says:
"Tranquil greens ranging from sage, lime and emerald will be a big feature in this year's interior trends. Sage green particularly is a hot shade this season as it is so versatile to use, mix with emerald for a statement piece or with soft neutrals for a more relaxed interior.
The sage colour works well in a range of fabrics from the ever-popular velvet to linen-look fabrics. The shade also works well within print designs such as laid-back foliage and abstract florals."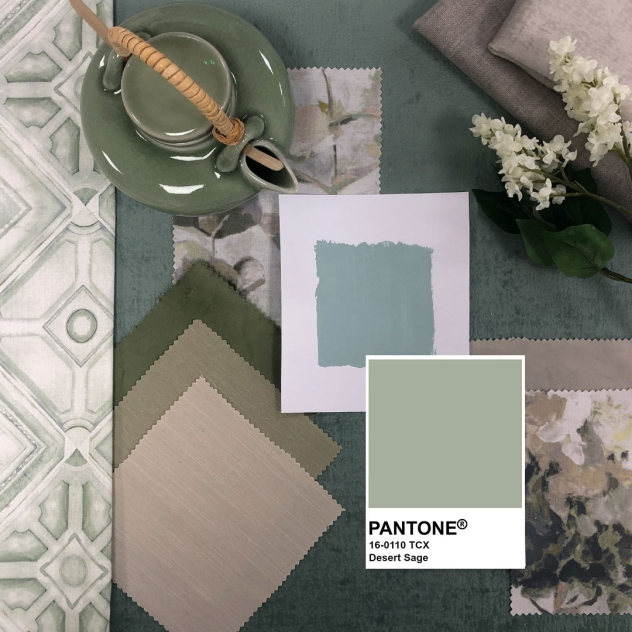 Add elements of sage into a more neutral interior
Incorporate spring-ready fabrics from our Grand Botanical and Reflections collections. The calming colour palette works in harmony with natural materials such as rattan lighting and wooden accessories.
Discover our Sage Green Pinterest board for more inspiration
.
.
Earthy Pink and Terracotta
See the world through rose-tinted glasses and incorporate this warm sunset palette into your living space. The earthy pink and terracotta trend has evolved from the usual spring pastel shades to offer a more sophisticated, natural look.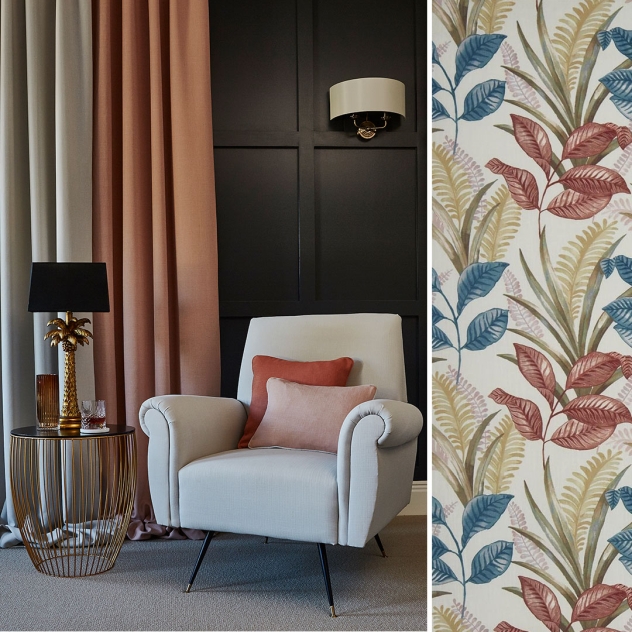 Marie says:
"Moving on from the popular rose-pink colour scheme, terracotta is the new warm palette coming into interiors. Combined with washed coral and rich rust browns, this creates an inviting and warm interior setting.
The colour palette offers a cosy, easy living feel and layering different shades, from earthy pink to terracotta in textiles and accessories makes for a sophisticated, yet snug setting."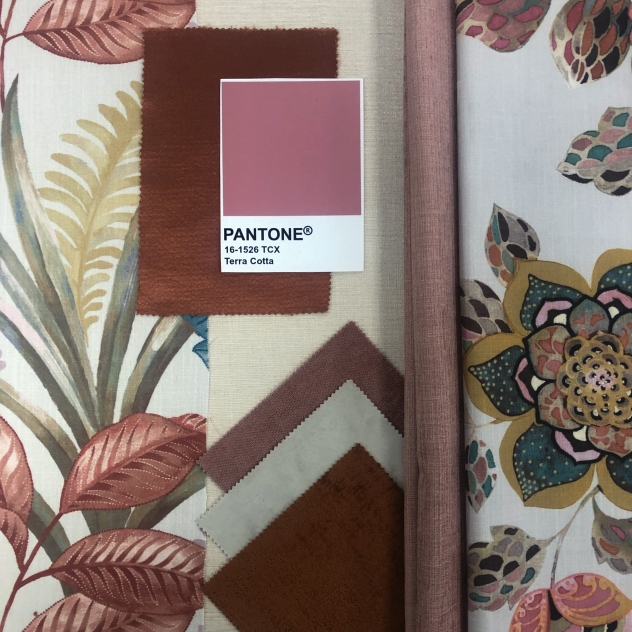 Our Bali collection offers the perfect mix of dusky pink and terracotta shades
The floral and foliage inspired designs pair perfectly with sunset coloured fabrics from our chenille Havana collection.
If you're searching for fabrics suitable for contract projects, our inherently FR Franklin collection has the perfect range of rust oranges and earthy pinks to recreate this colour trend in commercial interiors.
Discover our Earthy Pink and Terracotta Pinterest board for more inspiration
.
.