Being confined to our homes during the pandemic left us with an influx of time to fill, leading us to rediscover old pastimes and pick up new hobbies. From dabbling in painting to pottering in the garden, these activities are infinitely healing for the mind and body.
After working their way back into our lives, styling our interiors to both remind us of, and accommodate our hobbies has never been more important.
Once discarded as luxuries, hobbies have been proven to improve quality of life, with these flow activities, ones in which we lose all track of time, being brilliant for both our mental and physical health. We've compiled some top tips on how to forge a deeper connection between your interior and interests, with craft-inspired, botanical décor schemes an uplifting solution to transforming your interior.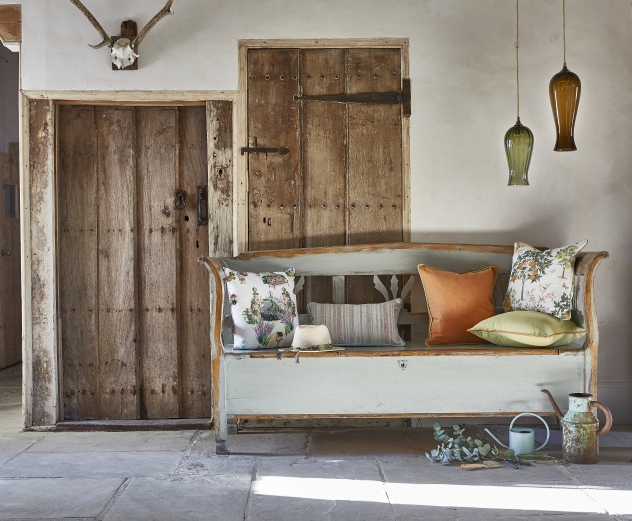 Picturesque Pastimes
The benefits of spending time in the outdoors are endless, with studies showing that natural environments can have remarkable benefits for health and wellbeing.
Opt for prints that remind you of being in the realms of nature, whilst harnessing a quintessentially country look.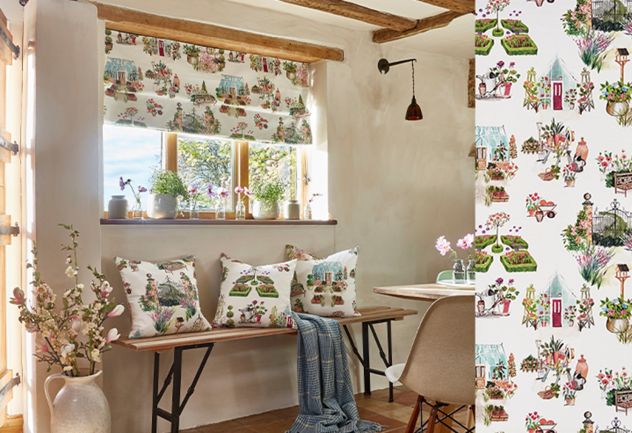 An ode to wholesome outdoor activities, English Garden's Potting Shed design quaintly illustrates pictorial allotments, luscious greenery, and plants in full bloom. Pairing with wood furnishings and exposed beams will inject rustic charm into décor schemes, whilst potted plants and flowers will keep the conversational design flowing and are perfect for bringing the outdoors inside.
Crafty Corners
Nestled away from the commotion of modern life, create a corner in your home where you can let your creative side flourish.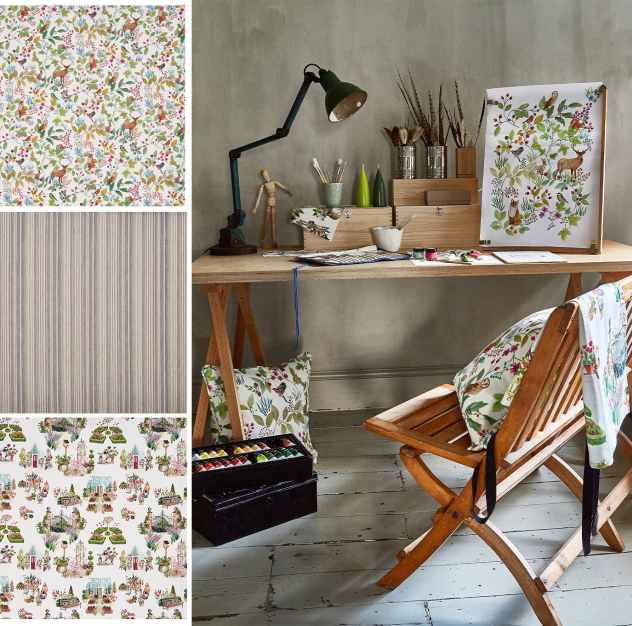 With the recent spike in hybrid working, home offices have become increasingly commonplace. However, instead of utilising these spaces for work, reserve some time, and space, to unwind.
Design an area brimming with inspiration by opting for conversational prints for furnishings such as cushions, throws, and even tablecloths, complemented by pieces of artwork that spark your creativity. Make sure to allocate space in your home separate from your computer and any other distractions, allowing you to truly switch off and unwind.
Floral Wonderland
Your garden is meant to be enjoyed and savoured, so invite it in with botanical, conversational prints.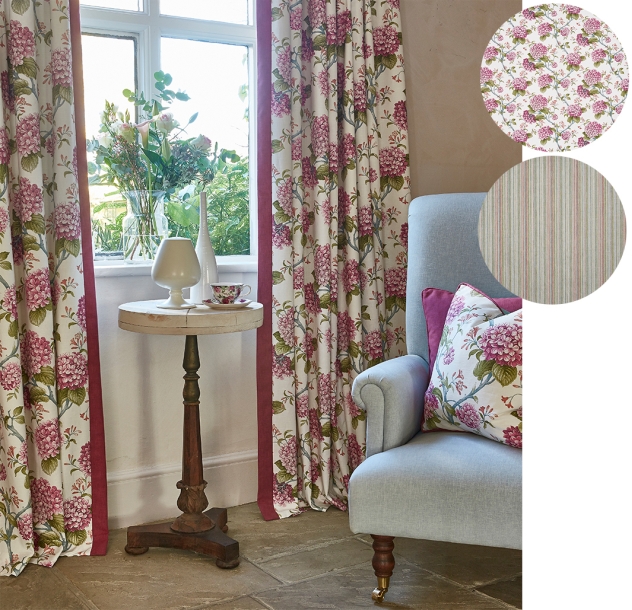 After working tirelessly to perfect your outdoor space, why not bridge the gap between your indoor and outdoor areas? Infuse your interior with the same feeling of zen by introducing sprawling floral prints, inspired by enchanting botanical spaces.
Introduce English Garden's Bouquet Sweetpea design through scatter cushions for more subtle pops of colour, or create a luxuriously rich décor scheme through floor length curtains. Round off the look with natural finishes such as oak wood furniture for added decadence, whilst tastefully picked flower arrangements presented in window settings ensure nature remains as the centrepiece.
Green House
No other colour is quite as connected to nature as green. Also representing growth and renewal, this colourway is perfect for creating an uplifting, joyful interior that truly harnesses the wonders of nature.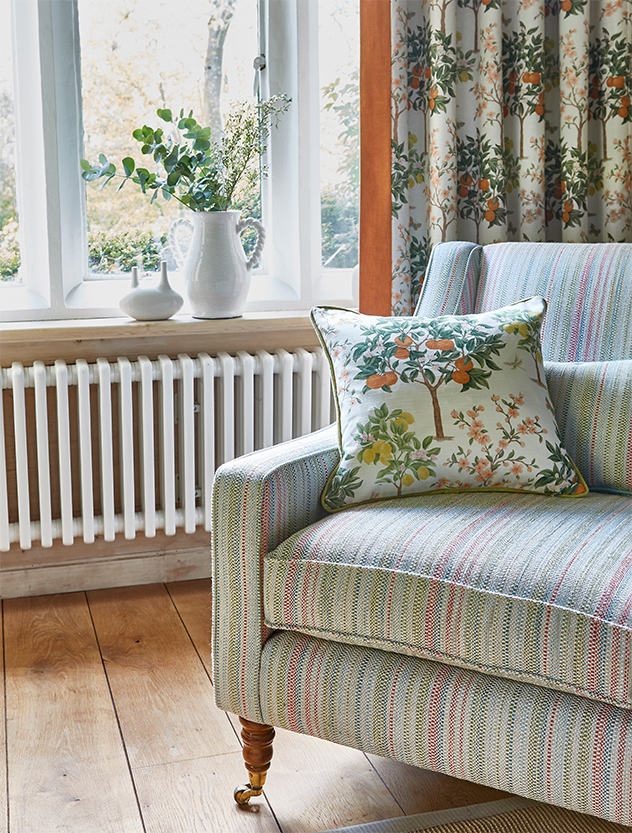 Studies have shown that spending just 20 minutes in vegetation-rich nature improves our vitality, so stay in touch with nature and create a décor scheme that feels like a true extension of your outdoor space. English Garden's vibrant greens are perfect for emulating nature's association with growth, energy, and new beginnings.
Pair Oslo's vibrant Marmalade and Citron colourways with English Garden's conversational Lemon Grove Sweetpea design for an effortlessly soothing and energising space. Earthy shades of green paired with fiery orange colourways are symbolic of the earth's natural elements, with the two palettes working cohesively to create a cosy yet summery feel.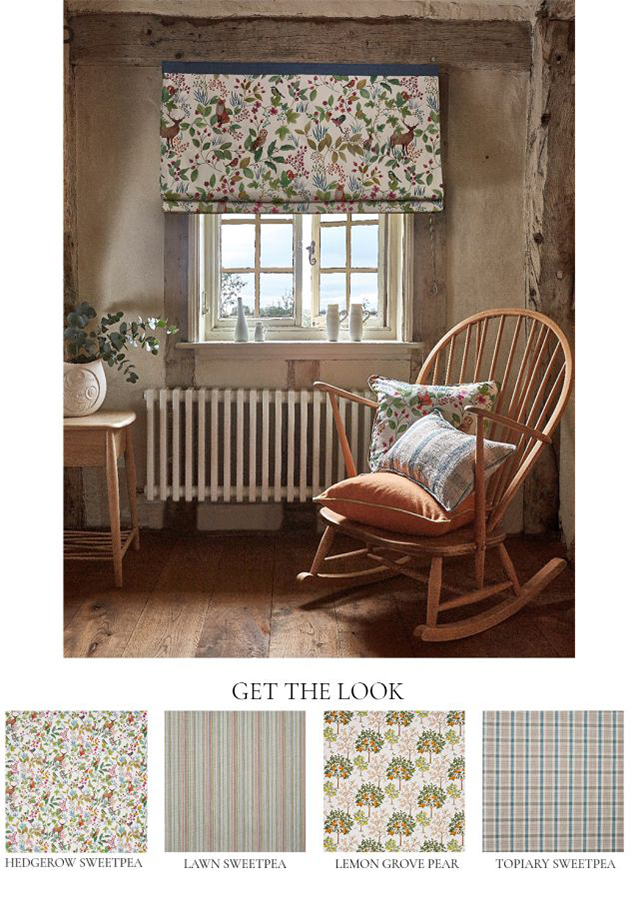 Discover our latest Pinterest board for more inspiration