Inspired by classic Greek and Roman architecture, the Neoclassical style rose to prominence in the 18th and 19th century, and today focuses on pared back luxury designed for modern living.
Despite its historical past, timeless, enduring elegance still remains the cornerstone of this rising interior trend, reimagined for contemporary living.
Whilst recent takes on elegant interiors have increasingly become pared back and subdued in their approach, there is still a desire for refined, formal luxury in our homes. The classical influences of Neoclassicism have been injected with a modern twist for an elegant addition to any home. From decorating with delicate, refined colourways to opting for Neoclassical-influenced details and accessories, discover our tips for embracing this trend for opulent living below.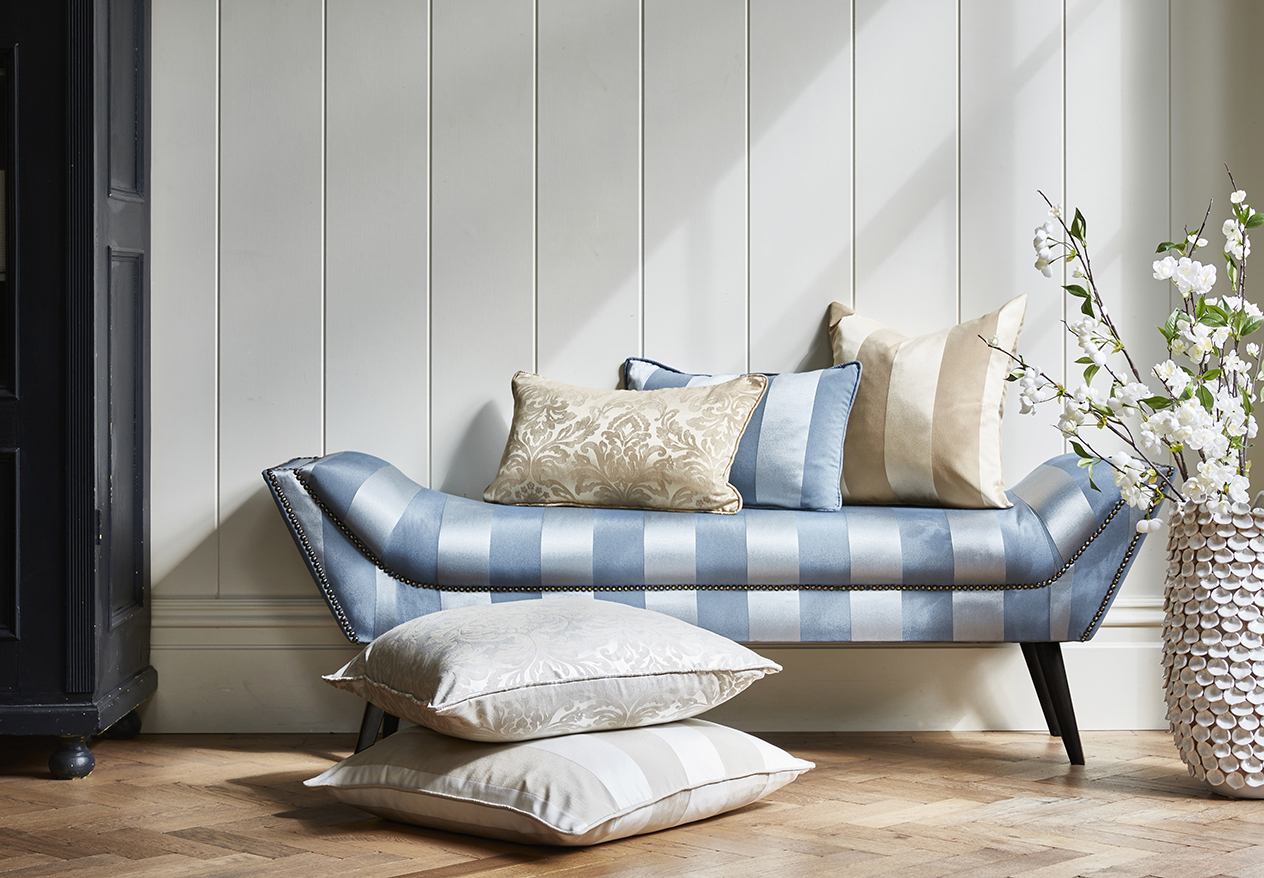 Create a Symmetrical, Uniform Scheme
At the heart of the Neoclassic style are symmetrical, orderly spaces that are easy on the eye.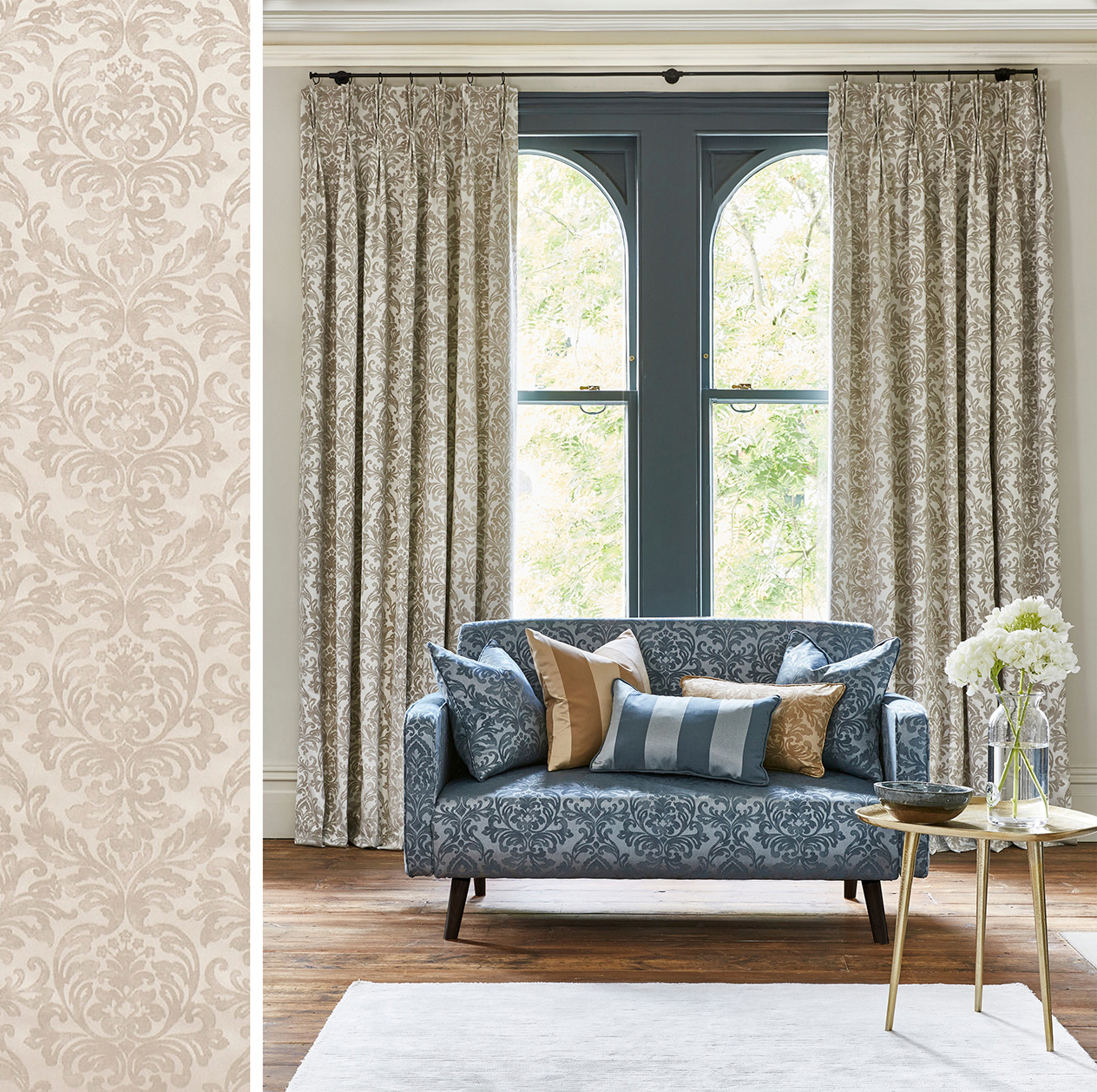 We are naturally drawn to consistency and symmetry in spaces, and no other trend favours this quite like Neoclassicism. The consistency of symmetrical interiors invites a welcome sense of comfort and calm into the home, too. Start off small with two light fixtures set upon either side of your wall for example, with an ornate gold mirror set in the middle for an eye-catching focal point. Architectural features such as detailed cornicing or wall panelling can also be a good way to create symmetry and cohesion. Or, why not set two matching sofas in coordinating, luxurious damasks in gentle tones at either side of your room, brought together with an intricately detailed coffee table in the centre?
Dabble in a Pared Back Palette
Setting the backdrop for the Neoclassic style are muted colourways that gently exude quiet sophistication.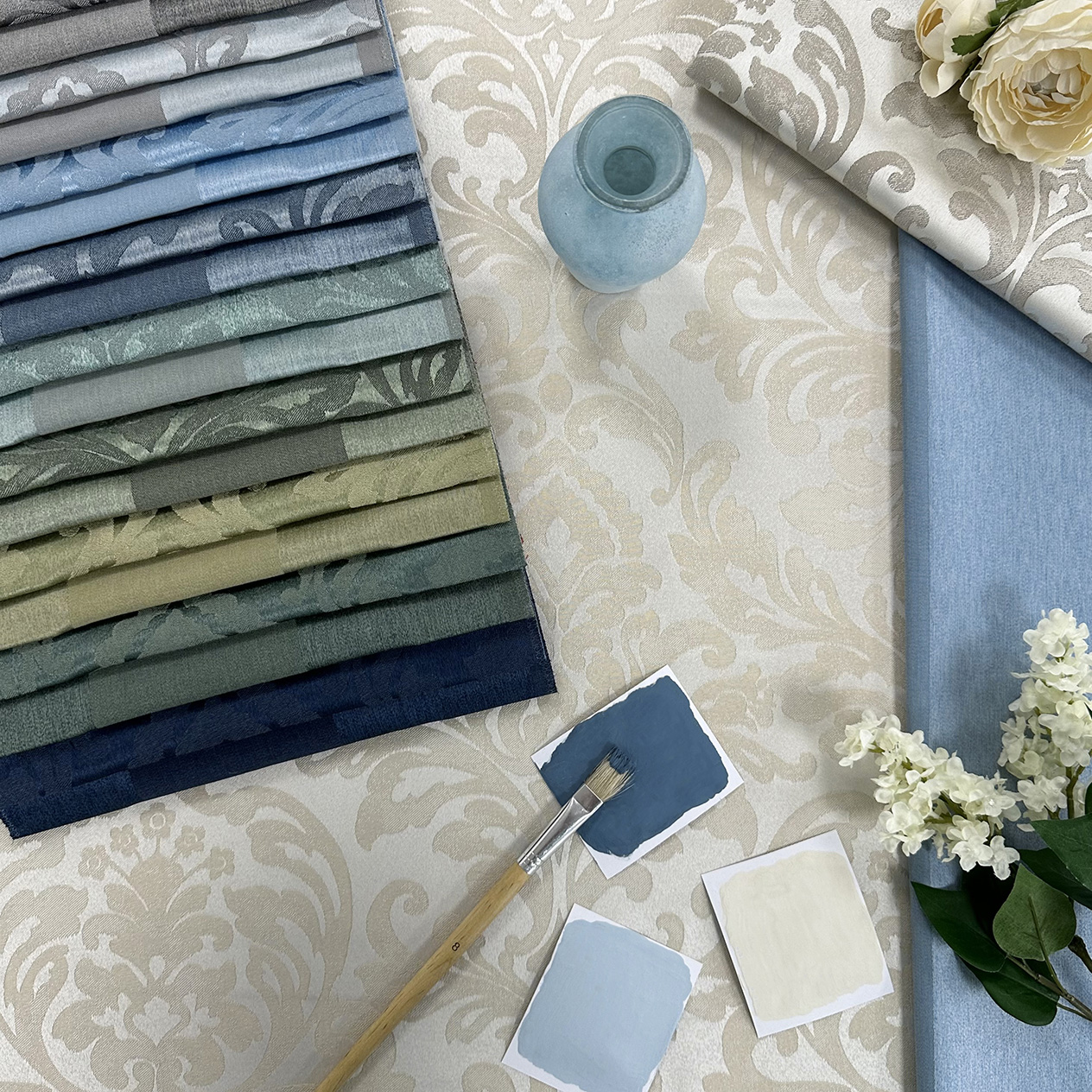 Fabrics in delicate blue, sage, and porcelain tones are evocative of the refined elegance of Neoclassicism. Darker shades of sapphire and luscious forest greens are ideal for statement pieces that heighten the impact of your scheme when set against lighter tones. Opt for lighter shades on your wall to give the illusion of a bright and airy space, allowing standout architectural details such as cornicing and wall panelling to take centre stage. Create warmth with creamier shades and champagne hues in your soft furnishings and strike the perfect balance between comfort and class, whilst pairing effortlessly with gold accents.
Make a Grand Entrance with Your Accessories and Finishes
Keep your palette more reserved and allow your accessories and architectural elements to define your scheme.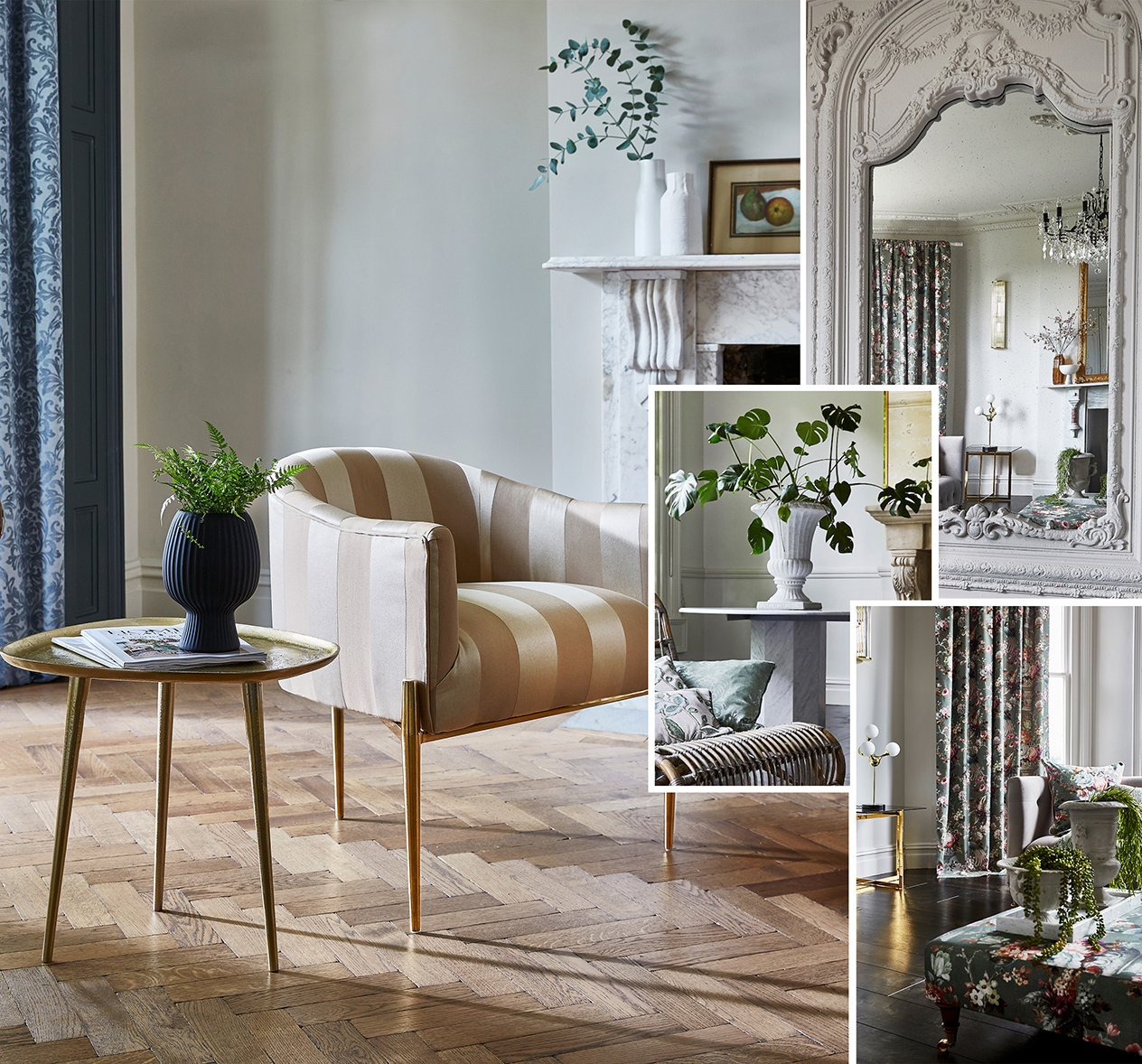 Mansion Collection, Montrose Collection
Excessive accessorising is avoided in Neoclassic spaces. Instead, a pared back interior will allow important details such as intricate cornicing, wall panelling, and columns to take centre stage. Pair antique furnishings with contemporary pieces finished with striking gold accents, upholstered with timeless damask fabrics presenting satin finishes for maximum impact. Parquet flooring is also highly indicative of the Neoclassicist style, so make sure to showcase any parquet or wooden finishes in your home. Consider a glass pendant or statement chandelier to tie off your scheme, and present sprawling greenery in Roman style pottery.
Indulge in Opulent Fabrics
Look to decadent prints and textures that lend themselves to the most luxurious, neoclassic spaces.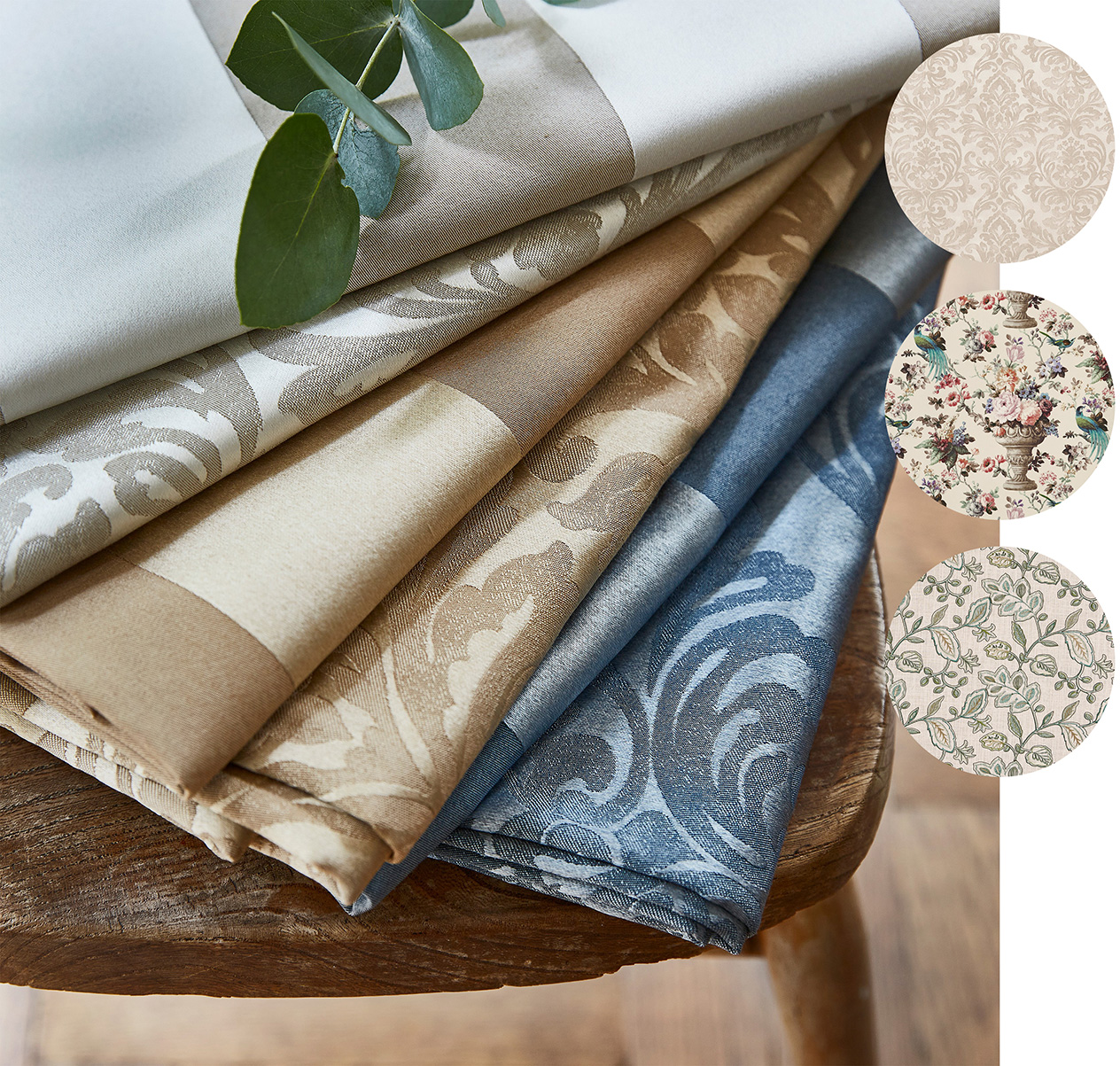 Mansion Collection, Montrose Collection
The silky satin finish of our Hartfield damask perfectly embodies the Neoclassic style, with the design's palette, spanning champagne and lighter Earth hues to delicate blues and porcelain tones, encapsulating Neoclassicism's laid-back luxury. Pair with delicate rope embroideries depicting sprawling greenery, adding character to more neutral colour palettes with extravagant prints depicting large rose florals and distressed stone urns inspired by grand manor houses.
Consider Reupholstering Antique Furniture
Not only are we looking to more sustainable design choices in today's climate, but antique pieces often present luxurious, historically influenced finishes that encapsulate the neoclassic trend perfectly.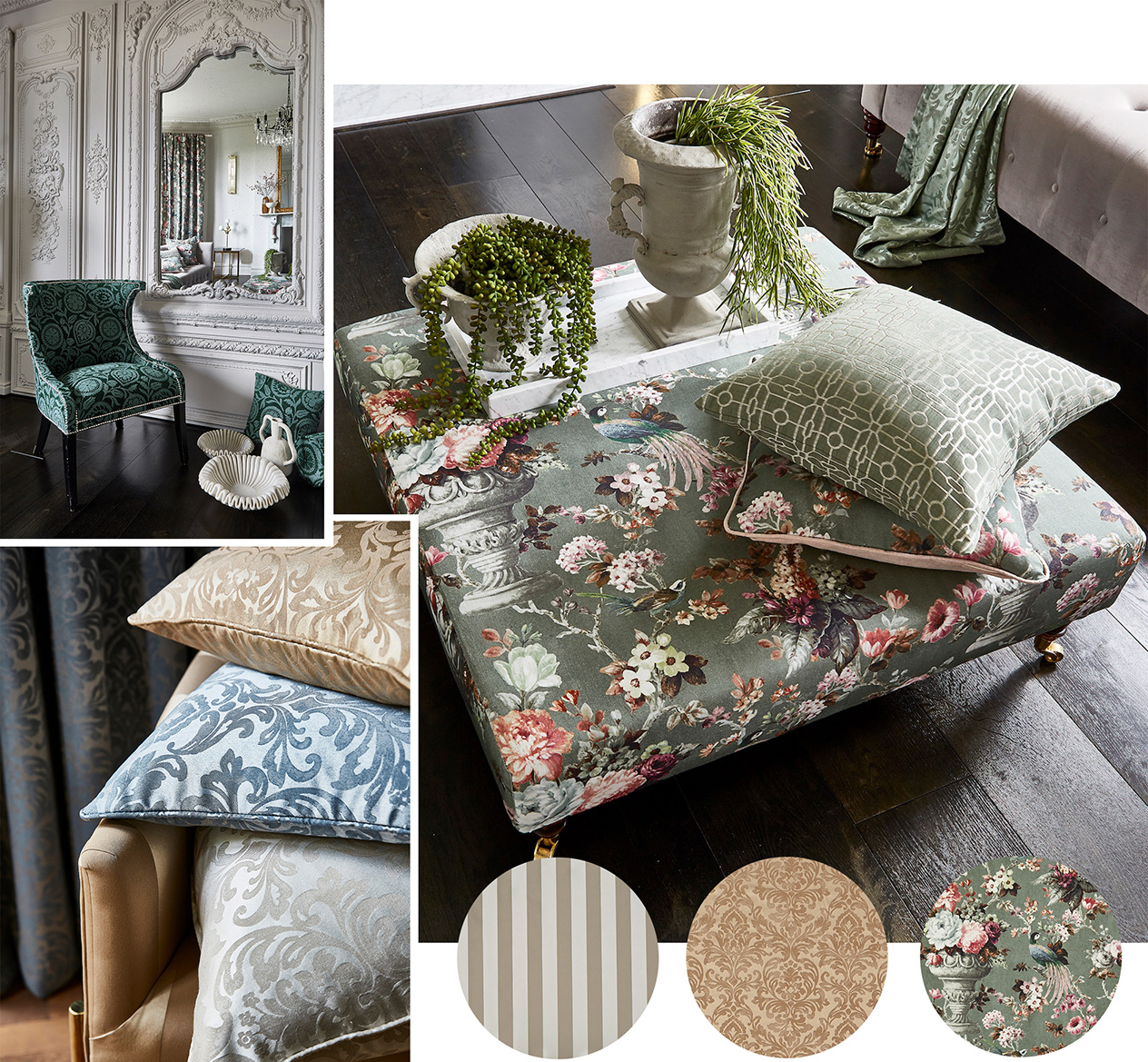 Montrose Collection, Mansion Collection
Eco-conscious design is on-trend this season, with the reupholstering of vintage furniture pieces using contemporary fabrics subsequently rising in popularity. Often brimming with character, pre-loved furnishings, with their nod to the past, work perfectly in Neoclassicist spaces, and can be given new leases of life with luxurious fabrics. Elegantly curved finishes adorned with wood detailing are key to the Neoclassic look, so favour vintage wooden pieces with intricate carvings for an inherently decadently feel. Why not adorn a cherished sofa with a satin-finish block stripe, or breathe new life into a footstool and cover in ornate depictions of sprawling floral scenes and distressed stone urns?
Combine Old with New
Mastering the Neoclassic style consists of blending vintage design cues with contemporary trends for a laid-back take on decadence.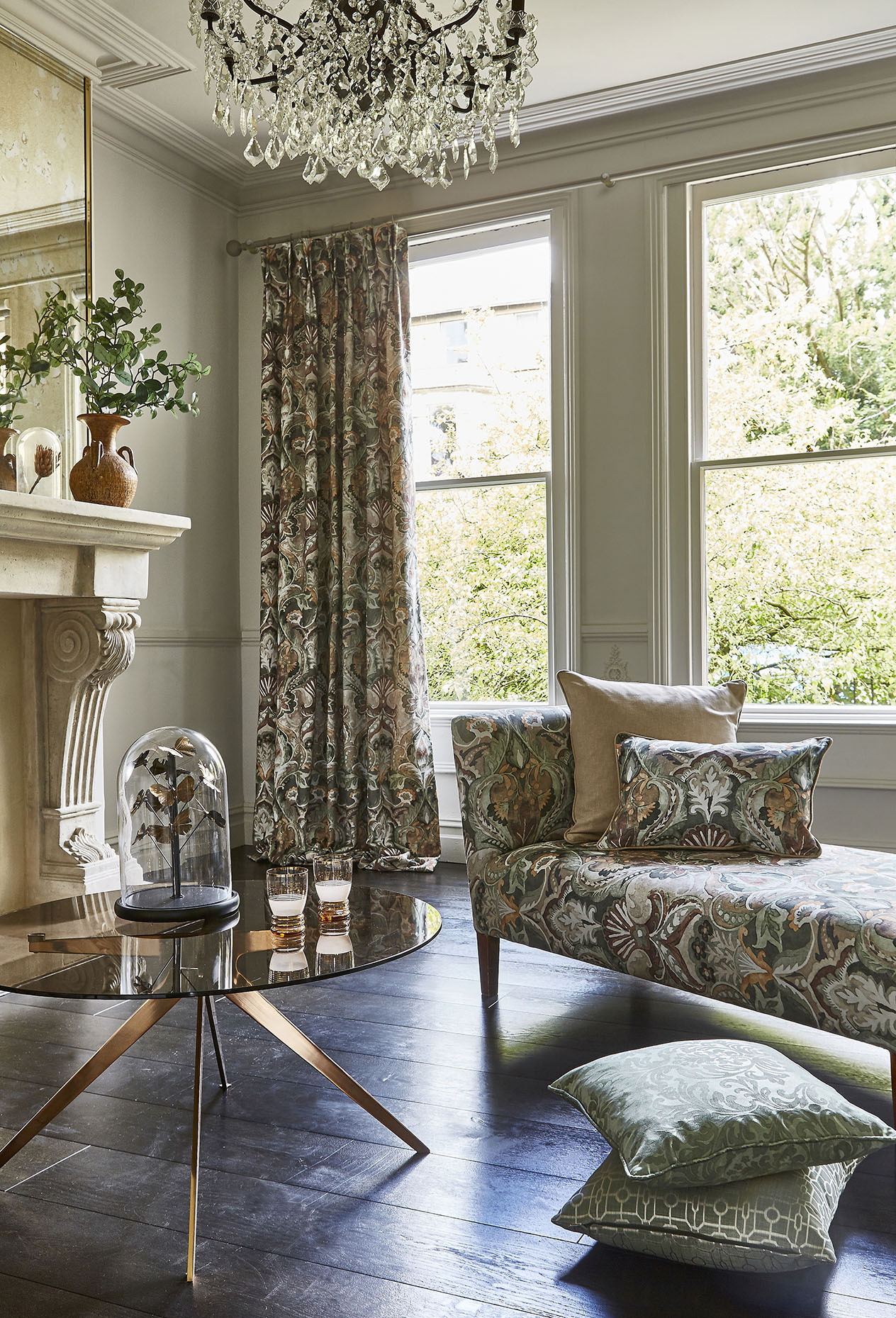 Despite being rooted in history, the Neoclassic style works best when injected with a contemporary twist. Allow the classic elements of the style, from its delicate colourways to grand architecture, to complement modern furniture and on-trend fabrics that maintain the appeal of the Neoclassic style. A sleek glass coffee table sporting gold accents below a vintage chandelier would look especially striking positioned next to a period fireplace, for example. So, look for areas in your space where two instances of classic and contemporary décor could contrast against one another for maximum impact.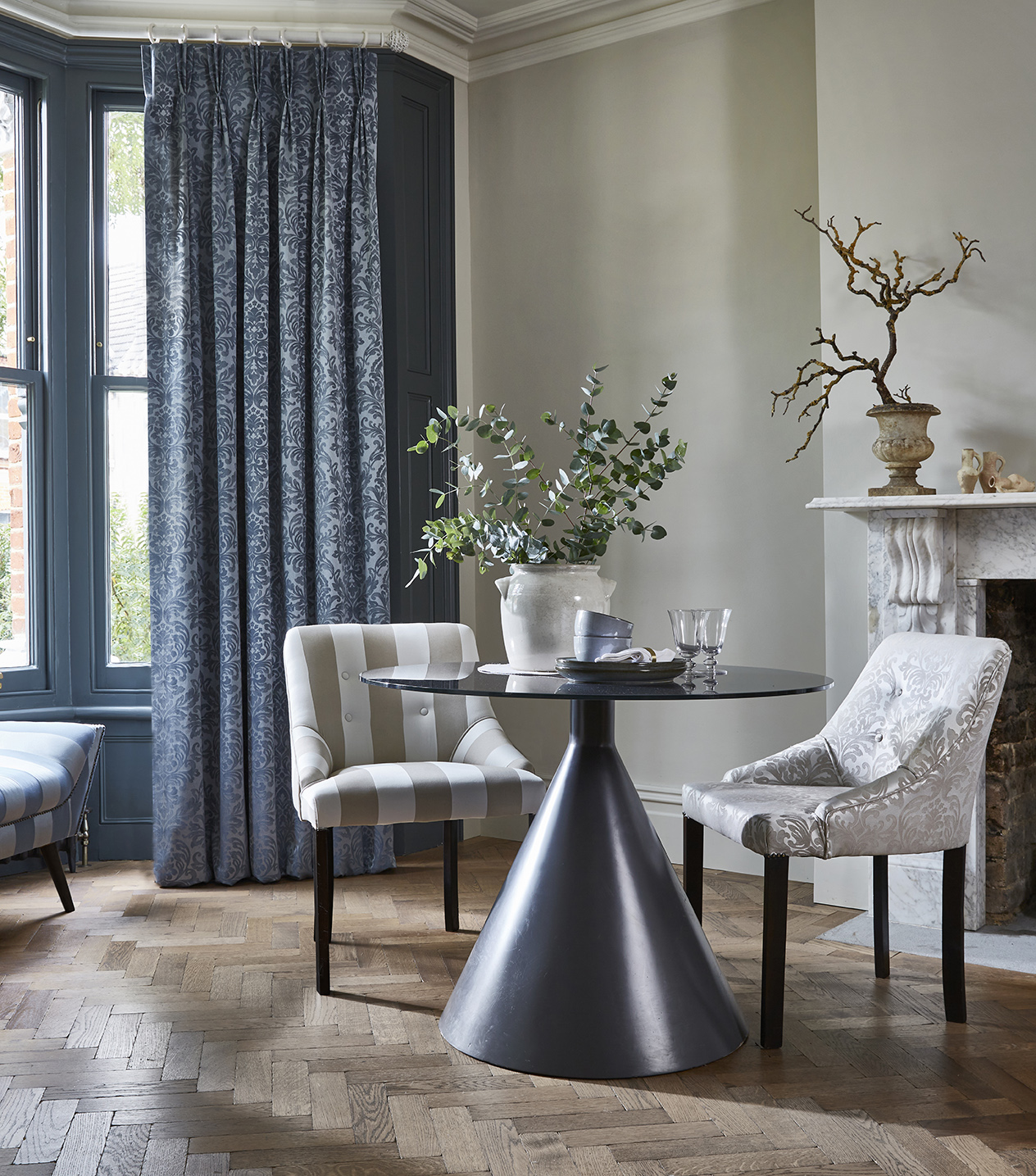 Be inspired by Mansion's influences of grand manor houses, or discover Montrose's story of extravagance here
Locate your nearest Stockist here
Discover our latest Pinterest board for more inspiration