Offering a subtle nod to the trend for tropical décor, the new Summer House collection brings a laid-back look into interiors.
Reinvent and refresh your home with fresh and breezy colour palettes, and embrace patterns inspired by exotic plants and palms, reminiscent of tropical shores.
Uplifting Interiors
Transport yourself to warmer climes with the interior trend for a softer tropical look, that will instantly brighten your home.
Pairing bold denim shades and sky blues with on trend terracotta hues makes for a more sophisticated take on the traditionally brighter interior trend.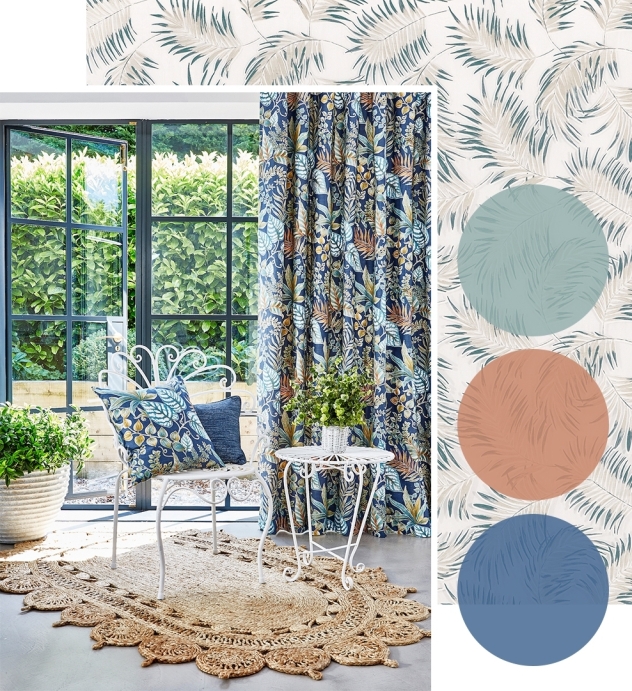 Let The Light In
Make the most of natural light in the home and opt for sheer fabrics at large windows, to allow more light to flood in.
Opting for lighter coloured curtains creates a bright and airy feel bringing a relaxed and happy mood to your room. Soft green tones and painterly trailing foliage add a subtle nod to the tropical style.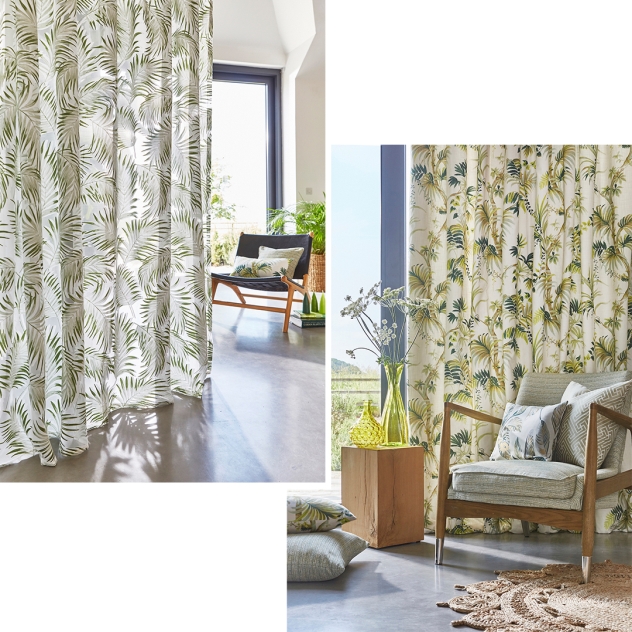 Laid Back Tropics
Create an area to relax and unwind, and truly embrace the tropical sanctuary trend.
It is important to create a space to rest and revitalise from our busy lives. The calming Analeigh fabric is the perfect print to create this space, in curtains, cushions or a statement panel.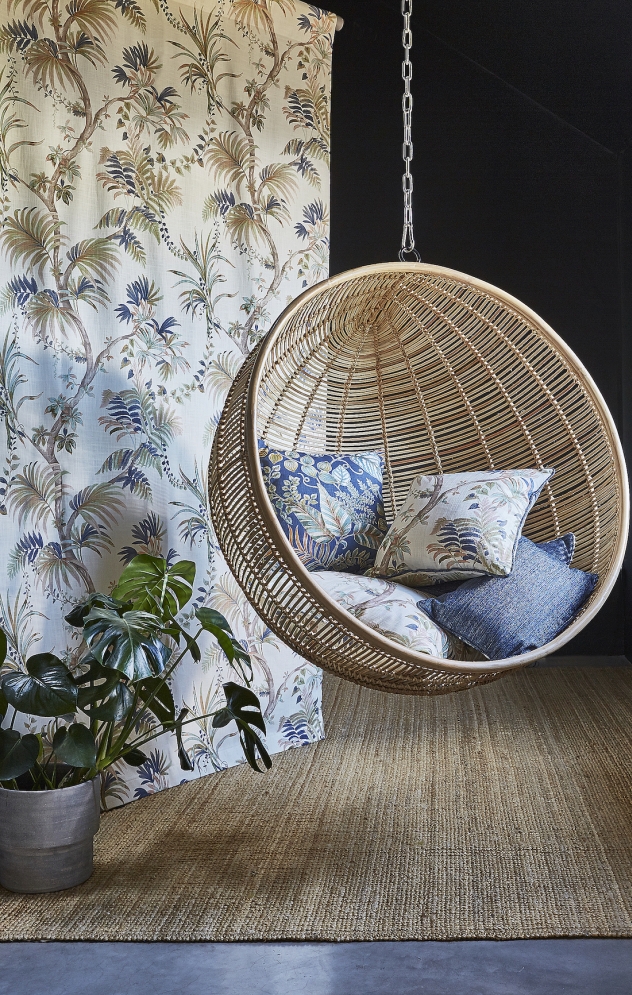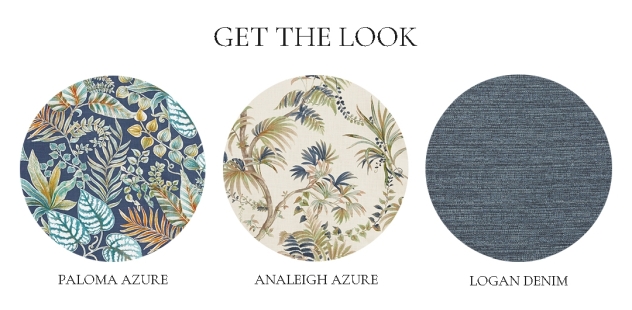 Visions Of Summer
The combination of printed fabrics, jacquards, sheers and semi-plain textures work cohesively to offer a relaxed, airy and fresh feel to interiors.
Scatter cushions are a quick and easy way to add pattern and colour into a neutral interior and capture the tropical sanctuary theme. Add texture by selecting a variety of patterns and fabrics, bringing the look together by using the same colourway.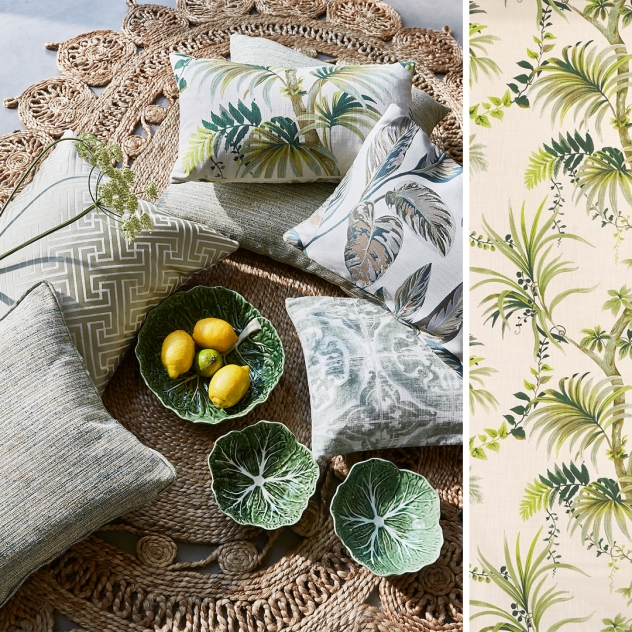 Nature In The Home
Bring greenery into the home, with fabrics adorned with foliage patterns and prints, reminiscent of tropical landscapes and sun-drenched shores.
Bringing the greenery indoors, opting for palm inspired colour palettes will create a tranquil space. Pair these patterns with modern geometrics for a new take on the look.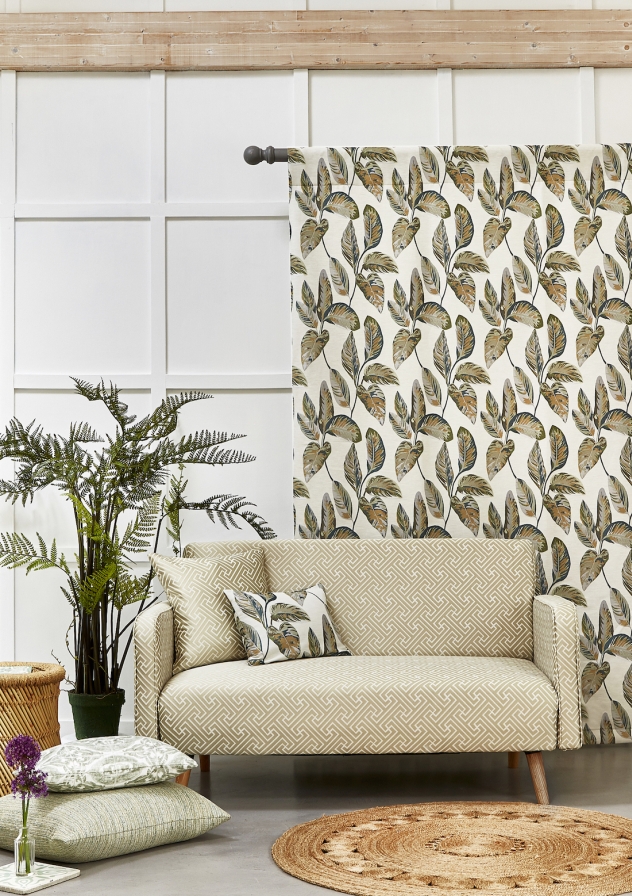 For more inspiration discover our latest Tropical Sanctuary Pinterest board.