Decorating with neutrals can help turn your home into a soothing sanctuary that provides an escape from the outside world.
However, it can be challenging creating an interesting and inviting space with neutrals. We're here to help you add warmth and personality into a minimalist scheme with our essential How to Guide on updating a neutral interior.
1. Layer Neutral Shades
In the world of interior design, neutral means 'without colour'. Even as a neutral lover, it's important to choose your colour palette and experiment with different shades of beige, grey, ivory, taupe and their varying tones.
This season's new neutral Greige is the on-trend choice for minimalist interiors. Fast becoming 2021's must-have shade, the blend between grey and beige creates the perfect calming colour. The versatile hue works well in any living space, bringing a welcome warmth into a neutral interior.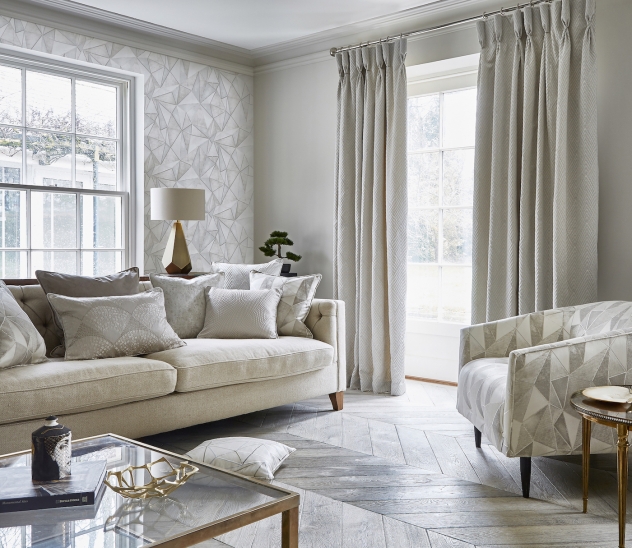 Inject this warmth by layering different shades of the popular colour in paint, wallpapers, or accessories to create an interior that feels carefully curated.
Our Dimension collection of wallpapers and coordinating fabrics complement each other perfectly and make designing a scheme effortless with its palette of easy neutrals.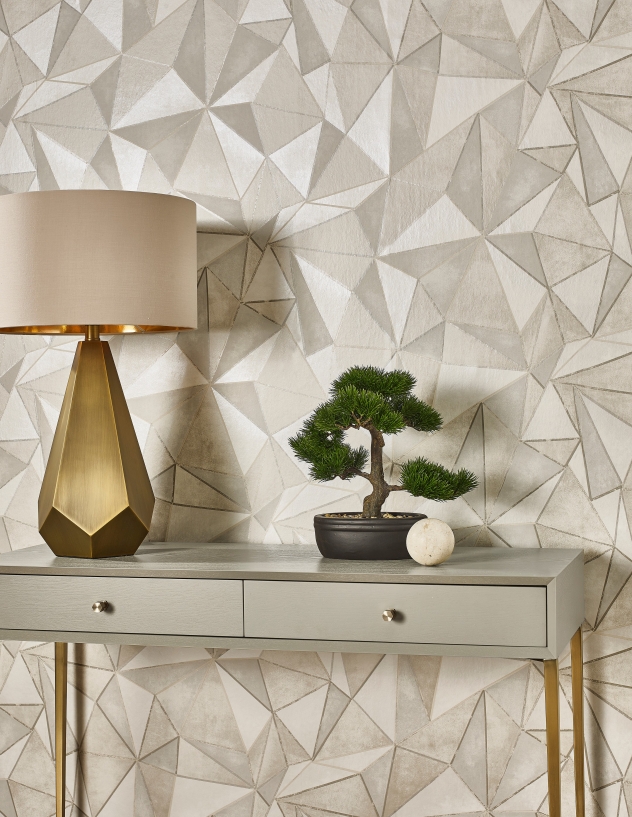 2. Add Texture
An all-neutral space can sometimes lack interest, so incorporating different textures is incredibly important when creating a room with personality.
Use everything from throws, ceramics and soft furnishings to add texture. Layering these different materials adds depth and creates a feeling of sophistication. Embrace textural fabrics such as the embossed and raised jacquards from our Fusion collection that perfectly blend texture and a warm neutral palette to create an effortless look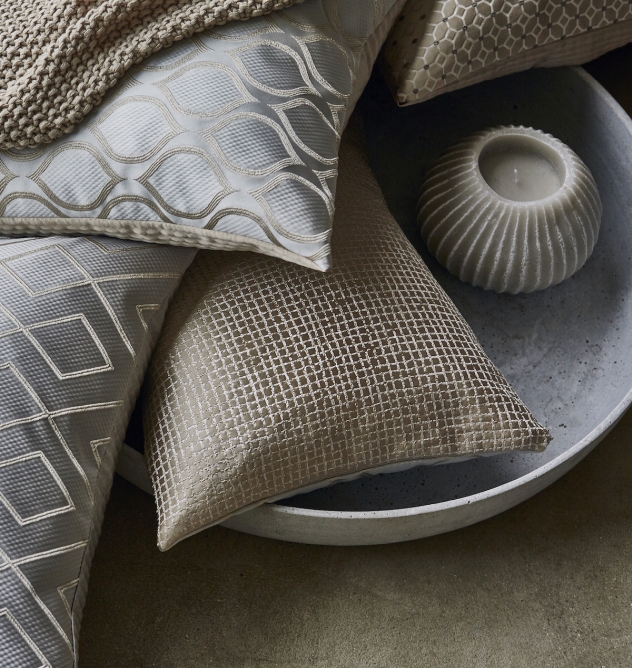 Windows also offer an opportunity to introduce texture with a choice of curtains, blinds or voiles.
Think about your fabric choice when choosing drapery as window dressings are a great way to add interest. Whether you decide to layer fabrics with a blind and curtains to introduce multiple textures or opt for a stunning burn-out sheer like Rosaline from our Penthouse collection to add an ethereal feel to a space.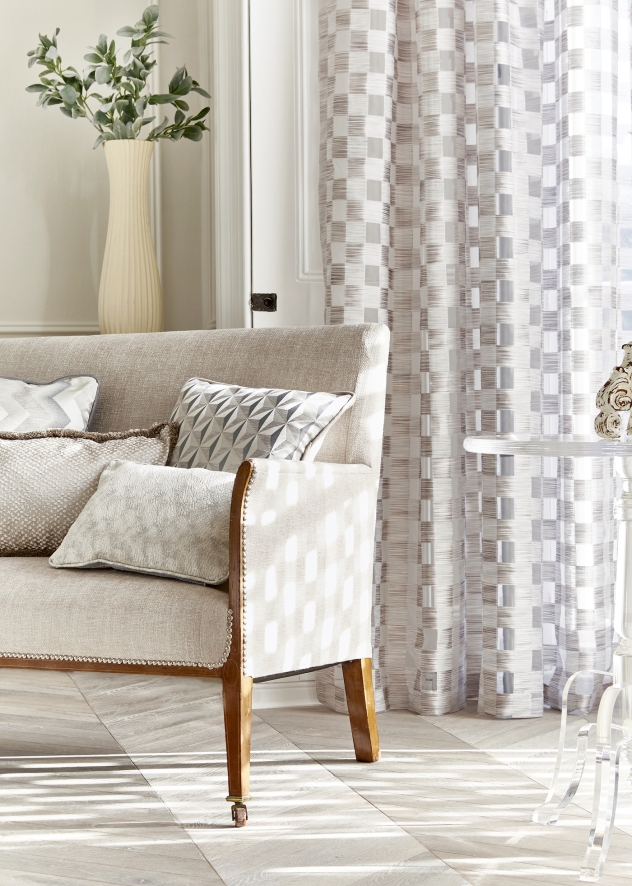 3. Play With Pattern
Surrounding yourself with patterns that inspire and bring you joy is a great way to breathe new life into your home.
Pattern doesn't have to equal colour. Embracing different designs in your home is a great way to express your personality and showcase your style. The beauty of decorating with neutrals is that the colour palette is suited to any design scheme, from the most traditional to the extremely modern.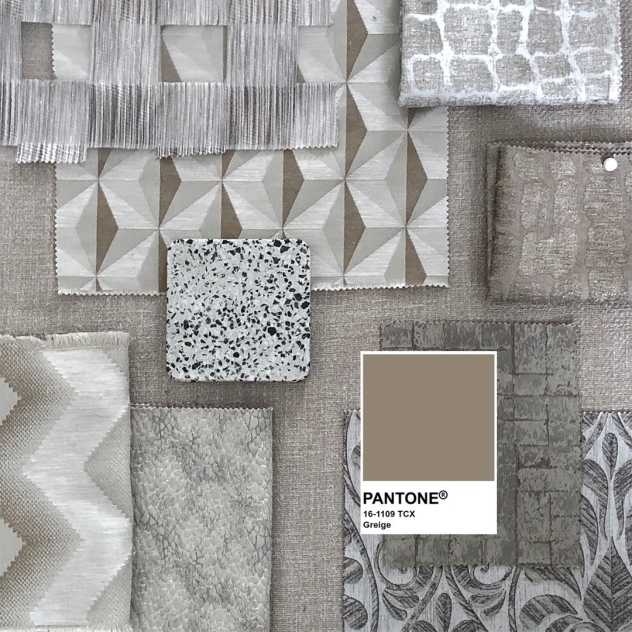 Our Penthouse collection offers the perfect blend of classic and contemporary with its traditional damasks, contemporary geometrics and classic metallics.
With the absence of colour, a neutral scheme offers more scope for pattern clashing. Layer designs from the same shade range in upholstery and accessories to create a neutral interior with personality.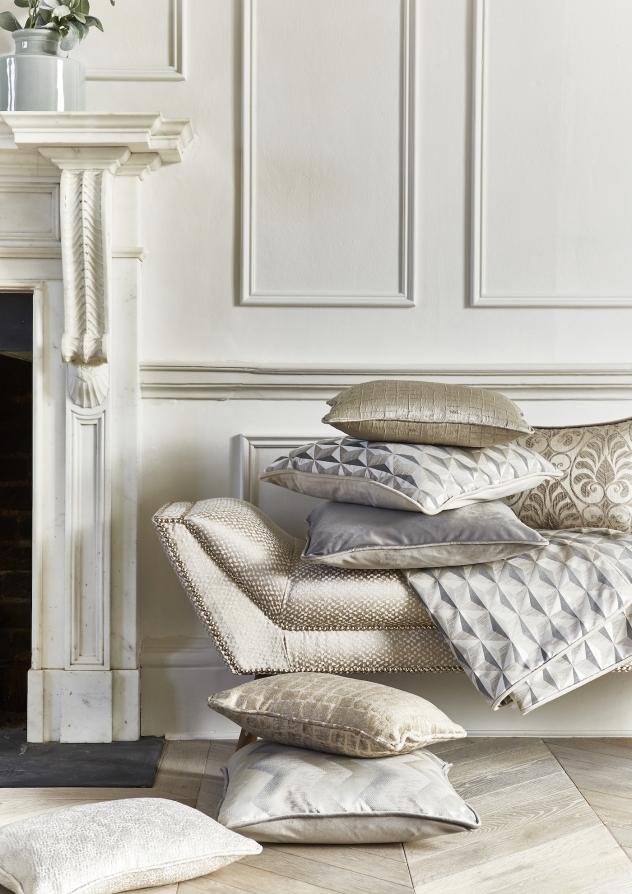 4. Embrace Natural Elements
As neutral interiors lack colour, incorporating natural elements such as wood, rattan and brick adds different tones into a space.
A muted scheme is the perfect canvas for natural materials that add colour as well as texture. The layering of these natural elements in this interior perfectly complements the drapery in our Quill fabric and the stunning table runner in our Wish geometric design.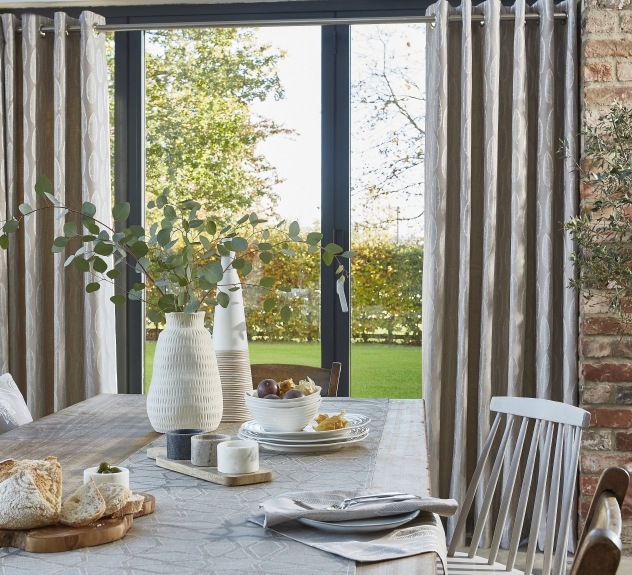 It is these rustic pieces, such as dining tables, chairs and accessories that add another dimension to the otherwise neutral living space. This look is achieved with vintage, antique or inherited pieces that give an unrefined edge to the clean-cut neutral interior.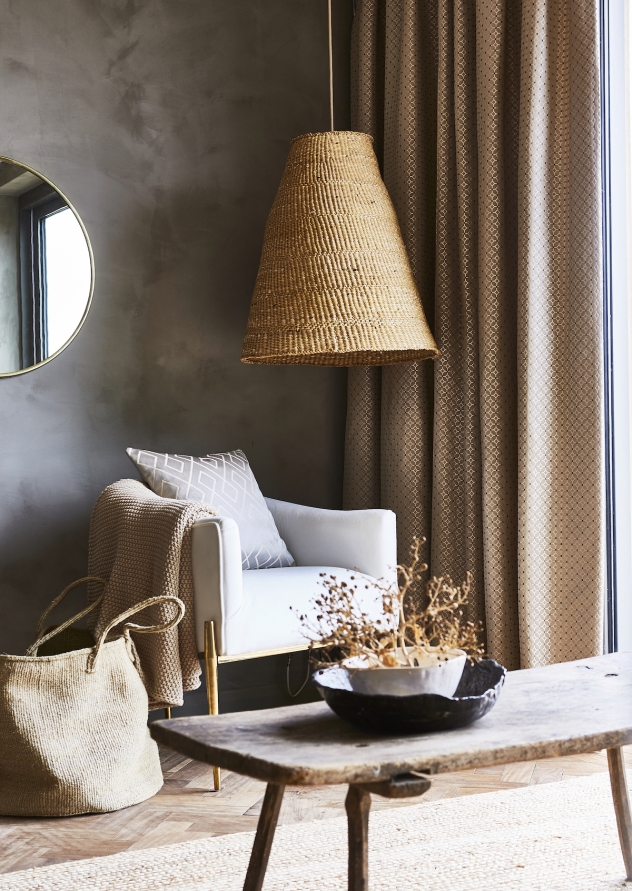 5. Inject Colour With Living Greenery
Incorporating houseplants such as eucalyptus, ferns and palms adds shades of green to a neutral palette.
Green has quickly become recognised as the new neutral this season with its calming and uplifting influences. Adding living greenery into an interior is a great way to inject a little colour and update a neutral space without the need for paint, wallpapers or accessories.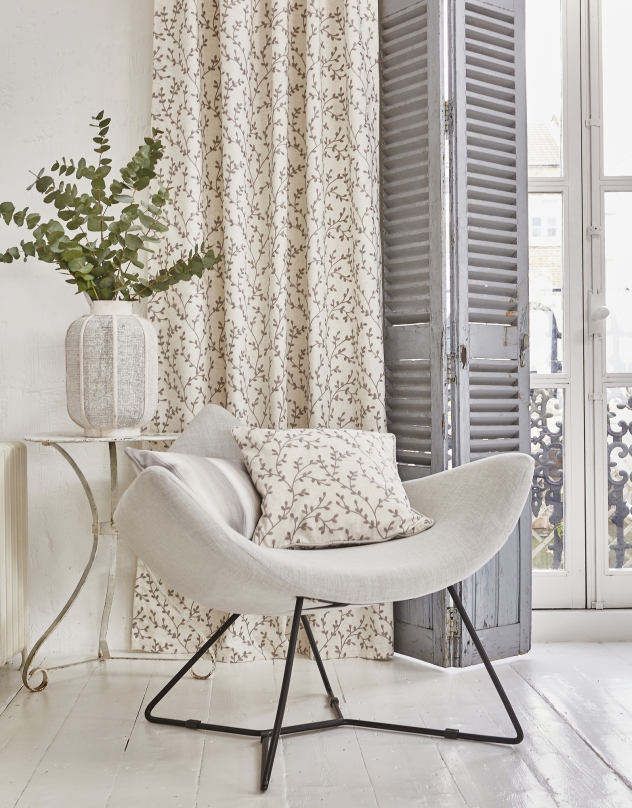 Fabrics from our Canterbury collection work harmoniously alongside additions of living greenery to help bring the outside in.
The natural linen look and relaxed, hand-crafted feel of Canterbury is enhanced by hints of green, adding to the feeling of sanctuary that a neutral scheme offers. As well as adding colour into a space, bringing plants into the home has been proven to improve mood, reduce stress levels and increase productivity, concentration and creativity.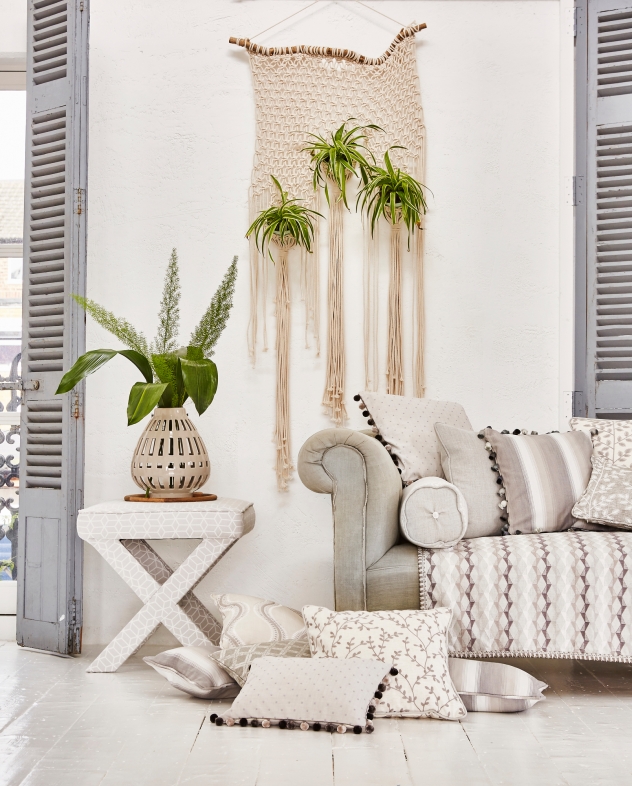 .