Transport your interior back to simpler times with nostalgic designs as the centrepiece. Embrace life in the slow lane and recreate the rural idyllic way of life whilst forging a connection with nature. Vintage décor schemes are perfect for providing this sense of escapism from modern life.
Reminiscent of the cottagecore trend, embracing vintage nostalgia in your home reminds us to move at a slower pace, reconnecting with, and looking closely to nature for design cues. From discovering the power of pattern to breathing new life into cherished pieces of furniture, discover how to adopt this powerful design trend into your scheme.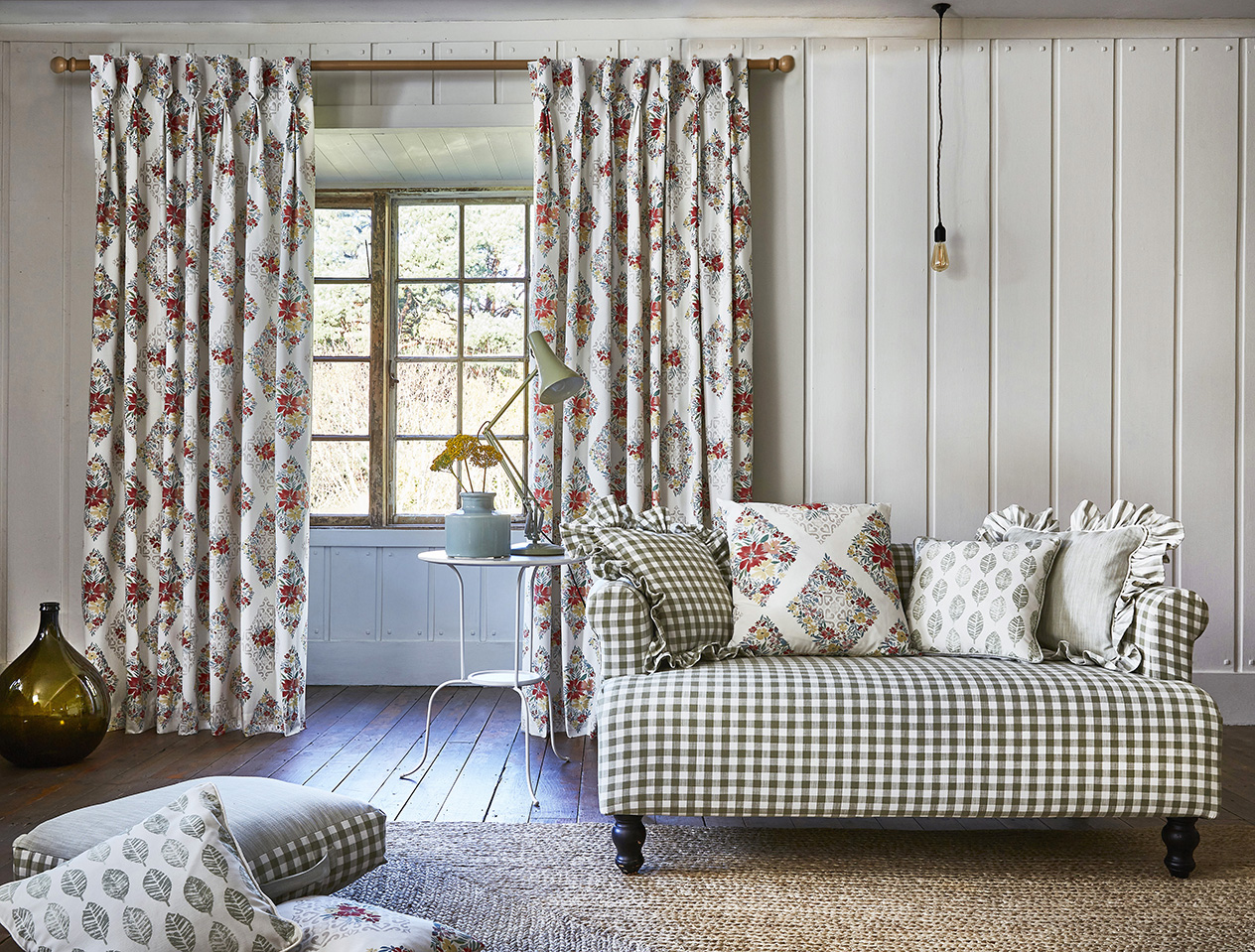 Discover the Power of Pattern
Trailing florals and ornate depictions of nature in full bloom make themselves at home in the most nostalgic settings.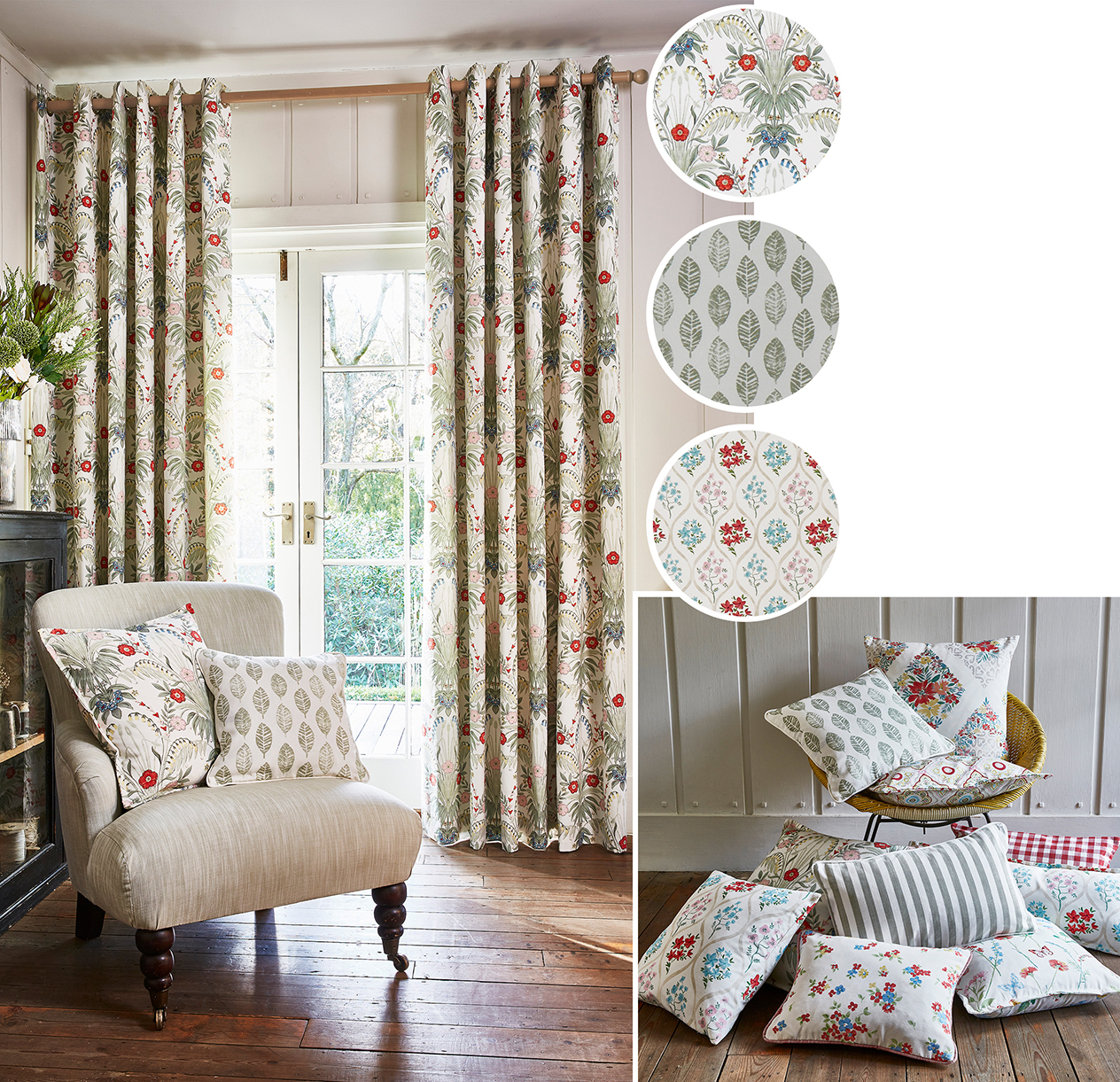 Vintage Collection, Vintage Weaves Collection
Key to the nostalgic theme is allowing flows of pattern and colour to roam freely throughout your space. This style doesn't hold back on pattern, so don't be afraid to mix and match multiple designs within a scheme. Look to statement prints featuring beautiful depictions of flora in deep red, and present through floor-length curtains for a vintage statement. Alternatively, create a cohesive whole-room scheme and pair with complementary block print designs in muted sage colourways for a rounded look.
Dabble in a Palette Straight from Nature
Embodying the tranquillity of country living, nature is an integral component to the nostalgic vintage style.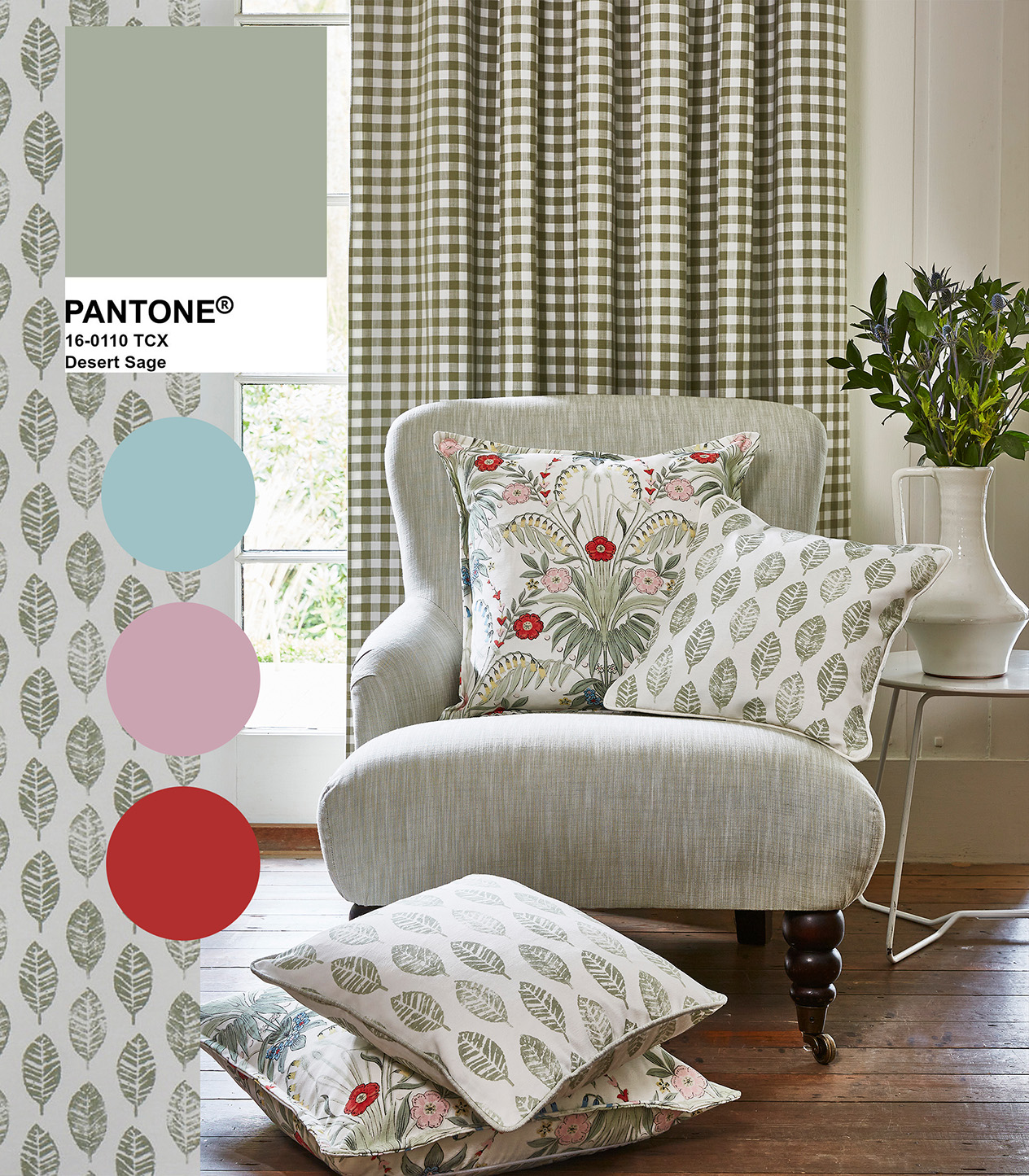 Vintage Collection, Vintage Weaves Collection
Take cues from nature when forming the palette for your nostalgic vintage scheme, making sure you encapsulate the wonders of the outdoors. From delicate cornflower blues and soft peach shades to deeper red hues, embracing a playful palette of nature's most eye-catching hues is ideal for replicating the vintage style in your home. Offset florals in whimsical colourways against contemporary check and stripe designs in understated shades of sage for a sense of cohesion.
Upcycle Vintage Furniture Pieces that Tell a Story
Whether a cherished family heirloom or sourced from an antique store, breathe new life into vintage furniture for the ultimate nostalgic feel.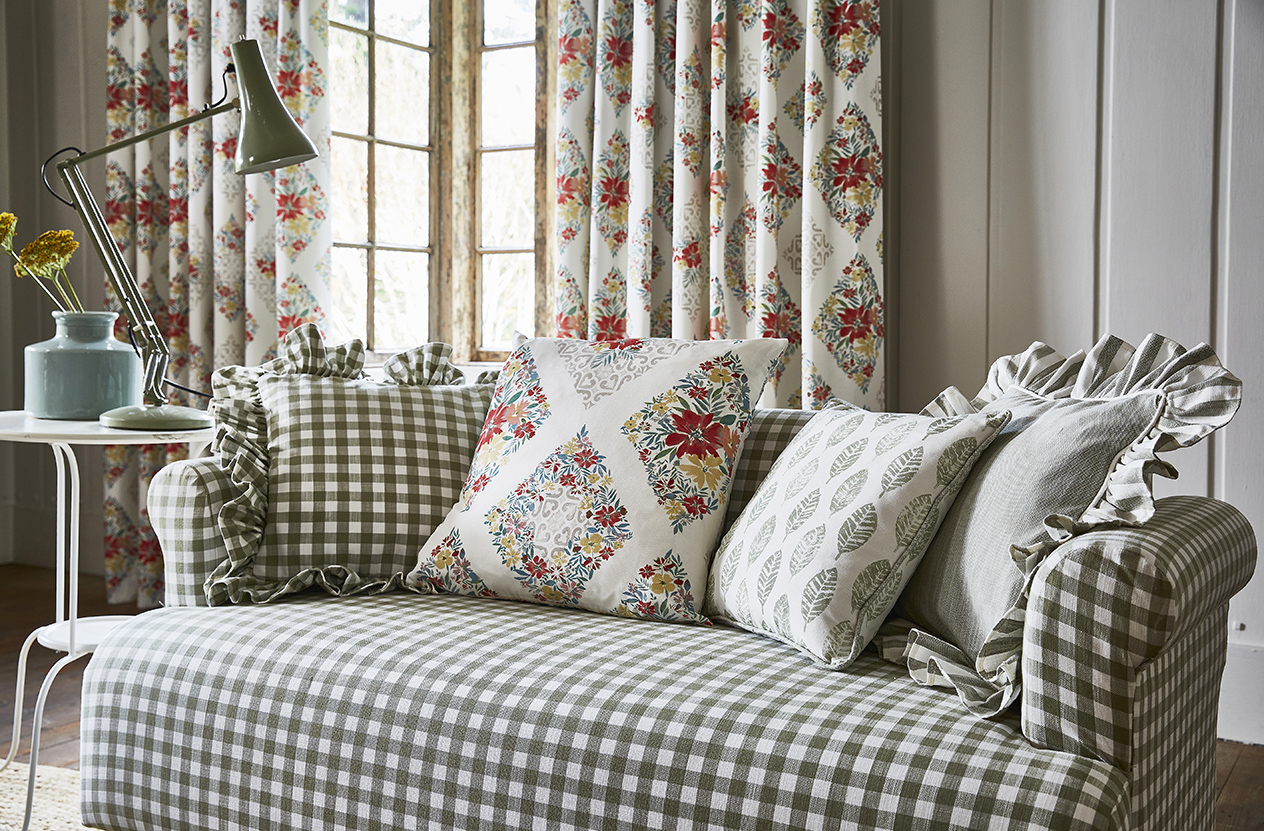 Vintage Collection, Vintage Weaves Collection
The rise of sustainability has led to upcycling becoming increasingly common in interior design. Luckily, antique furnishings are perfect for adding a dose of charm and history often found in nostalgic interiors, and tell an interesting story compared to modern pieces. Give a cherished sofa or chair a new lease of life by reupholstering in a timeless check or stripe fabric, adorned with cushions presenting whimsical depictions of flora. Plus, by preventing unnecessary waste and giving a pre-loved item a second chance, you can create a space both inspired by, and conscious of, the earth's natural elements.
Strike the Perfect Balance Between Old and New
Take a more relaxed approach to coordinating furnishings, and instead learn to love individual items and their imperfections.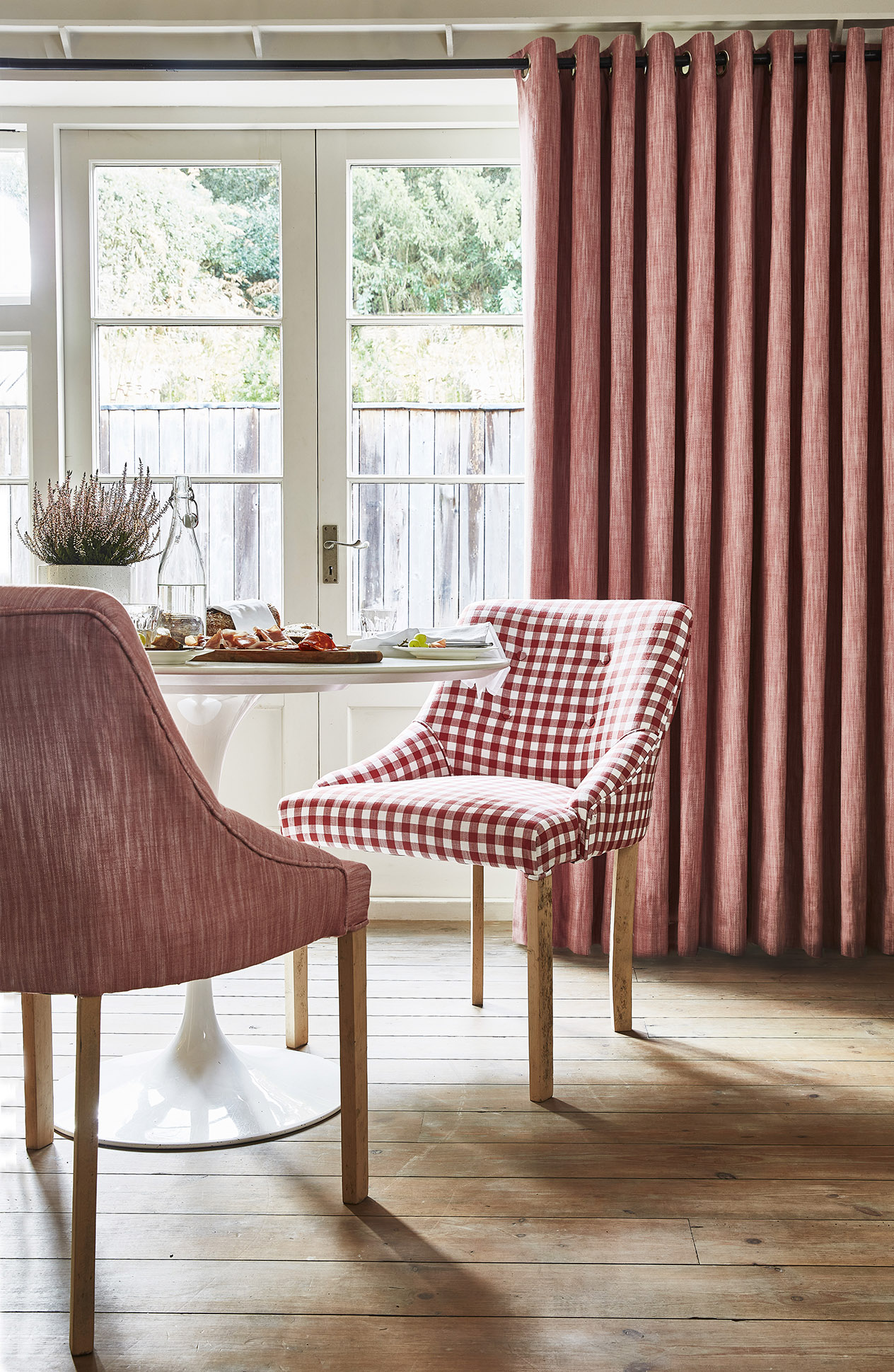 Not every element of your vintage space has to be as such; the key is allowing old and new elements to live in harmony. Take your time to carefully curate individual pieces that you love. Present frilled cushions in contemporary check designs upon a vintage sofa reupholstered in a sage stripe fabric, for example, which perfectly combines old and new design elements. If sourcing some pre-loved dining chairs, offset these with a modern dining table and finish the chairs in striking woven designs for a contemporary finish.
Introduce Your Kitchen to a Sink Curtain
2023 has seen the welcome return of the sink curtain, with their homely effect giving a nod to more comforting eras.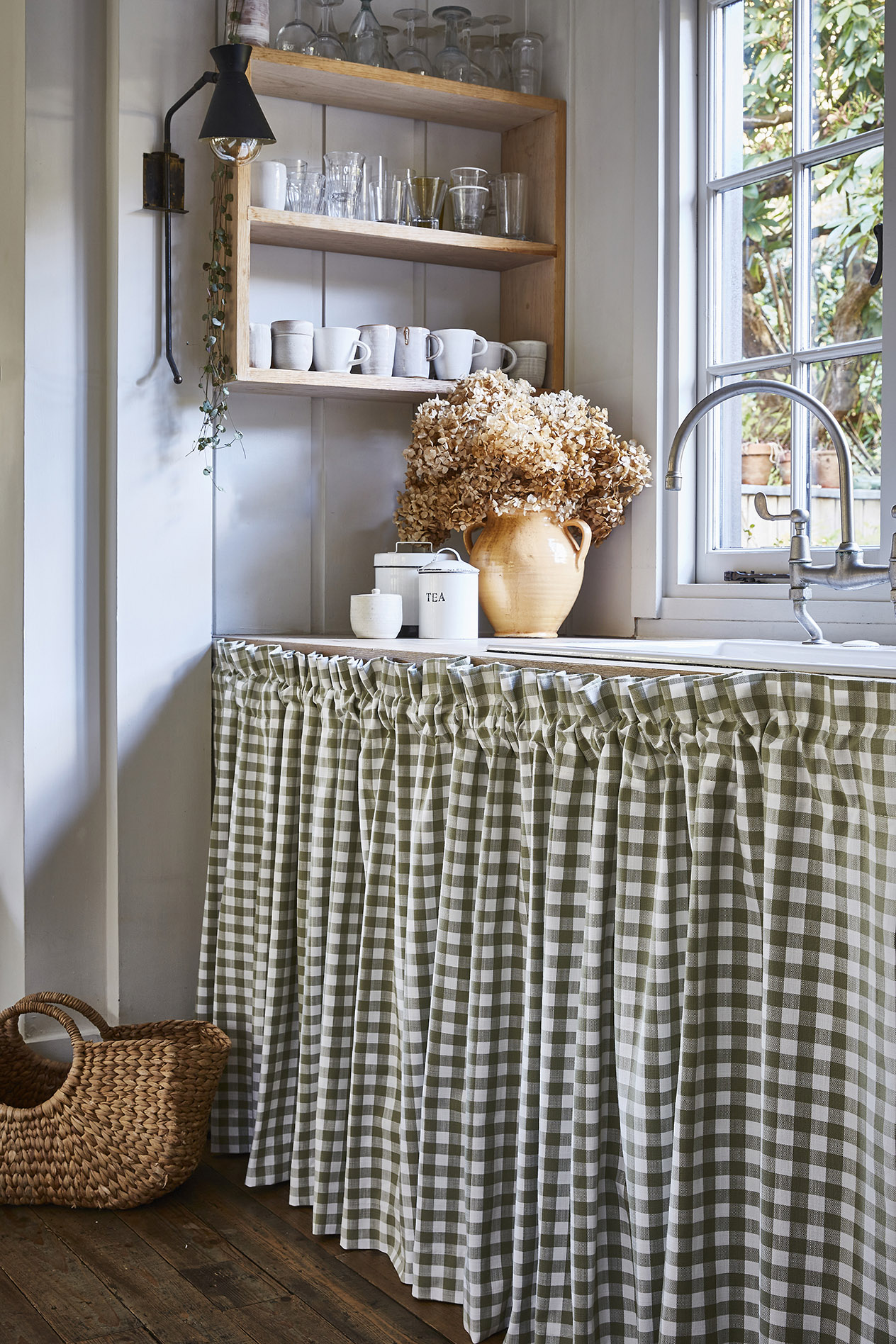 Experiencing a revival in vintage interiors, the sink curtain is a charming and simple alternative to conventional cupboards, and softens the hard edges of kitchen cabinetry. As the kitchen is often seen as the heart of the home, ensuring the nostalgic theme continues in here is essential. A piece of striking check fabric in a fresh, natural shade will effortlessly add a touch of playfulness and personality to your kitchen space, whilst handily concealing any unsightly kitchen products.
Look to the nostalgic prints of Vintage for inspiration, beautifully complemented by the woven designs of Vintage Weaves
Locate your nearest stockist here
Discover our latest Pinterest board for more inspiration