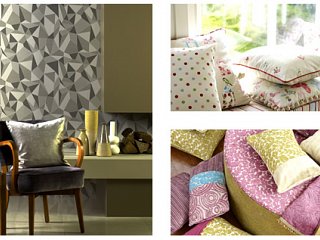 We are pleased to report it has been a successful start to the year with incredibly enthusiastic feedback on the new collections. Here's a selection of our best sellers so far this season…
Mezzo (top of page) is a range of colourful and contemporary cut chenille fabrics, a tactile collection with intriguing fossil and diamond designs, a perfect choice for adding texture and vibrancy to contemporary interiors.
Butterfly Gardens (below – top right) has certainly been a popular range, a beautiful collection comprising of on-trend vintage prints including posies, butterflies, dainty daisies and a quirky birdhouse design; all available in a range of vintage inspired colourways.
Urban (below – left) is a stylish wallcoverings collection including a variety of lustrous surfaces such as flock, beading, and iridescent grounds. This bold collection incorporates both modern and classic designs in a contemporary style, making it a versatile collection for all interiors.